Manchester United
VS
Liverpool FC
Betting tips & odds comparison 13.05.2021 Manchester United FC - Liverpool FC
Betting Tip for matchday 34 of the 2020/2021 Premier League between Manchester United FC and Liverpool FC. The game will be played at Old Trafford (Manchester, England) on 13.05.2021 at 21:15.
Manchester United vs Liverpool, EPL 13.05.2021
After Manchester United losing to Leicester, their noisy neighbors Manchester City walk up to the Premier League trophy. It is now sealed and Manchester United is now vying for the second spot.
Liverpool are still considered long shots for a Champions League spot, but their 2-0 victory over Southampton at the weekend increased their odds of finishing in the top four. They will be putting all their guns blazing heading to this match.
Take advantage of the Bet9ja welcome bonus in our review of this game. Get more information as well about the bonus promotions from the leading bookmakers in the market.
MANCHESTER UNITED
It is United's third game in five days, and while their title aspirations are over following their loss to Leicester on Tuesday confirmed Man City as champions, Ole Gunnar Solskjaer would like to deliver a heavy blow to Liverpool's Champions League hopes.
Manchester United has done well, winning three, drawing one, and losing one of their last five league fixtures. These results represent how well they have performed in recent games. Even with Liverpool coming to town, they're likely to maintain their imperious demeanour. They have also qualified for the Europa League finals. As much as they can't win the title, they will want to bridge the gap between them and Manchester City.
LIVERPOOL
Liverpool will carry their hunt for a top-four finish to Old Trafford on Thursday. Their chances of finishing in the top four and returning to the Champions League are dependent on their rivals making mistakes in the final few weeks.
Liverpool comes into this game on an undefeated streak of three victories and two draws in their last five games. They bounced back from back-to-back draws with a 2-0 victory over Southampton at Anfield on Saturday in their most recent league outing. It was a fight between two strong teams, but one that resulted in a well-deserved winner.
Sevilla will be depending on their well-organized front team and defence to ensure that they take points from this game in order to keep their hopes of finishing in the top four intact. West Ham United and Chelsea are both vying for the spot, so it's going to be a close race.
Possible Line Ups
MANCHESTER UNITED
LIVERPOOL

Henderson
Wan-Bissaka
Lindelof
Bailey
Shaw
Pogba
Fred
Rashford
Fernandes
Greenwood
Cavani
Coach: Ole Gunnar Solskjaer

Alisson
Davies
Fabinho
Alexander-Arnold
Robertson
Alcantara
Wijnaldum
Milner
Salah
Firminho
Mane
Coach: Jurgen Klopp

Injured: Martial (Knee), Jones (Knee) and Van Dijk (Knee), Henderson (Groin), Matip (Ankle), Gomez (Knee)
OUR TIP
Manchester City welcomes Jurgen Klopp's team at Old Trafford. This comes after being beaten by Leicester. The Red Devils will definitely be looking to bounce back and redeem themselves even though they really do not have much to fight for in the league. as they not title contenders anymore. The match against Liverpool has always been entertaining and we expect some goals flying in.
You can read our betting strategies page for more insights into betting.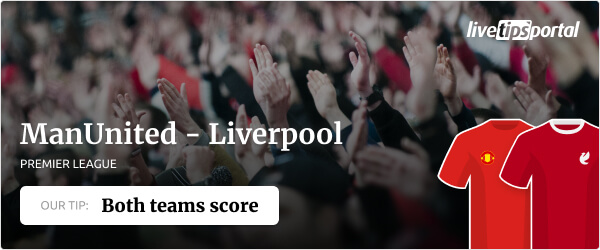 © Livetipsportal
Liverpool is the one under pressure as they visit Old Trafford. They have a lot of stakes to play as the red devils can't win the title after their loss to Leicester. The clock is running out for them to return to the top four and claim a place in the Champions League for the next season. It has been a poor season, but being kicked out of the UEFA Championship would definitely be disastrous.
BETTING TIP TODAY: Both Teams To Score @ 1.50 odds
Our tips
Performance
Manchester United
Last games
Manchester United performance of the last 5 home matches
Liverpool FC
Last games
Liverpool FC performance of the last 5 away matches
Current Standing
| POS | TEAM | PTS | MP | W | D | L | GF | GA | GD |
| --- | --- | --- | --- | --- | --- | --- | --- | --- | --- |
| 1 | | 86 | 38 | 27 | 5 | 6 | 83 | 32 | 51 |
| 2 | | 74 | 38 | 21 | 11 | 6 | 73 | 44 | 29 |
| 3 | | 69 | 38 | 20 | 9 | 9 | 68 | 42 | 26 |
| 4 | | 67 | 38 | 19 | 10 | 9 | 58 | 36 | 22 |
| 5 | | 66 | 38 | 20 | 6 | 12 | 68 | 50 | 18 |
| 6 | | 65 | 38 | 19 | 8 | 11 | 62 | 47 | 15 |
| 7 | | 62 | 38 | 18 | 8 | 12 | 68 | 45 | 23 |
| 8 | | 61 | 38 | 18 | 7 | 13 | 55 | 39 | 16 |
| 9 | | 59 | 38 | 18 | 5 | 15 | 62 | 54 | 8 |
| 10 | | 59 | 38 | 17 | 8 | 13 | 47 | 48 | -1 |
| 11 | | 55 | 38 | 16 | 7 | 15 | 55 | 46 | 9 |
| 12 | | 45 | 38 | 12 | 9 | 17 | 46 | 62 | -16 |
| 13 | Wolverhampton Wanderers FC | 45 | 38 | 12 | 9 | 17 | 36 | 52 | -16 |
| 14 | | 44 | 38 | 12 | 8 | 18 | 41 | 66 | -25 |
| 15 | | 43 | 38 | 12 | 7 | 19 | 47 | 68 | -21 |
| 16 | Brighton & Hove Albion FC | 41 | 38 | 9 | 14 | 15 | 40 | 46 | -6 |
| 17 | | 39 | 38 | 10 | 9 | 19 | 33 | 55 | -22 |
| 18 | | 28 | 38 | 5 | 13 | 20 | 27 | 53 | -26 |
| 19 | | 26 | 38 | 5 | 11 | 22 | 35 | 76 | -41 |
| 20 | | 23 | 38 | 7 | 2 | 29 | 20 | 63 | -43 |
Legend
Champions League

Europa League

Abstieg

Europa Conference League