Paris Saint-Germain
VS
Metz
Paris Saint-Germain FC - FC Metz betting tip & odds comparison 21.05.2022
Matchday 38 in the Ligue 1 features the clash between Paris Saint-Germain and Metz at Parc des Princes. In our preview of Paris Saint-Germain vs. Metz, you will receive all the important details and facts about this Ligue 1 fixture. We will begin with an analysis of the current form of the two teams.
Livetipsportal is your expert-level platform for today's betting tips. We offer you the best sports betting predictions for the world's top leagues as well as for the most popular international competitions in football.
Paris Saint-Germain emerged the winner in 2 of their last 5 league games (2 wins, 3 draws, 0 defeats. In 18 games on home turf in the current Ligue 1 season 2021/2022, Paris Saint-Germain have won 15 times, with 3 matches ending in a draw, and 0 games ending in defeat (Goal difference 44:12).
In their last 5 Ligue 1 fixtures, Metz have won 2 games (2 wins, 1 draw, 2 defeats). In all previous Ligue 1 matches away from home, Metz have a negative record: 3 wins, 6 draws and 9 defeats - Goal difference 14:33.
A head-to-head comparison of the two teams in their last five Ligue 1 clashes shows that Paris Saint-Germain managed to get 4 wins, while in 0 matches, Metz snatched the three points. In 1 encounter between the two teams, the points were shared. If we solely focus on the home record of Paris Saint-Germain against Metz, the stats are as follows: 4 wins Paris Saint-Germain, 1 draw and 0 wins for Metz.
You want to place a bet at a bookie you haven't signed up with yet? In this case, we can recommend the Melbet welcome bonus for newly customers. We have already tested this offer for you.
Paris Saint-Germain will be looking to close out the 2021-22 Ligue 1 season with a bang when they play host to Metz at the Parc des Princes on Saturday night.
The Ligue 1 champions have yet to lose a game at home this term and will aim to keep that record here. The visitors are in the bottom three but could still maintain their Ligue status if they can avoid automatic relegation and survive a playoff later on.

This is an intriguing match although it may well end up being one-way traffic. Our France Ligue 1 prediction for this game will be derived from Wazobet and Mr Xbet.
WELCOME OFFER: Get 110% Wazobet bonus if you open a new account.
PSG
Having already sealed the Ligue 1 title weeks ago, PSG seemed to have taken their feet off the pedal with some lacklustre results. They did however shake off that tag last time out when they travelled to Montpellier and came out with a comprehensive 4-0 win, thanks to a brace from Lionel Messi along with goals from Di Maria and Mbappe.

With the champions guaranteed to finish the league with a double-digit lead, attention has shifted to off the pitch issues with the future of their superstar forward Kylian Mbappe the subject to discussions this summer. Having failed to sign an extension, there is an expectation that he will move to Spanish giants Real Madrid.

Mauricio Pochettino has avoided the subject ahead of this match. He will have most of his team available and after drawing with Lens and Troyes in their last two at this venue, he will demand for a better showing from his charges to bring the curtains down to another successful season.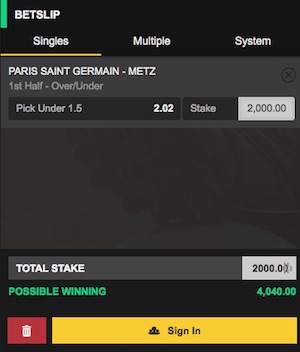 METZ
After looking dead in the water a few weeks ago, Metz have come alive in their last few matches to give themselves a glimmer of hope of surviving the automatic drop-down to Ligue 2. Their 1-0 win over Angers last time out made it two wins and a draw in their last three matches, leaving them 18th on the table, which if they can maintain, they will go into a relegation/promotion playoff with either Auxerre or Sochaux.

They are level on points with St Etienne and have a much better goal difference than Bordeaux. They, therefore, need to keep things tight against PSG so as to maintain this goal difference relatively reasonable as opposed to losing by cricket scores to PSG which would greatly compromise their position.
The omens don't favor Les Grenats though. They are winless in their last seven games on the road and have lost their last 12 straight matches against PSG including a last gasp 2-1 loss in the reverse game.
POSSIBLE LINEUPS
PSG
Navas
Hakimi
Marquinhos
Kimpembe
Mendes
Simons
Verratti
Di Maria
Messi
Neymar
Mbappe
COACH: Mauricio Pochettino
MISSING PLAYERS: Paredes (Groin)
METS
Caillard
Niakate
Bronn
Kouyate
Mikelbrencis
Sarr
Traore
Cande
Boulaya
Mafouta,
Lamkel Ze
COACH: Frédéric Antonetti
MISSING PLAYERS: de Preville (Yellow Cards), Centonze (Knock), Maiga (Knock), Amadou (Knock)
OUR PSG VS METZ PREDICTIONS
Metz have their fate in their hands and they will fight tooth and nail to try and avoid automatic relegation here. Unfortunately for them, leading striker De Preville is out of this game and that certainly will hurt their attack. As a result, coach Antonetti is likely to default to an ultra-defensive formation to try and keep the marauding PSG attack at bay. We fancy the game to be particularly tight particular in the beginning as Metz try to neutralize the PSG forwards. We are therefore backing Under 1.5 1st Half Goals @ 2.02 with Wazobet as our initial betting tip today.


With Metz in a fight for their lives, they are likely to play an overly physical game. PSG is expected to dominate the game from start to finish meaning Metz will be on the back foot for the most part. There was bad blood in that reverse game at Metz that resulted in 9 bookings and a red card issued. We don't quite expect a similar amount of bile here but we fancy Metz to pick up at least 3 bookings @2.22 with MrXbet Bonus for our last tip for this game.
Performance
Paris Saint-Germain
Last games
Paris Saint-Germain performance of the last 5 home matches
Metz
Last games
Metz performance of the last 5 away matches
Current Standing
| POS | TEAM | PTS | MP | W | D | L | GF | GA | GD |
| --- | --- | --- | --- | --- | --- | --- | --- | --- | --- |
| 1 | | 86 | 38 | 26 | 8 | 4 | 90 | 36 | 54 |
| 2 | | 71 | 38 | 21 | 8 | 9 | 63 | 38 | 25 |
| 3 | | 69 | 38 | 20 | 9 | 9 | 65 | 40 | 25 |
| 4 | | 66 | 38 | 20 | 6 | 12 | 82 | 40 | 42 |
| 5 | | 66 | 38 | 20 | 7 | 11 | 52 | 36 | 16 |
| 6 | | 63 | 38 | 17 | 12 | 9 | 60 | 43 | 17 |
| 7 | | 62 | 38 | 17 | 11 | 10 | 62 | 48 | 14 |
| 8 | | 61 | 38 | 17 | 11 | 10 | 66 | 51 | 15 |
| 9 | | 55 | 38 | 15 | 10 | 13 | 55 | 48 | 7 |
| 10 | | 55 | 38 | 14 | 13 | 11 | 48 | 48 | 0 |
| 11 | | 48 | 38 | 13 | 9 | 16 | 49 | 57 | -8 |
| 12 | | 46 | 38 | 11 | 13 | 14 | 43 | 44 | -1 |
| 13 | | 43 | 38 | 12 | 7 | 19 | 49 | 61 | -12 |
| 14 | | 41 | 38 | 10 | 11 | 17 | 44 | 55 | -11 |
| 15 | | 38 | 38 | 9 | 11 | 18 | 37 | 53 | -16 |
| 16 | | 36 | 38 | 8 | 12 | 18 | 35 | 63 | -28 |
| 17 | | 36 | 38 | 9 | 9 | 20 | 38 | 69 | -31 |
| 18 | | 32 | 38 | 7 | 11 | 20 | 42 | 77 | -35 |
| 19 | | 31 | 38 | 6 | 13 | 19 | 35 | 69 | -34 |
| 20 | | 31 | 38 | 6 | 13 | 19 | 52 | 91 | -39 |
Legend
Champions League

Champions League Quali.

Europa League

Europa Conference League Quali.

Relegation play-off

Relegation