Paris Saint-Germain
VS
Olympique Lyon
Paris Saint-Germain FC - Olympique Lyon betting tip & odds comparison 19.09.2021
In gameweek 6 of Ligue 1, Paris Saint-Germain will host Olympique Lyon at Parc des Princes. Kick-off is scheduled for 8:45 PM on Sep 19, 2021, and the fixture will be refereed by Clément Turpin. With our match prediction and odds comparison for Paris Saint-Germain vs. Olympique Lyon you are guaranteed to get all the important facts and details for this fixture. First and foremost, we will take a close look at the teams' recent performances.
Where to find the best bet tips for today? Livetipsportal offers you a vast selection of predictions for the most popular domestic leagues and international competitions.
Paris Saint-Germain have won 5 of their last 5 league matches (5 wins, 0 draws, 0 defeats. In the previous 2 home games in the Ligue 1 season 2021/2022, Paris Saint-Germain have won 2 matches, 0 games ended in a draw, and 0 games in defeat. (Goal difference 8:2).
Out of their last 5 Ligue 1 fixtures, Olympique Lyon have won 2 games (2 wins, 2 draws, 1 defeat). The away record in the current Ligue 1 season reads as follows: 1 win, 0 draws und 1 defeat - Goal difference 1:3.
In their last five Ligue 1 encounters, Paris Saint-Germain managed to get 4 wins against Olympique Lyon, while Lyon scored 1 win. On 0 occasions, there was no winner. If we focus exclusively on the home games that Paris Saint-Germain played against Olympique Lyon in the Ligue 1, we get the following record: 4 wins for Paris Saint-Germain, 0 draws and 1 win for Olympique Lyon.
Have you heard of the Betway first deposit bonus yet? This offer, which is available to all customers who register for the first time, will allow you to start off with some extra credit.
PSG vs Lyon, Ligue 1, 19.09.2021
A mouth-watering clash awaits between two of the biggest names in French football. PSG will be looking to maintain their 100% winning record in the league while Lyon have some ground to make up after winning only 8 points out of a possible 15 so far.
These are two teams expected to fight it out for the league title and therefore any encounter between them becomes extra important. Plus, this fixture has always provided some good entertainment.
We promote Odibet Kenya & Ghana in our preview of this game.
Read more about the bonus promotion from the leading betting sites in Nigeria. Customers Nigeria will find other great bookies to sign up with.
PSG
PSG have beaten every team they have met so far in the league and now sit at the top of the table 4 points ahead of the second-placed team after just 5 matches. They had the luxury of resting Lionel Messi in their last league game against Clermont and they still won 4-0.
Messi started in midweek alongside Neymar and Mbappe against Club Brugge in the Champions League, but it ended in a disappointing 1-1 draw and none of them on the scoresheet. This is likely to change when they line up against Lyon.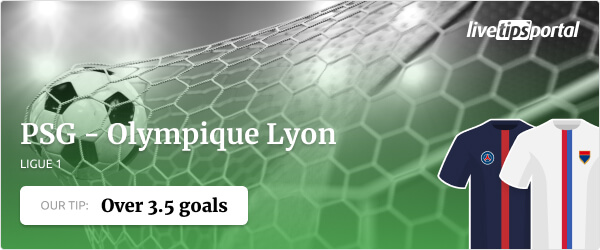 © Livetipsportal
LYON
Olympique Lyon have now won their last 2 league games after a poor start in which they gained only 2 points in their first 3 opening league matches. They know they cannot afford to drop more points here if they want to keep up with the league leaders.
Lyon have been performing well in attack, with an average of 2.20 goals per game. It is their defense that is causing worries, and they will be happy to welcome back Da Silva to strengthen their backline.
Possible Line Ups
PSG
LYON

Navas
Hakimi
Kehrer
Kimpembe
Diallo
Herrera
Verratti
Wijnaldum
Neymar
Mbappe
Messi
Coach: Mauricio Pochettino

Lopes
Gusto
Diomande
Denayer
Emerson
Mendes
Bruno
Ekambi
Paqueta
Aouar
Dembele
Coach: Peter Bosz

Injured: Bernat (Knee), Dagba (Ankle), Kurzawa (Calf), Ramos (Leg) and Dubois L. (Calf), Kadewere, (Muscle), Mendes (Injury)
OUR TIP
Two excellent attacking teams come head-to-head so we expect plenty of goals. PSG average 3.00 goals and PSG 2.20 goals per game in their last 5 matches respectively.
Previous meetings have also shown that this is usually a high-scoring affair. With all the attacking talent in play, we expect this game to produce more than 3 goals.
Find more analysis by reading our football betting strategy.
FOOTBALL BETTING TIP TODAY: Over 3.5 Goals @ 2.14 odds.
Our tips
Performance
Paris Saint-Germain
Last games
Paris Saint-Germain performance of the last 6 home matches
Olympique Lyon
Last games
Olympique Lyon performance of the last 4 away matches
Current Standing
| POS | TEAM | PTS | MP | W | D | L | GF | GA | GD |
| --- | --- | --- | --- | --- | --- | --- | --- | --- | --- |
| 1 | | 86 | 38 | 26 | 8 | 4 | 90 | 36 | 54 |
| 2 | | 71 | 38 | 21 | 8 | 9 | 63 | 38 | 25 |
| 3 | | 69 | 38 | 20 | 9 | 9 | 65 | 40 | 25 |
| 4 | | 66 | 38 | 20 | 6 | 12 | 82 | 40 | 42 |
| 5 | | 66 | 38 | 20 | 7 | 11 | 52 | 36 | 16 |
| 6 | | 63 | 38 | 17 | 12 | 9 | 60 | 43 | 17 |
| 7 | | 62 | 38 | 17 | 11 | 10 | 62 | 48 | 14 |
| 8 | | 61 | 38 | 17 | 11 | 10 | 66 | 51 | 15 |
| 9 | | 55 | 38 | 15 | 10 | 13 | 55 | 48 | 7 |
| 10 | | 55 | 38 | 14 | 13 | 11 | 48 | 48 | 0 |
| 11 | | 48 | 38 | 13 | 9 | 16 | 49 | 57 | -8 |
| 12 | | 46 | 38 | 11 | 13 | 14 | 43 | 44 | -1 |
| 13 | | 43 | 38 | 12 | 7 | 19 | 49 | 61 | -12 |
| 14 | | 41 | 38 | 10 | 11 | 17 | 44 | 55 | -11 |
| 15 | | 38 | 38 | 9 | 11 | 18 | 37 | 53 | -16 |
| 16 | | 36 | 38 | 8 | 12 | 18 | 35 | 63 | -28 |
| 17 | | 36 | 38 | 9 | 9 | 20 | 38 | 69 | -31 |
| 18 | | 32 | 38 | 7 | 11 | 20 | 42 | 77 | -35 |
| 19 | | 31 | 38 | 6 | 13 | 19 | 35 | 69 | -34 |
| 20 | | 31 | 38 | 6 | 13 | 19 | 52 | 91 | -39 |
Legend
Champions League

Champions League Quali.

Europa League

Europa Conference League Quali.

Relegation play-off

Relegation