Paris Saint-Germain
VS
RC Strasbourg
Paris Saint-Germain FC - RC Strasbourg Alsace betting tip & odds comparison 14.08.2021
Matchday 2 in the Ligue 1 features the clash between Paris Saint-Germain and RC Strasbourg at Parc des Princes. In our preview of Paris Saint-Germain vs. RC Strasbourg, you will receive all the important details and facts about this Ligue 1 fixture. We will begin with an analysis of the current form of the two teams.
Livetipsportal is your expert-level platform for football multi bet tips. We offer you the best sports betting predictions for the world's top leagues as well as for the most popular international competitions in football.
A head-to-head comparison of the two teams in their last five Ligue 1 clashes shows that Paris Saint-Germain managed to get 3 wins, while in 0 matches, RC Strasbourg snatched the three points. In 2 encounters between the two teams, the points were shared. If we solely focus on the home record of Paris Saint-Germain against Strasbourg, the stats are as follows: 4 wins Paris Saint-Germain, 1 draw and 0 wins for RC Strasbourg.
You want to place a bet at a bookie you haven't signed up with yet? In this case, we can recommend the Melbet registration bonus for newly customers. We have already tested this offer for you.
PSG vs Strasbourg, Ligue 1, 14.08.2021
The attention of the football world has been on PSG over the last week or so following their signing of Lionel Messi after he parted ways with Barcelona. With the dust settling, PSG will now have to channel their energies to the pitch when they host Strasbourg at the Parc des Princes on Saturday.
Whilst Messi may not necessarily feature here, PSG still have a galaxy of stars in their squad that should be good enough to take care of business before the Argentine star can make his long-awaited debut.
For this Ligue 1 match preview, we will turn our attention to our EXCLUSIVE Melbet Welcome Bonus who have some interesting betting options and prices.
PSG
PSG have had by far the best summer signings in the world. This window has brought them some good tidings. Messi obviously stole the headlines but the likes of Ramos, Achraf Hakimi, Wijnaldum and AC Milan keeper Donnarumma are all very solid pieces that have been added onto a team that already had a bunch of superstars like Neymar and Mbappe.
It is clear that the Qatari owners were not satisfied with playing second fiddle in the domestic league to eventual winners Lille and they are intent on not only reclaiming the title but also go all out for the one piece of silverware that is missing in their cabinet: the UEFA Champions League.
The Parisians looked shaky in their opener against Troyes but did just enough to pick up a 2-1 win. A lot more is expected of them not just this weekend but in weeks and months to come.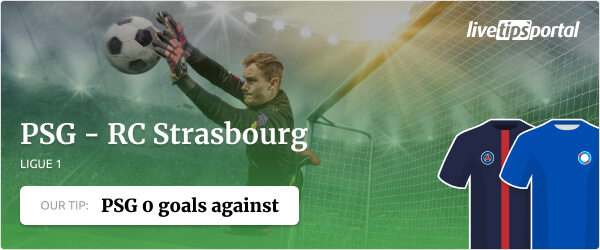 © Livetipsportal
STRASBOURG
Strasbourg are on the opposite end of the spectrum. They have struggled to establish themselves in the top flight since returning back in 2017. Last season, they survived relegation by a whisker, finishing 15th on the log, just two points clear of relegation. They might be involved in that relegation dogfight again this season if the 2-0 loss to Angers on opening day is any indication.
Newly appointed coach Julien Stephan, who took up the job after a successful showing at Rennes, has his work cut out against a team that everyone expects to steamroll their way through the domestic league. He may well have to wait for his first points of the season.
Possible Line Ups
PSG
STRASBOURG

Navas
Hakimi
Kehrer
Kimpembe
Diallo
Herrera
Danilo
Wijnaldum
Draxler
Mbappe
Icardi
Coach: Mauricio Pochettino

Sels
Caci
Djiku
Sissoko
Fila
Lienard
Bellegarde
Diallo
Thomasson
Waris
Gameiro
Coach: Julien Stephan

Injured: Bernat (Knee), Dagba (Ankle), Gueye (Illness), Letellier (Groin), Ramos (Leg) and Mothiba (Knee), Dion (Thigh)
PSG VS STRASBOURG
When these two teams met last season, PSG easily won 4-0 and 4-1. They are unbeaten in their 30 Ligue 1 home games against Strasbourg – which is a French top-flight record for one team at home against a specific team. With PSG catching flak for a rather pedestrian display last weekend, despite the win, we can expect some backlash here against one of their favorite customers. We are backing them to take control of the game early and pick up a comfortable win at the final whistle. We are therefore picking them to win at halftime and fulltime @ 1.57 as the first of our Ligue 1 betting tips today.
Strasbourg looked horrible in their opener. They not only lost to Angers but could only muster a single shot on target in that game. This is going to be an even more difficult game for them and scoring chances will come at a premium here. PSG will dominate possession from the get-go and their improved defence will be keen to record their first clean sheet of the season in the capital which we fancy them to do. Melbet have that priced @ 1.85 and we are snapping it up for our final tip here.
Read our reviews of the best betting sites in Kenya and get to discover where you can pick up some of those juicy offers to kick off the new season with.
Our tips
Performance
Paris Saint-Germain
Last games
Paris Saint-Germain performance of the last 6 home matches
RC Strasbourg
Last games
RC Strasbourg performance of the last 4 away matches
Current Standing
| POS | TEAM | PTS | MP | W | D | L | GF | GA | GD |
| --- | --- | --- | --- | --- | --- | --- | --- | --- | --- |
| 1 | | 86 | 38 | 26 | 8 | 4 | 90 | 36 | 54 |
| 2 | | 71 | 38 | 21 | 8 | 9 | 63 | 38 | 25 |
| 3 | | 69 | 38 | 20 | 9 | 9 | 65 | 40 | 25 |
| 4 | | 66 | 38 | 20 | 6 | 12 | 82 | 40 | 42 |
| 5 | | 66 | 38 | 20 | 7 | 11 | 52 | 36 | 16 |
| 6 | | 63 | 38 | 17 | 12 | 9 | 60 | 43 | 17 |
| 7 | | 62 | 38 | 17 | 11 | 10 | 62 | 48 | 14 |
| 8 | | 61 | 38 | 17 | 11 | 10 | 66 | 51 | 15 |
| 9 | | 55 | 38 | 15 | 10 | 13 | 55 | 48 | 7 |
| 10 | | 55 | 38 | 14 | 13 | 11 | 48 | 48 | 0 |
| 11 | | 48 | 38 | 13 | 9 | 16 | 49 | 57 | -8 |
| 12 | | 46 | 38 | 11 | 13 | 14 | 43 | 44 | -1 |
| 13 | | 43 | 38 | 12 | 7 | 19 | 49 | 61 | -12 |
| 14 | | 41 | 38 | 10 | 11 | 17 | 44 | 55 | -11 |
| 15 | | 38 | 38 | 9 | 11 | 18 | 37 | 53 | -16 |
| 16 | | 36 | 38 | 8 | 12 | 18 | 35 | 63 | -28 |
| 17 | | 36 | 38 | 9 | 9 | 20 | 38 | 69 | -31 |
| 18 | | 32 | 38 | 7 | 11 | 20 | 42 | 77 | -35 |
| 19 | | 31 | 38 | 6 | 13 | 19 | 35 | 69 | -34 |
| 20 | | 31 | 38 | 6 | 13 | 19 | 52 | 91 | -39 |
Legend
Champions League

Champions League Quali.

Europa League

Europa Conference League Quali.

Relegation play-off

Relegation