Real Madrid
VS
FC Barcelona
Alfredo Di Stéfano
Madrid
Real Madrid CF - FC Barcelona betting tip & odds comparison 10.04.2021
In gameweek 30 of Primera División, Real Madrid will host FC Barcelona at Alfredo Di Stéfano. Kick-off is scheduled for 9:00 PM on Apr 10, 2021, and the fixture will be refereed by Jesús Gil Manzano. With our match prediction and odds comparison for Real Madrid vs. FC Barcelona you are guaranteed to get all the important facts and details for this fixture. First and foremost, we will take a close look at the teams' recent performances.
You can't get enough of La Liga betting tips? We provide you with betting tips for every matchday fixture, and additionally, we offer a comprehensive odds comparison.
Real Madrid have won 3 of their last 5 league matches (3 wins, 2 draws, 0 defeats. In the previous 14 home games in the Primera División season 2020/2021, Real Madrid have won 10 matches, 1 game ended in a draw, and 3 games in defeat. (Goal difference 25:9).
Out of their last 5 Primera División fixtures, FC Barcelona have won 5 games (5 wins, 0 draws, 0 defeats). The away record in the current Primera División season reads as follows: 10 wins, 1 draw und 3 defeats - Goal difference 31:10.
In their last five Primera División encounters, Real Madrid managed to get 2 wins against FC Barcelona, while Barcelona scored 2 wins. On 1 occasion, there was no winner. If we focus exclusively on the home games that Real Madrid played against FC Barcelona in the Primera División, we get the following record: 2 wins for Real Madrid, 0 draws and 3 wins for FC Barcelona.
Have you heard of the Betway bonus yet? This offer, which is available to all customers who register for the first time, will allow you to start off with some extra credit.
Real Madrid vs Barcelona, La Liga 10.04.2021
The pick of this weekend's football action is without a doubt Saturday evening's El Classico when Real Madrid welcome their nemesis Barcelona to the Spanish capital in a clash that could ultimately be decisive in this season's title race.
Los Blancos are currently third in Spain's top flight, two points behind second-placed Barca, who now trail leaders Atletico Madrid by just a single point with nine games left.
Both teams are terrific form which makes this clash very intriguing. Booster99 Welcome Bonus offers a few interesting options and tantalizing prices for our betting tips for this game.
REAL MADRID
Real Madrid come into this clash in great spirits. They impressed in the opening leg of their Champions League quarter-final against Liverpool despite playing without some of their key players like their captain and defensive stalwart Sergio Ramos and the injured Eden Hazard, picking up a comfortable 3-1 win against the English champions.
The reigning Spanish champions had their challenges in this 2020-21 campaign. However, they have put up strong performances in the last few weeks and are now very much in the thick of the title chase. A loss here would see them lose precious ground, but a victory would leave them in a strong position to defend their title with fixtures against Getafe, Cadiz and Real Betis coming up before the end of April.
Zidane's charges have generally performed well at home this season and they will look to take a further step forward in their title defense by doing a double on their rivals.
BARCELONA
Barca, on their part, did not have much distraction with midweek Champions League action, as they were knocked out in the last-16 stage by PSG at the beginning of March. They have therefore had more time to prepare for this critical clash.
They too are coming into this fixture on the back of excellent results in the league. Since losing to Cadiz at the start of December, they have racked up six straight victories in Spain's top flight, a run that has seen them climb up to second on the log, just a point behind the league leaders, Atletico Madrid.
The Catalan giants have a chance to go top of the table with a win as the league leaders do not play until Sunday evening when they travel to Real Betis.
Possible Line Ups
REAL MADRID
BARCELONA

Courtois
Vázquez
Militão
Fernandez
Mendy
Modric
Casemiro
Kroos
Valverde
Benzema
Júnior
Coach: Zinedine Zidane

Ter Stegen
Dest
Araujo
Lenglet
Alba
de Jong
Busquets
Pedri
Griezmann
Messi
Dembele
Coach: Zinedine Zidane

Injured: Ramos (Calf), Varane (Illness), Carvajal (Thigh), Hazard (Muscle) and Coutinho (Meniscus), Piqué (Knee), Neto (Ankle), Fati (Muscle)
REAL MADRID VS BARCELONA BETTING PREDICTIONS
Both teams come into this match with impressive records over the last few weeks. This is a critical match in the bigger scheme of the title race here. El Classicos often spring up surprises, form notwithstanding. However, with so riding on this game's outcome, we anticipate a rather tight opening half here with neither team willing to overcommit. We are therefore picking Halftime Draw @ 2.36 as our first betting tip for this game.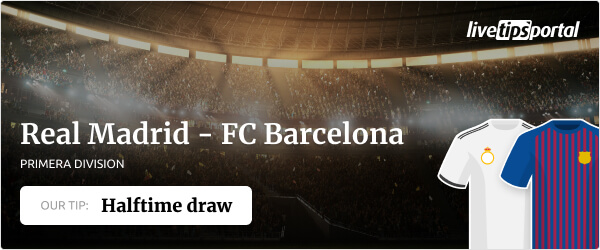 © livetipsportal.com
With both of these teams scoring goals for fun in their respective solid runs, the goalscorer market here is of great interest to us. Barca's mercurial forward Messi has been in great goalscoring form and betting on him to score anytime in any game can be considered a safe bet at the moment. In our case, looking at his record against Real Madrid, we find great value in doubling up on this bet. He has scored 18 times in 14 league matches between these great rivals. And while his future with Barca beyond this summer still hangs in the balance, but there is no way the Argentine talisman would want to sign off with anything less than three points a top drawer performance. We are therefore backing him to score anytime @ 1.98 as our final call here.
Our tips
Performance
Real Madrid
Last games
Real Madrid performance of the last 6 home matches
FC Barcelona
Last games
FC Barcelona performance of the last 4 away matches
Current Standing
| POS | TEAM | PTS | MP | W | D | L | GF | GA | GD |
| --- | --- | --- | --- | --- | --- | --- | --- | --- | --- |
| 1 | | 86 | 38 | 26 | 8 | 4 | 67 | 25 | 42 |
| 2 | | 84 | 38 | 25 | 9 | 4 | 67 | 28 | 39 |
| 3 | | 79 | 38 | 24 | 7 | 7 | 85 | 38 | 47 |
| 4 | | 77 | 38 | 24 | 5 | 9 | 53 | 33 | 20 |
| 5 | | 62 | 38 | 17 | 11 | 10 | 59 | 38 | 21 |
| 6 | | 61 | 38 | 17 | 10 | 11 | 50 | 50 | 0 |
| 7 | | 58 | 38 | 15 | 13 | 10 | 60 | 44 | 16 |
| 8 | | 53 | 38 | 14 | 11 | 13 | 55 | 57 | -2 |
| 9 | | 46 | 38 | 13 | 7 | 18 | 47 | 65 | -18 |
| 10 | | 46 | 38 | 11 | 13 | 14 | 46 | 42 | 4 |
| 11 | | 44 | 38 | 11 | 11 | 16 | 37 | 48 | -11 |
| 12 | | 44 | 38 | 11 | 11 | 16 | 36 | 58 | -22 |
| 13 | | 43 | 38 | 10 | 13 | 15 | 50 | 53 | -3 |
| 14 | | 41 | 38 | 9 | 14 | 15 | 46 | 57 | -11 |
| 15 | | 38 | 38 | 9 | 11 | 18 | 28 | 43 | -15 |
| 16 | | 38 | 38 | 9 | 11 | 18 | 36 | 57 | -21 |
| 17 | | 36 | 38 | 8 | 12 | 18 | 34 | 55 | -21 |
| 18 | | 34 | 38 | 7 | 13 | 18 | 34 | 53 | -19 |
| 19 | Real Valladolid Club de Futbol | 31 | 38 | 5 | 16 | 17 | 34 | 57 | -23 |
| 20 | | 30 | 38 | 6 | 12 | 20 | 29 | 52 | -23 |
Legend
Champions League

Europa League

Europa League Quali.

Relegation

Europa Conference League