Sheffield United
VS
Birmingham City
Sheffield United FC - Birmingham City FC betting tip & odds comparison 07.08.2021
Gameweek 1 in the Championship will see the clash between Sheffield United and Birmingham City at Bramall Lane. Kick-off time is at 9:00 PM on Aug 7, 2021. In our preview of Sheffield United vs. Birmingham City we will provide you with all the important facts and stats for this Championship fixture. Let's start by having a look at the current form of the two teams involved.
Here, you have all english Championship predictions at a glance. We provide you with detailed forecasts for every matchday. In addition to that, you can also find a comprehensive odds comparison.
Out of the last five Championship encounters between the two teams, Sheffield United won 0. In 3 matches the points between the two sides were shared, and 2 times Birmingham City got the win. If we look at the home record of Sheffield United against Birmingham City, the stats are as follows: 1 win Sheffield United, 2 draws and 2 wins Birmingham City.
Naturally, you can follow our advice and place the same bet free of charge. If you decide to do so at a new bookie, you can benefit from the Betway bonus. We have already tested the offer for you in detail.
Sheffield United vs. Birmingham, Championship, 07.08.2021
The new Championship season is here and Sheffield United will be looking to make an immediate return to the Premier League after being relegated from there last season. For Birmingham, it will take a major improved performance from their 18th position finish last season to make it out of the Championship.
The opening game is usually very important as it may set the pace for the team's performances in the new season. A win here for either team will act as a morale booster for starting the season strongly.
We will promote the Betway registration bonus in our preview for this match – available in several african countries like Kenya, Nigeria, Ghana and Uganda.
Other bookmakers also have bonus promotions for customers.
SHEFFIELD UNITED
Sheffield United finished last in the Premier League last season and their relegation was confirmed with 6 games still to go. This was a harsh outcome for a team that had played some decent football at times. The Championship can also be a tough place so they have to give their best performances.
Sheffield United will be counting on their striking force of Rhian Brewster, Oli McBurnie and David McGoldrick to carry them through the Championship. They may not have delivered a lot in the Premier League but they are proven at this level.
BIRMINGHAM
Birmingham have been stuck in the Championship for the last 10 seasons and will need huge performances if they are to dream of making a return to the Premier League. Opening the season with a win will certainly help towards such belief.
Manager Lee Bowyer is starting his full league campaign as Birmingham manager and has a lot to prove. He has to get the team winning again consistently as the pre-season friendlies have not been impressive enough. Just one win in four games.
Possible Line Ups
SHEFFIELD UNITED
BIRMINGHAM

Ramsdale
Basham
Egan
Robinson
Baldock
Norwood
Fleck
Stevens
McGoldrick
Osborn
Jebbison
Coach: Slavisa Jokanovic

Jeacock
Cogley
Roberts
Friend
Seddon
Stirk
Harper
Sunjic
Miller
Cosgrove
Leko
Coach: Lee Bowyer

Injured: None and None
OUR TIP
Despite their relegation, Sheffield United finished their Premier League season strongly with 3 wins in 4 matches. They have retained most of their first team members and should therefore have a team strong enough to take 3 points here.
You can read our betting strategies page for more insights into betting.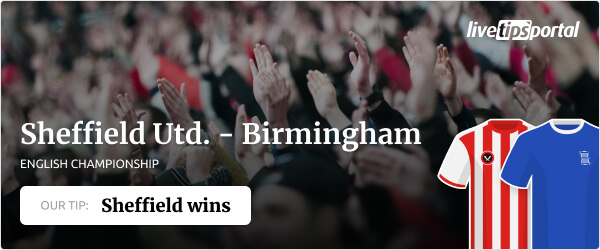 © Livetipsportal
Birmingham's last season finish and performances in the preseason games have not been impressive. In particualr, they need to improve their striking as they are just not getting enough goals. It will be difficult for them to get anything in this game.
BETTING TIP TODAY: We go for Sheffield United Win @ 1.85 as our prediction for this game.
Our tips
Performance
Sheffield United
Last games
Sheffield United performance of the last 4 home matches
Birmingham City
Last games
Birmingham City performance of the last 6 away matches
Current Standing
| POS | TEAM | PTS | MP | W | D | L | GF | GA | GD |
| --- | --- | --- | --- | --- | --- | --- | --- | --- | --- |
| 1 | | 90 | 46 | 27 | 9 | 10 | 106 | 43 | 63 |
| 2 | | 88 | 46 | 25 | 13 | 8 | 74 | 39 | 35 |
| 3 | | 82 | 46 | 23 | 13 | 10 | 64 | 47 | 17 |
| 4 | | 80 | 46 | 23 | 11 | 12 | 73 | 40 | 33 |
| 5 | | 75 | 46 | 21 | 12 | 13 | 63 | 45 | 18 |
| 6 | | 75 | 46 | 21 | 12 | 13 | 63 | 55 | 8 |
| 7 | | 70 | 46 | 20 | 10 | 16 | 59 | 50 | 9 |
| 8 | Blackburn Rovers Footbal & Athletic | 69 | 46 | 19 | 12 | 15 | 59 | 50 | 9 |
| 9 | | 69 | 46 | 18 | 15 | 13 | 53 | 45 | 8 |
| 10 | | 67 | 46 | 18 | 13 | 15 | 52 | 45 | 7 |
| 11 | | 66 | 46 | 19 | 9 | 18 | 60 | 59 | 1 |
| 12 | | 64 | 46 | 17 | 13 | 16 | 60 | 59 | 1 |
| 13 | | 64 | 46 | 16 | 16 | 14 | 52 | 56 | -4 |
| 14 | | 62 | 46 | 17 | 11 | 18 | 57 | 52 | 5 |
| 15 | | 61 | 46 | 16 | 13 | 17 | 58 | 68 | -10 |
| 16 | | 60 | 46 | 16 | 12 | 18 | 54 | 58 | -4 |
| 17 | | 55 | 46 | 15 | 10 | 21 | 62 | 77 | -15 |
| 18 | | 53 | 46 | 15 | 8 | 23 | 50 | 68 | -18 |
| 19 | | 51 | 46 | 14 | 9 | 23 | 41 | 54 | -13 |
| 20 | | 47 | 46 | 11 | 14 | 21 | 50 | 75 | -25 |
| 21 | | 41 | 46 | 13 | 8 | 25 | 54 | 87 | -33 |
| 22 | | 37 | 46 | 9 | 10 | 27 | 43 | 87 | -44 |
| 23 | | 34 | 46 | 14 | 13 | 19 | 45 | 53 | -8 |
| 24 | | 30 | 46 | 6 | 12 | 28 | 33 | 73 | -40 |
Legend
Promotion

Play-offs

Relegation