Stade Reims
VS
Paris Saint-Germain
Stade de Reims - Paris Saint-Germain FC betting tip & odds comparison 29.08.2021
Matchday 4 in the Ligue 1 features the clash between Stade Reims and Paris Saint-Germain at Auguste Delaune. In our preview of Stade Reims vs. Paris Saint-Germain, you will receive all the important details and facts about this Ligue 1 fixture. We will begin with an analysis of the current form of the two teams.
Livetipsportal is your expert-level platform for sure multibet tips. We offer you the best sports betting predictions for the world's top leagues as well as for the most popular international competitions in football.
Stade Reims emerged the winner in 0 of their last 5 league games (0 wins, 3 draws, 2 defeats. In 1 games on home turf in the current Ligue 1 season 2021/2022, Stade Reims have won 0 times, with 1 match ending in a draw, and 0 games ending in defeat (Goal difference 3:3).
In their last 5 Ligue 1 fixtures, Paris Saint-Germain have won 5 games (5 wins, 0 draws, 0 defeats). In all previous Ligue 1 matches away from home, Paris Saint-Germain have a positive record: 2 wins, 0 draws and 0 defeats - Goal difference 6:3.
A head-to-head comparison of the two teams in their last five Ligue 1 clashes shows that Stade Reims managed to get 1 win, while in 3 matches, Paris Saint-Germain snatched the three points. In 1 encounter between the two teams, the points were shared. If we solely focus on the home record of Stade Reims against Paris SG, the stats are as follows: 1 win Stade Reims, 2 draws and 2 wins for Paris Saint-Germain.
You want to place a bet at a bookie you haven't signed up with yet? In this case, we can recommend the Betway signup bonus for newly customers. We have already tested this offer for you.
Stade Reims vs PSG, Ligue 1, 29.08.2021
All roads will lead to Stade Auguste-Delaune in Reims this Sunday as the home team welcomes the high-flying PSG on matchday 4 of the new Ligue 1 Season.
Reims are yet to taste defeat three matches into the season even though they have drawn them all. PSG meantime have shot to the top of the log after racking up three straight wins to start the season.
With Messi expected to make his debut here, the attention of the football world will certainly be fixed on this match. We expect an action-packed encounter here and we will take a look at the EXCLUSIVE Melbet first deposit Bonus betting options and prices.
STADE REIMS
Reims finished in the middle of the pack in Ligue 1 last season, as they ended up in 14th place on the log. They have proven to be a tough nut to crack to start the season with three straight draws against credible opposition in Nice, Montpellier and Metz. This run has them sitting in 12th place coming into this match.
The three draws are not a surprise for keen followers of the French league as Reims recorded the second-highest number of draws across Europe's top five leagues last season (15). Their last league match was a feisty affair at Metz that ended with six different players booked and both managers getting their marching orders at the end.
The odds are heavily stuck against them here and it will take a miracle to avoid defeat against the visitors who easily won both of their league meetings last season.
PSG
PSG have been on a roll to start the season. They had a fantastic summer transfer window that landed them the biggest prize in the window, Lionel Messi who is poised to make his debut after missing the first three games of the season, which they have easily won without him.
They looked shaky against Troyes in the opener but they put to bed any doubts that had been cast against them with identical 4-2 back-to-back wins at home to Strasbourg and away at Brest last time out.
It is clear the sting from losing their league title last year has been their driving force to start the season. They have sent a memo to the rest of the league about their intention to reclaim the title. Moreover, they are looking to go all the way to win that one piece of silverware that has been their hearts' desire: the UEFA Champions League.
Possible Line Ups
REIMS
PSG

Rajkovic
Gravillon
Faes
Abdelhamid
Foket
Munetsi
Cassama
Konan
Kebbal
Toure
Cafaro
Coach: Frederic Antonetti

Navas
Hakimi
Kehrer
Kimpembe
Diallo
Herrera
Verratti
Wijnaldum
Draxler
Mbappe
Messi
Coach: Mauricio Pochettino

Injured: Doumbia (Foot), Sierhuis (Groin), Locko (Foot), Hornby (Muscle), Donis (Muscle), Zeneli (ACL) and Icardi (Shoulder), Sarabia (Muscle), Kurzawa (Calf), Rico (Back), Letellier (Groin), Dagba (Sprained ankle), Ramos, (Calf), Bernat (ACL)
REIMS VS PSG BETTING TIPS
PSG look unstoppable right now. A team that had Neymar, Mbappe and Di Maria have added Messi! They are already feasting on teams without the Argentine maestro so we shudder to imagine how much better they can get. With Messi set to start this game, we expect another dominating performance from PSG. We fancy PSG to win with 3 or more goals to be scored @ 1.51 as the first of our betting tips today here.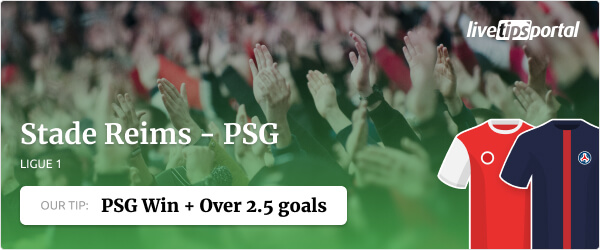 © Livetipsportal
Reims have shown they can mix it up with the big boys and try and make things a bit interesting. The task awaiting them here is gargantuan given who they are up against. But we feel they will relish the challenge and make this an interesting spectacle at both ends. Games like these tend to yield plenty of corners. We have had 10 or more corners in their last 3 H2H games and a repeat of the same pays @ 1.88 at Melbet. We are snapping it up as our final shout for this clash.
Find out which bookie you can stream this game on by reading our review of the bookies with the best football live streams.
Our tips
Performance
Stade Reims
Last games
Stade Reims performance of the last 4 home matches
Paris Saint-Germain
Last games
Paris Saint-Germain performance of the last 6 away matches
Current Standing
| POS | TEAM | PTS | MP | W | D | L | GF | GA | GD |
| --- | --- | --- | --- | --- | --- | --- | --- | --- | --- |
| 1 | | 86 | 38 | 26 | 8 | 4 | 90 | 36 | 54 |
| 2 | | 71 | 38 | 21 | 8 | 9 | 63 | 38 | 25 |
| 3 | | 69 | 38 | 20 | 9 | 9 | 65 | 40 | 25 |
| 4 | | 66 | 38 | 20 | 6 | 12 | 82 | 40 | 42 |
| 5 | | 66 | 38 | 20 | 7 | 11 | 52 | 36 | 16 |
| 6 | | 63 | 38 | 17 | 12 | 9 | 60 | 43 | 17 |
| 7 | | 62 | 38 | 17 | 11 | 10 | 62 | 48 | 14 |
| 8 | | 61 | 38 | 17 | 11 | 10 | 66 | 51 | 15 |
| 9 | | 55 | 38 | 15 | 10 | 13 | 55 | 48 | 7 |
| 10 | | 55 | 38 | 14 | 13 | 11 | 48 | 48 | 0 |
| 11 | | 48 | 38 | 13 | 9 | 16 | 49 | 57 | -8 |
| 12 | | 46 | 38 | 11 | 13 | 14 | 43 | 44 | -1 |
| 13 | | 43 | 38 | 12 | 7 | 19 | 49 | 61 | -12 |
| 14 | | 41 | 38 | 10 | 11 | 17 | 44 | 55 | -11 |
| 15 | | 38 | 38 | 9 | 11 | 18 | 37 | 53 | -16 |
| 16 | | 36 | 38 | 8 | 12 | 18 | 35 | 63 | -28 |
| 17 | | 36 | 38 | 9 | 9 | 20 | 38 | 69 | -31 |
| 18 | | 32 | 38 | 7 | 11 | 20 | 42 | 77 | -35 |
| 19 | | 31 | 38 | 6 | 13 | 19 | 35 | 69 | -34 |
| 20 | | 31 | 38 | 6 | 13 | 19 | 52 | 91 | -39 |
Legend
Champions League

Champions League Quali.

Europa League

Europa Conference League Quali.

Relegation play-off

Relegation