Troyes
VS
Paris Saint-Germain
ES Troyes AC - Paris Saint-Germain FC betting tip & odds comparison 07.08.2021
Gameweek 1 in the Ligue 1 will see the clash between Troyes and Paris Saint-Germain at Stade de l'Aube. Kick-off time is at 9:00 PM on Aug 7, 2021, and the match will be refereed by Amaury Delerue. In our preview of Troyes vs. Paris Saint-Germain we will provide you with all the important facts and stats for this Ligue 1 fixture. Let's start by having a look at the current form of the two teams involved.
Looking for free multi bet tips? Livetipsportal sports betting and football data is your source of analytical and stats-based betting predictions for the most popular leagues and international competitions.
Out of the last five Ligue 1 encounters between the two teams, Troyes won 0. In 0 matches the points between the two sides were shared, and 5 times Paris Saint-Germain got the win. If we look at the home record of Troyes against Paris Saint-Germain, the stats are as follows: 1 win Troyes, 0 draws and 4 wins Paris Saint-Germain.
Naturally, you can follow our advice and place the same bet free of charge. If you decide to do so at a new bookie, you can benefit from the Betway first deposit bonus. We have already tested the offer for you in detail.
Troyes vs PSG, Ligue 1, 07.08.2021
The French Ligue 1 kicks off this week and we see both Troyes and PSG, meeting as they both start their new season campaign.
Last season, Troyes won the Ligue 2 championship by five points, earning their fourth promotion in a decade. Their season-opener be tougher, as they face a PSG team that has beaten them in seven consecutive head-to-head meetings. We expect to have an entertaining match. The game will be held at the Stade de l'Aube stadium in Troyes.
For this game, we will consider 1Xbet registration Bonus prices for our tips in this preview.
Make an effort and check other bookmakers who have bonus promotions for customers as laid out on our page.
TROYES
After one season in Ligue 2, the home club was promoted to Ligue 1. With 77 points, they were the best team in that division of the competition, and now they can try to stay in the top division for at least two years in a row, as they have made a habit of switching between Ligue 1 and Ligue 2, this being their fourth promotion from the lower division in the last decade.
Troyes is coming off a stalemate in their most recent encounter. The match versus Bordeaux, which was part of the Club Friendlies, finished in a 1-1 draw. As they start their opening match and on how they were fairly dangerous at home in Ligue 2 and they will need to carry that form into the new season.
PSG
PSG will be nursing their wounds as they go to Troyes in the first weekend of this season's Ligue 1 tournament, after having their stranglehold on the domestic Ligue interrupted by Lille, and then falling to them again 1-0 in the Trophée des Champions.
Paris Saint-Germain will attempt to win this match in order to prevent a large point deficit at the start of the season. With this aim in mind, the Mauricio Trossero squad is likely to play more attacking, which might result in a high number of goals.
Possible Line Ups
TROYES
PSG

Gallon
Azamoum
Chambost
El Hajjam
Giraudon
Kabore
Kouame
Larouci
Lumeka
Ripart
Tardieu
Coach: Laurent Batlles

Navas
Hakimi
Kimpembe
Kehrer
Diallo
Wijnaldum
Hererra
Danilo
Neymar
Mbappe
Icardi
Coach: Mauricio Pochettino

Injured: None and Bernat (Knee), Dagba (Ankle), Gueye (Illness), Rafinha (Knee Injury), Ramos (Leg), Sarabia (Thigh)
OUR TIP
The last time these two teams met, Troyes was in 18th position in Ligue 1, and Paris Saint-Germain was in first, which resulted in a 0-2 victory for the Paris Saint-Germain squad. During the 2020-21 Ligue 1 season, PSG never trailed at halftime when playing away. PSG is a squad on a quest to redeem itself, and we believe they will be looking to make a big statement this weekend.
You can read our betting strategies page for more insights into betting.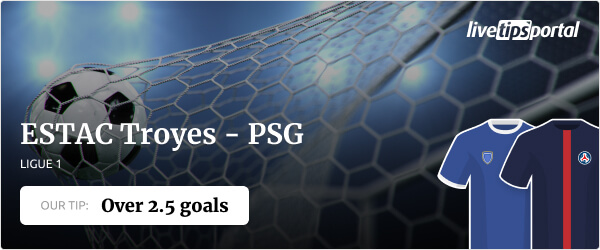 © Livetipsportal
Troyes has scored 6 goals and conceded 9 goals in their past five matches, scoring 3 or more goals in four of them. PSG scored three or more goals in three of their past five matches, scored seven goals, and surrendered six. It's also worth noting that PSG has never lost to Troyes AC in their past 13 meetings.
BETTING TIP TODAY: We go for 3 or more goals scored in this match (Over 2.5 Goals) @ 1.63 as our prediction.
Our tips
Performance
Troyes
Last games
Troyes performance of the last 4 home matches
Paris Saint-Germain
Last games
Paris Saint-Germain performance of the last 6 away matches
Current Standing
| POS | TEAM | PTS | MP | W | D | L | GF | GA | GD |
| --- | --- | --- | --- | --- | --- | --- | --- | --- | --- |
| 1 | | 86 | 38 | 26 | 8 | 4 | 90 | 36 | 54 |
| 2 | | 71 | 38 | 21 | 8 | 9 | 63 | 38 | 25 |
| 3 | | 69 | 38 | 20 | 9 | 9 | 65 | 40 | 25 |
| 4 | | 66 | 38 | 20 | 6 | 12 | 82 | 40 | 42 |
| 5 | | 66 | 38 | 20 | 7 | 11 | 52 | 36 | 16 |
| 6 | | 63 | 38 | 17 | 12 | 9 | 60 | 43 | 17 |
| 7 | | 62 | 38 | 17 | 11 | 10 | 62 | 48 | 14 |
| 8 | | 61 | 38 | 17 | 11 | 10 | 66 | 51 | 15 |
| 9 | | 55 | 38 | 15 | 10 | 13 | 55 | 48 | 7 |
| 10 | | 55 | 38 | 14 | 13 | 11 | 48 | 48 | 0 |
| 11 | | 48 | 38 | 13 | 9 | 16 | 49 | 57 | -8 |
| 12 | | 46 | 38 | 11 | 13 | 14 | 43 | 44 | -1 |
| 13 | | 43 | 38 | 12 | 7 | 19 | 49 | 61 | -12 |
| 14 | | 41 | 38 | 10 | 11 | 17 | 44 | 55 | -11 |
| 15 | | 38 | 38 | 9 | 11 | 18 | 37 | 53 | -16 |
| 16 | | 36 | 38 | 8 | 12 | 18 | 35 | 63 | -28 |
| 17 | | 36 | 38 | 9 | 9 | 20 | 38 | 69 | -31 |
| 18 | | 32 | 38 | 7 | 11 | 20 | 42 | 77 | -35 |
| 19 | | 31 | 38 | 6 | 13 | 19 | 35 | 69 | -34 |
| 20 | | 31 | 38 | 6 | 13 | 19 | 52 | 91 | -39 |
Legend
Champions League

Champions League Quali.

Europa League

Europa Conference League Quali.

Relegation play-off

Relegation