Valencia FC
VS
Real Madrid
Estadio de Mestalla
Valencia
Valencia CF - Real Madrid CF betting tip & odds comparison 19.09.2021
Gameweek 5 in the Primera División will see the clash between Valencia FC and Real Madrid at Estadio de Mestalla. Kick-off time is at 9:00 PM on Sep 19, 2021. In our preview of Valencia FC vs. Real Madrid we will provide you with all the important facts and stats for this Primera División fixture. Let's start by having a look at the current form of the two teams involved.
Here, you have all free La Liga predictions at a glance. We provide you with detailed forecasts for every matchday. In addition to that, you can also find a comprehensive odds comparison.
Valencia FC were victorious in 3 of their previous 5 league matches (3 wins, 2 draws, 0 defeats. In the current Primera División season 2021/2022, Valencia FC were able to win 2 of their 2 games at home, with a total of 0 draws, and 0 defeats (Goal difference 4:0).
Real Madrid have won 4 of their last 5 Primera División encounters (4 wins, 1 draw, 0 defeats. The away record in this year's Primera División season for Real Madrid reveals the following stats: 2 wins, 1 draw and 0 defeats - Goal difference 8:4.
Out of the last five Primera División encounters between the two teams, Valencia FC won 1. In 1 match the points between the two sides were shared, and 3 times Real Madrid got the win. If we look at the home record of Valencia FC against Real Madrid, the stats are as follows: 2 wins Valencia FC, 1 draw and 2 wins Real Madrid.
Naturally, you can follow our advice and place the same bet free of charge. If you decide to do so at a new bookie, you can benefit from the Betway deposit bonus. We have already tested the offer for you in detail.
Valencia CF vs Real Madrid, La Liga, 19.09.2021
With the first round of Champions League and Europa in the books, attention now shifts back to the respective domestic leagues where contending teams are doing all they can to get any sort of an edge at this early stages of the season.
An improbable top-of-the-table clash takes place in the La Liga this Sunday as second-placed surprise packages Valencia host their traditional rivals Real Madrid at their Estadio de Mestalla on Sunday evening.
We will in this preview focus on Cyber.bet Welcome Bonus prices.
VALENCIA
Valencia have fallen short of expectations in the last few seasons but their start to this season has shown an early determination to make amends for these past failures. They are joint top of the league with 10 points, same as Real Madrid who have a superior goal difference after picking up three wins and a draw from the opening four league games.
They hit rock bottom last season when they finished 13th in the league, their worst finish in three decades.
Los Murciélagos however come into this match with an air of confidence. Not only have they had a 100% home record thus far but they have only lost one of their last 4 H2H encounters against the visitors at this venue.
REAL MADRID
Real Madrid have also shown a great determination to wrestle the La Liga title from their cross-town rivals Atletico Madrid after the two of them took the battle down to the wire at the end of last season. They have been sizzling to start the season with 13 goals scored and six conceded, a return that has seen them winning three and drawing one game to lead the pile with 10 points.
With Barcelona largely expected to be spectators this season following the upheavals at the club in the summer, this could very well be another rat race between the Madrid-based outfits.
Ancelotti will look to draw the line with a convincing result here but if their last visit here is anything to go by, that is easier said than done.
Possible Line Ups
VALENCIA
REAL MADRID

Mamardashvili
Correia
Gabriel
Alderete
Gaya
Soler
Wass
Guillamon
Foulquier
Guedes
Gomez
Coach: NAME

Courtois
Carvajal
Militao
Alaba
Gutierrez
Modric
Casemiro
Valverde
Hazard
Benzema
Vinicius
Coach: Ancelotti Carlo

Injured: Cheryshev (Muscle) and Bale (Thigh), Ceballos (Ankle), Kroos (Groin), Marcelo (Muscle), Mendy (Muscle)
VALENCIA VS REAL MADRID BETTING TIPS
This fixture never disappoints in terms of drama and entertainment. Older football fans will remember the Valencia sides of the late 90s and early 2000s won a couple of La Liga titles and were perennial Champions League participants. They went downhill after that and haven't quite been able to rediscover the magic that brought them so much success. That said, they always turn up when they meet Real Madrid. Their last 10 H2H matches at this venue have had both teams scoring, including a 4-1 thrashing they handed them last season. Real did return the favor in kind with a 2-0 win in Madrid in February. Given the extra edge of their identical stats at the top of the table, we expect another thriller here and we are going for Over 2.5 Goals @ 1.75 as our first bet tip.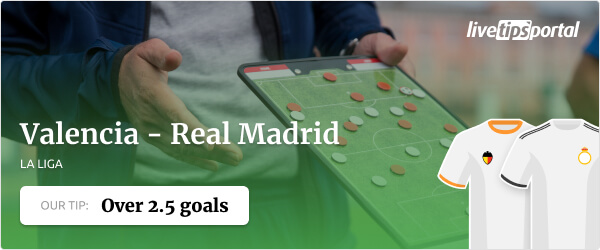 © Livetipsportal
Real Madrid will not be taking any chances here given the mauling they received last time. They will go all out from the start as they seek to establish dominance early in the game. They showed great discipline and composure in their Champions League game which they won 1-0 over Inter in Milan. We expect the same attitude here and we fancy them to get more corners in the 1st half @ 1.59 at Cyberbet as our last call for this game.
Follow our betting strategies regime and you will start seeing a dramatic increase in your winnings. They are tried and tested strategies that the top punters use to stay in business!
Our tips
Performance
Valencia FC
Last games
Valencia FC performance of the last 5 home matches
Real Madrid
Last games
Real Madrid performance of the last 5 away matches
Current Standing
| POS | TEAM | PTS | MP | W | D | L | GF | GA | GD |
| --- | --- | --- | --- | --- | --- | --- | --- | --- | --- |
| 1 | | 86 | 38 | 26 | 8 | 4 | 80 | 31 | 49 |
| 2 | | 73 | 38 | 21 | 10 | 7 | 68 | 38 | 30 |
| 3 | | 71 | 38 | 21 | 8 | 9 | 65 | 43 | 22 |
| 4 | | 70 | 38 | 18 | 16 | 4 | 53 | 30 | 23 |
| 5 | | 65 | 38 | 19 | 8 | 11 | 62 | 40 | 22 |
| 6 | | 62 | 38 | 17 | 11 | 10 | 40 | 37 | 3 |
| 7 | | 59 | 38 | 16 | 11 | 11 | 63 | 37 | 26 |
| 8 | | 55 | 38 | 14 | 13 | 11 | 43 | 36 | 7 |
| 9 | | 48 | 38 | 11 | 15 | 12 | 48 | 53 | -5 |
| 10 | | 47 | 38 | 12 | 11 | 15 | 37 | 51 | -14 |
| 11 | | 46 | 38 | 12 | 10 | 16 | 43 | 43 | 0 |
| 12 | | 42 | 38 | 11 | 9 | 18 | 39 | 50 | -11 |
| 13 | | 42 | 38 | 11 | 9 | 18 | 40 | 52 | -12 |
| 14 | | 42 | 38 | 10 | 12 | 16 | 40 | 53 | -13 |
| 15 | | 39 | 38 | 8 | 15 | 15 | 33 | 41 | -8 |
| 16 | | 39 | 38 | 10 | 9 | 19 | 36 | 63 | -27 |
| 17 | | 39 | 38 | 8 | 15 | 15 | 35 | 51 | -16 |
| 18 | | 38 | 38 | 8 | 14 | 16 | 44 | 61 | -17 |
| 19 | | 35 | 38 | 8 | 11 | 19 | 51 | 76 | -25 |
| 20 | | 31 | 38 | 8 | 7 | 23 | 31 | 65 | -34 |
Legend
Champions League

Europa League

Europa Conference League Quali.

Relegation