West Bromwich Albion
VS
Liverpool FC
The Hawthorns
West Bromwich
West Bromwich Albion FC - Liverpool FC betting tip & odds comparison 16.05.2021
Gameweek 36 in the Premier League will see the clash between West Bromwich Albion and Liverpool FC at The Hawthorns. Kick-off time is at 5:30 PM on May 16, 2021. In our preview of West Bromwich Albion vs. Liverpool FC we will provide you with all the important facts and stats for this Premier League fixture. Let's start by having a look at the current form of the two teams involved.
Here, you have all english Premier League betting tips at a glance. We provide you with detailed forecasts for every matchday. In addition to that, you can also find a comprehensive odds comparison.
West Bromwich Albion were victorious in 1 of their previous 5 league matches (1 win, 2 draws, 2 defeats. In the current Premier League season 2020/2021, West Bromwich Albion were able to win 3 of their 17 games at home, with a total of 6 draws, and 8 defeats (Goal difference 13:34).
Liverpool FC have won 3 of their last 5 Premier League encounters (3 wins, 2 draws, 0 defeats. The away record in this year's Premier League season for Liverpool FC reveals the following stats: 8 wins, 6 draws and 3 defeats - Goal difference 34:21.
Out of the last five Premier League encounters between the two teams, West Bromwich Albion won 1. In 3 matches the points between the two sides were shared, and 1 time Liverpool FC got the win. If we look at the home record of West Bromwich Albion against Liverpool FC, the stats are as follows: 0 wins West Bromwich Albion, 4 draws and 1 win Liverpool FC.
Naturally, you can follow our advice and place the same bet free of charge. If you decide to do so at a new bookie, you can benefit from the Betway welcome bonus. We have already tested the offer for you in detail.
West Brom vs. Liverpool, EPL, 16.05.2021
West Brom have little motivation going into this game since they are already relegated. Nevertheless, they have their pride and will not want to bow out of the Premier League with a worse record than what they have already registered. A win against high-flying Liverpool would provide the perfect opportunity to redeem themselves and exit the top flight with some pride.
For Liverpool, there is all to play for as a top-four finish is still within their grasp. The focus is on winning all their remaining games to propel them upwards at the expense of Leicester or Chelsea.
We will look at odds from Booster99 in our analysis for this tip.
Read more about bonus promotions from the leading bookmakers in the game.
WEST BROM
West Brom's relegation was confirmed when they were beaten 3-1 by Arsenal in their last game. Now with three more games to play until the end of the season, there is nothing much to play for. All the three bottom teams have been relegated with West Brom currently second-last.
West Brom have only one win in their last 5 matches. Getting a win against Liverpool is usually hard enough. Now with little motivation, it is going to be quite difficult for West Brom. It remains to be seen whether the coach will be able to rally the boys to give a good performance here.
LIVERPOOL
Liverpool are fresh from a morale-boosting 4-2 win over perennial rivals Manchester United at Old Trafford in their last game. This win put Liverpool in 5th position (60 points) with a game in hand on their top 4 rivals Chelsea in 4th (64 points) and Leicester (66 points).
Liverpool now have their fate in their own hands. If they win their last 3 games, they will be able to finish in the top 4 and qualify for Champions League next season. Their course is also helped by the fact that Chelsea and Leicester have to play each other so either will drop points.
Possible Line Ups
WEST BROM
LIVERPOOL

Johnstone
O'Shea
Ajayi
Gibbs
Bartley
Sawyers
Phillip
Livermore
Robinson
Pereira
Diagne
Coach: Sam Allardyce

Alisson
Davies
Fabinho
Alexander-Arnold
Robertson
Alcantara
Wijnaldum
Milner
Salah
Firminho
Mane
Coach: Jurgen Klopp

Injured: None and Van Dijk (Knee), Henderson (Groin), Matip (Ankle), Gomez (Knee)
OUR TIP
It is unfortunate that all the three bottom teams were relegated with three games to go. This means that West Brom, Fulham, and Sheffield United have little motivation for their remaining matches and will probably lose all of them. There is no way we see West Brom getting a positive result here.
You can read our betting strategies page for more insights into betting.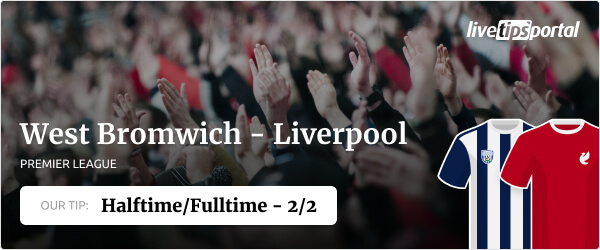 © Livetipsportal
Liverpool will be going all out to secure a win here as Champions League football is at stake here. The big win over Manchester United at Old Trafford is a testament to the seriousness with which they are approaching their remaining games in the league.
BETTING TIP TODAY: We go for Halftime/Fulltime Liverpool/Liverpool (HT/FT 2/2) @ 1.72 as our prediction for this game.
Our tips
Performance
West Bromwich Albion
Last games
West Bromwich Albion performance of the last 5 home matches
Liverpool FC
Last games
Liverpool FC performance of the last 5 away matches
Current Standing
| POS | TEAM | PTS | MP | W | D | L | GF | GA | GD |
| --- | --- | --- | --- | --- | --- | --- | --- | --- | --- |
| 1 | | 86 | 38 | 27 | 5 | 6 | 83 | 32 | 51 |
| 2 | | 74 | 38 | 21 | 11 | 6 | 73 | 44 | 29 |
| 3 | | 69 | 38 | 20 | 9 | 9 | 68 | 42 | 26 |
| 4 | | 67 | 38 | 19 | 10 | 9 | 58 | 36 | 22 |
| 5 | | 66 | 38 | 20 | 6 | 12 | 68 | 50 | 18 |
| 6 | | 65 | 38 | 19 | 8 | 11 | 62 | 47 | 15 |
| 7 | | 62 | 38 | 18 | 8 | 12 | 68 | 45 | 23 |
| 8 | | 61 | 38 | 18 | 7 | 13 | 55 | 39 | 16 |
| 9 | | 59 | 38 | 18 | 5 | 15 | 62 | 54 | 8 |
| 10 | | 59 | 38 | 17 | 8 | 13 | 47 | 48 | -1 |
| 11 | | 55 | 38 | 16 | 7 | 15 | 55 | 46 | 9 |
| 12 | | 45 | 38 | 12 | 9 | 17 | 46 | 62 | -16 |
| 13 | Wolverhampton Wanderers FC | 45 | 38 | 12 | 9 | 17 | 36 | 52 | -16 |
| 14 | | 44 | 38 | 12 | 8 | 18 | 41 | 66 | -25 |
| 15 | | 43 | 38 | 12 | 7 | 19 | 47 | 68 | -21 |
| 16 | Brighton & Hove Albion FC | 41 | 38 | 9 | 14 | 15 | 40 | 46 | -6 |
| 17 | | 39 | 38 | 10 | 9 | 19 | 33 | 55 | -22 |
| 18 | | 28 | 38 | 5 | 13 | 20 | 27 | 53 | -26 |
| 19 | | 26 | 38 | 5 | 11 | 22 | 35 | 76 | -41 |
| 20 | | 23 | 38 | 7 | 2 | 29 | 20 | 63 | -43 |
Legend
Champions League

Europa League

Abstieg

Europa Conference League