West Ham United
VS
Leicester City
West Ham United FC - Leicester City FC betting tip & odds comparison 11.04.2021
In gameweek 31 of Premier League, West Ham United will host Leicester City at London Stadium. Kick-off is scheduled for 3:05 PM on Apr 11, 2021 With our match prediction and odds comparison for West Ham United vs. Leicester City you are guaranteed to get all the important facts and details for this fixture. First and foremost, we will take a close look at the teams' recent performances.
You can't get enough of Premier League predictions? We provide you with betting tips for every matchday fixture, and additionally, we offer a comprehensive odds comparison.
West Ham United have won 2 of their last 5 league matches (2 wins, 1 draw, 2 defeats. In the previous 15 home games in the Premier League season 2020/2021, West Ham United have won 8 matches, 4 games ended in a draw, and 3 games in defeat. (Goal difference 26:18).
Out of their last 5 Premier League fixtures, Leicester City have won 2 games (2 wins, 1 draw, 2 defeats). The away record in the current Premier League season reads as follows: 10 wins, 4 draws und 1 defeat - Goal difference 28:13.
In their last five Premier League encounters, West Ham United managed to get 1 win against Leicester City, while Leicester scored 2 wins. On 2 occasions, there was no winner. If we focus exclusively on the home games that West Ham United played against Leicester City in the Premier League, we get the following record: 0 wins for West Ham United, 2 draws and 3 wins for Leicester City.
Have you heard of the 1xbet welcome bonus yet? This offer, which is available to all customers who register for the first time, will allow you to start off with some extra credit.
West Ham vs Leicester, EPL, 11.04.2021
This clash brings together two teams in the top 4 of the league and both are determined to remain there. West Ham are enjoying their best season in recent years while Leicester's consistent performances have made them an almost permanent member of the top 4 this season.
With two points separating these teams at 3rd and 4th respectively and Chelsea only 1 point outside the top 4 at fifth, this game is a must-win for both teams.
We will take a look at Konfambet Welcome Bonus prices for our betting tips for this game.
Read more about bonus promotions from the leading bookmakers in the game.
WEST HAM UNITED
West Ham United are on a roll this season. They are scoring goals and winning points more than before. This has seen them rise to occupy the 4th position in the league with 8 games to go. The 3-2 win over Wolves in their last game saw them get back to winning ways following a draw against London rivals Arsenal and a loss to Manchester United.
The arrival of England international Jesse Lingard on loan from Manchester United in January was like a shot in the arm for West Ham. Since then, he has had more goal involvements (6 goals and 3 assists) than any other player, not just at West Ham but the entire league. His performance will be key to West Ham earning a valuable 3 points in this game to keep their Champ hopes alive.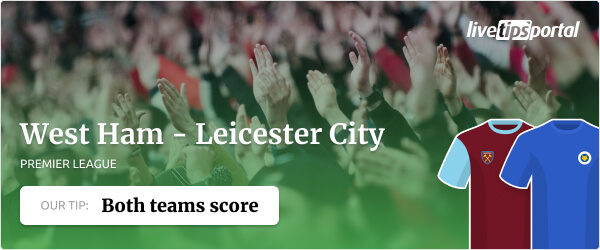 © livetipsportal.com
LEICESTER CITY
Third-placed Leicester City understand the importance of winning the remaining games of the season if they are to qualify for the Champions League next season. They were in a similar position last year at this stage only to finish 5th in the end.
Leicester will hope their away form comes into effect in this game. They have only lost once away this season and are currently on a 10-game unbeaten away run. Leicester have been scoring lots of goals and conceding in equal measure thus their games tend to be very exciting. A win here will help them consolidate their 3rd place position and avoid the top 4 disappointment of last season.
Possible Line Ups
WEST HAM
LEICESTER

Fabianski
Cresswell
Diop
Dawson
Coufal
Noble
Souček
Benrahma
Lingard
Fornals
Bowen
Coach: David Moyes

Schmeichel
Amartey
Evans
Fofana
Pereira
Ndidi
Perez
Tielemans
Castagne
Iheanacho
Vardy
Coach: Brendan Rodgers

Injured: Ogbonna (Ankle), Yarmolenko (Knee), Rice (Knee), Randolph (Hip) and Barnes (Knee), Justin (ACL), Morgan ( Lower Back), Söyüncü (Illness)
OUR TIP
West Ham are playing good football at the moment and will want to ride on this good wave until the end of the season. They have scored 3 goals in each of their last two games and will be hoping the goals will continue to come, particularly from talisman Mikael Antonio and the sensational Jesse Lingard.
You can read our betting strategies page for more insights into betting.
Leicester are another high-scoring side enjoying a good run. Their loss to Manchester City in their last game ended a 3 game winning streak and a 4-match unbeaten run. With a top 4 finish at stake, this is bound to be a fiercely fought match with plenty of goals.
We therefore go for Both Teams to Score @ 1.78 at Konfambet as our match tip for this game.
Our tips
Performance
West Ham United
Last games
West Ham United performance of the last 2 home matches
Leicester City
Last games
Leicester City performance of the last 8 away matches
Current Standing
| POS | TEAM | PTS | MP | W | D | L | GF | GA | GD |
| --- | --- | --- | --- | --- | --- | --- | --- | --- | --- |
| 1 | | 86 | 38 | 27 | 5 | 6 | 83 | 32 | 51 |
| 2 | | 74 | 38 | 21 | 11 | 6 | 73 | 44 | 29 |
| 3 | | 69 | 38 | 20 | 9 | 9 | 68 | 42 | 26 |
| 4 | | 67 | 38 | 19 | 10 | 9 | 58 | 36 | 22 |
| 5 | | 66 | 38 | 20 | 6 | 12 | 68 | 50 | 18 |
| 6 | | 65 | 38 | 19 | 8 | 11 | 62 | 47 | 15 |
| 7 | | 62 | 38 | 18 | 8 | 12 | 68 | 45 | 23 |
| 8 | | 61 | 38 | 18 | 7 | 13 | 55 | 39 | 16 |
| 9 | | 59 | 38 | 18 | 5 | 15 | 62 | 54 | 8 |
| 10 | | 59 | 38 | 17 | 8 | 13 | 47 | 48 | -1 |
| 11 | | 55 | 38 | 16 | 7 | 15 | 55 | 46 | 9 |
| 12 | | 45 | 38 | 12 | 9 | 17 | 46 | 62 | -16 |
| 13 | Wolverhampton Wanderers FC | 45 | 38 | 12 | 9 | 17 | 36 | 52 | -16 |
| 14 | | 44 | 38 | 12 | 8 | 18 | 41 | 66 | -25 |
| 15 | | 43 | 38 | 12 | 7 | 19 | 47 | 68 | -21 |
| 16 | Brighton & Hove Albion FC | 41 | 38 | 9 | 14 | 15 | 40 | 46 | -6 |
| 17 | | 39 | 38 | 10 | 9 | 19 | 33 | 55 | -22 |
| 18 | | 28 | 38 | 5 | 13 | 20 | 27 | 53 | -26 |
| 19 | | 26 | 38 | 5 | 11 | 22 | 35 | 76 | -41 |
| 20 | | 23 | 38 | 7 | 2 | 29 | 20 | 63 | -43 |
Legend
Champions League

Europa League

Relegation

Europa Conference League