With the 2022 World Cup set to take place in Qatar, Ghana will be looking to make a big impression at the tournament. The country has a rich history of football and home to some of the game's most talented players. The Ghana Black Stars has qualified for the World Cup on four (4) occasions and is no stranger to success on the international stage, having reached their first ever Quarter Final in 2010 which contributed to their 7th FIFA ranking in Africa.
With all this in mind, its no surprise that Ghana is eagerly anticipating the Qatar 2022 World Cup. The country has high hopes of making it out of the group stage and into the knockout rounds. With a little bit of luck, Ghana could go even further and make a run at the tittle. Regardless of what happens, though, Ghana will be happy to showcase its talent on the world stage once again! The World Cup is set to Kick off in few days, and you might want to check out Greatodds, Mybet.Africa, or Betboro betting sites for some of the best odds for Ghana.
The Group Stage
This is where the teams that qualify for the World Cup face off against each other in a series of round-robin games. This year, Ghana has been drawn into group H with some world class countries, that is: Portugal, Uruguay and South Korea. It is sure to be a tough road for Ghana if they want to make it out of the group stage and into the knockout round. However, with some hard work and determination, everything is possible. And though odds comparison from 1xBet, Betway and Bet365 clearly shows that Ghana is the underdogs in group H, you can start your World Cup betting with Betboro welcome offer for a risk-free first bet!
TIP: Checkout the above odds comparison, click on your bet choice and you will be taken directly onto the bookie's page.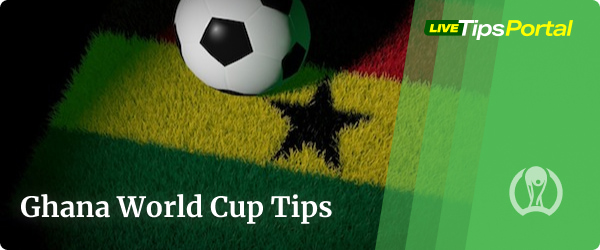 Standings Group H
| P | Team | G | W | D | L | G | GA | GD | PTS |
| --- | --- | --- | --- | --- | --- | --- | --- | --- | --- |
| 1. | 🇬🇭 | 0 | 0 | 0 | 0 | 0 | 0 | 0:0 | 0 |
| 2. | 🇵🇹 | 0 | 0 | 0 | 0 | 0 | 0 | 0:0 | 0 |
| 3. | 🇰🇷 | 0 | 0 | 0 | 0 | 0 | 0 | 0:0 | 0 |
| 4. | 🇺🇾 | 0 | 0 | 0 | 0 | 0 | 0 | 0:0 | 0 |
Ghana World Cup Schedule & Venues
Ghana will play their first match against a familiar foe, Portugal, on 24th November 2022, at exactly 16:00 GMT (Stadium 974, Doha – 40,000 capacity). The other two fixtures: South Korea vs Ghana is set to kick of on 28.11./13:00 GMT (Education City Stadium, Al Rayyan – 40,000 capacity), and Ghana vs Uruguay on 2.12./15:00 GMT at Al Janoub Stadium, Al Wakrah, which has a capacity of 40,000.
| | | | |
| --- | --- | --- | --- |
| 🇵🇹 | 🇬🇭 | -:- | 24.11. / 16:00 GMT |
| 🇰🇷 | 🇬🇭 | -:- | 28.11. / 13:00 GMT |
| 🇬🇭 | 🇺🇾 | -:- | 2.12. / 15:00 GMT |
As you can see, Ghana has a tough first match draw with a very strong opponent in Portugal. However, their previous meeting shows that, this is far from being a walkover. And should Ghana qualify for the round of 16, either on 1st or 2nd in group H, they will have to face another heddle from group G (Brazil, Serbia, Switzerland and Cameroon).
Ghana World Cup Games Live
Even if you are not a member of the select group to travel to the desert state, you can still watch every Ghana World Cup game live. The Ghana Broadcasting Cooperation, GBC, are the exclusive owners of the free-to-air broadcasting rights of Qatar 2022. Starting from 21st November, you can watch at the comfort of your homes, all Ghana fixtures throughout the competition and some selected matches of other fixtures within the whole tussle. Matches will be telecasted live in both TV and Radio and this include on GTV SPORTS+, GTV and all GBC's 18 regional and district Radio stations.
World Cup tips on Ghana
For some Ghanaians, this is purely fun. But in a country where online betting has seen a bumper growth, this can be the perfect time for punters to earn cash by betting on top bookies. And as it is with every top event, you have a ton of options to share your Ghana World Cup predictions. And the best betting sites in Ghana are sure to offer mouth watering promotions towards the Qatar 2022 to entice you while you try your luck with unique wagers. Such can be found on Ghana's own bookmakers such as Mybet.Africa, Betboro and Greatodds. At Greatodds, you can try the following world Cup special tips on Ghana:
Stage to reach
Ghana to be World Cup Winners → 401.0
Ghana to be Runners Up → 101.0
Ghana to reach the final → 81.0
Ghana to reach the semi final → 34.0
Ghana to reach the quarter final → 11.0
Stage of elimination
Out in the group stage → 1.35
Out in the round of 16 → 4.00
Out in quarter final → 15.0
Out in the semi final → 51.0
Group points
Exactly 0 points in the group stage → 7.00
Exactly 1 points in the group stage → 4.50
Exactly 2 points in the group stage → 8.00
Exactly 3 points in the group stage → 4.50
Exactly 4 points in the group stage → 4.50
Exactly 5 points in the group stage → 15.0
Exactly 6 points in the group stage → 11.0
Exactly 7 points in the group stage → 21.0
Exactly 9 points in the group stage → 67.0
Are you having problem making accurate tips? No worries! Our World Cup tips are top-notch that can boost your winnings.
Ghana's World Cup History
Ghana has a long and storied history when it comes to World Cup. The country have qualified for the tournament on 4 occasions, making it to the quarter-finals in 2010 before being narrowly beaten by Uruguay.
Ghana's first appearance at the world cup came in 2006, but they immediately made an impact. They were the only African team to progress to the round of 16 and the 6th country in a row from Africa to push over the group stages of the FIFA World Cup.
In 2010, Ghana made it to this big stage again and fared much better. Within this period, they won matches against top nations which include USA and Serbia. They were able to go beyond the group stages up to the quarter-finals where they were eliminated by Uruguay on Penalties after 1-1 draw.
Ghana has competed in 12 games during the course of their four FIFA World Cup competitions, winning 4, losing 5 and drawing 3. Total goals scored and given up by the Black Stars are 13 and 16, respectively.
It will be another 8 years before Ghana finally appear on the big stage again. Their qualification for this year's Qatar World Cup was very dramatic, defeating the Eagles of Nigeria in their own backyard. All this and the homecoming of some international players like Inaki Wiliams (Athletico Bilbao), Tariq Lamptey (Brighton) and Jeffrey Schlupp (Crystal Palace) has filled the atmosphere around the team with believe and confidence! And while you enjoy the thrill of the games, let your Accumulator bets pay more with Mybet bonus.