Zimbabwe
VS
South Africa
International
WC-Quali. Africa
National Sports Stadium
Harare
Zimbabwe - South Africa betting tip & odds comparison 03.09.2021
In gameweek 1 of WC-Quali. Africa, Zimbabwe will host South Africa at National Sports Stadium. Kick-off is scheduled for 3:00 PM on Sep 3, 2021, and the fixture will be refereed by Mahmoud El Banna. With our match prediction and odds comparison for Zimbabwe vs. South Africa you are guaranteed to get all the important facts and details for this fixture. First and foremost, we will take a close look at the teams' recent performances.
Livetipsportal is your expert-level platform for multibets. We offer you the best sports betting predictions for the world's top leagues as well as for the most popular international competitions in football.
Zimbabwe were victorious in 1 of their previous 5 league matches (1 win, 1 draw, 3 defeats. In the current WC-Quali. Africa season 2019-2021, Zimbabwe were able to win 1 of their 1 game at home, with a total of 0 draws, and 0 defeats (Goal difference 3:1).
A head-to-head comparison of the two teams in their last five WC-Quali. Africa clashes shows that Zimbabwe managed to get 3 wins, while in 2 matches, South Africa snatched the three points. In 0 encounters between the two teams, the points were shared. If we solely focus on the home record of Zimbabwe against South Africa, the stats are as follows: 1 win Zimbabwe, 0 draws and 1 win for South Africa.
You want to place a bet at a bookie you haven't signed up with yet? In this case, we can recommend the Betway welcome bonus for newly customers. We have already tested this offer for you.
Zimbabwe vs South Africa, World Cup qualification, 03.09.2021
The fight to qualify for the World Cup in Group G looks like a very close running affair at the top of the standings. South Africa hopes to end in the face, but a strong start is needed with such a competitive fight for the top spot on the cards.
Zimbabwe may not have the same trust as its rivals that wins in the last five matches. They lost to Namibia, Senegal, and Zambia during that series of matches.
We will promote the Gbet first deposit bonus in our preview for this match.
ZIMBABWE
After a disappointing recent appearance at the COSAFA Cup, the commencement of the world cup qualifiers in the CAF zone gives Zimbabwe a chance to redeem itself. They are opening their qualification campaign in Harare, looking for the first win in six matches, with their home fixture against South America. The triumph in the last 12 matches was only against Botswana in March. Namibia and Senegal are back to the rear. In four of their past five encounters, they have won at least two goals and failed in the last ten matchups. They scored more than a goal in just two in the 10 games and four produced more than 2.5 goals.
In 15 World Cup qualification matches, the hosts had just two victories. Since 2001, this is their first competitive encounter with South Africa. In this context, you will learn that securing a seat at the World Cup will be a great success in their history for the first time.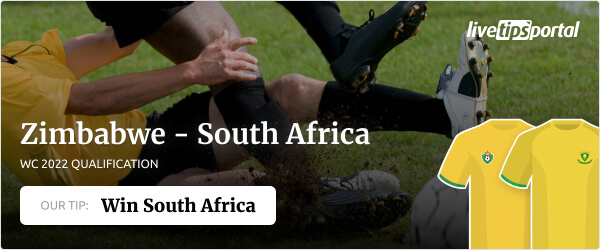 © Livetipsportal
SOUTH AFRICA
In seven prior matches, South Africa has six clean sheets, and in a total of 11 losses. They missed the final two World Cup finals and saw it as a good start to the road. The previous time they met Zimbabwe in the qualifications, they got to the final event. They hope to improve on a run of four losses in their last five World Cup qualification matches this time.
They will be a confident side going into the season, having recently won the COSAFA Cup. South Africa won the tournament after defeating Senegal in a penalty shootout in the final. Throughout the competition, they did not concede a single goal, and they also defeated Lesotho and Mozambique.
Possible Line Ups
ZIMBABWE
SOUTH AFRICA

Sibanda
Muduwa
Jaravani
Amini
Mbeba
Nadolo
Mukamba
Mavinga
Hachiro
Chirinda
Matare
Coach: Zdravko Logarisic

Mothwa
Mphahlele
Dube
De Reuck
Malinga
Mobbie
Phohlongo
Sithebe
Saleng
Mkhulise
Brooks
Coach: Hugo Broos

Injured: None and None
OUR TIP
In the last instances between the nations, Zimbabwe actually has a decent record in South Africa. They won the past two, although the two came in international friends. The latest triumph in 2013 was a 2-1 win.
However, the distinguished team seems to benefit from a solid run and from winning the COSAFA regional competition. Zimbabwe is not doing well recently. In order to manage South Africa that lost only once in 11 matches, it will require great development. We support South Africa to win and continue to win in this game.
You can read our betting strategies page for more insights into betting.
BETTING TIP TODAY: We go for South Affrica to Win @ 2.54 as our prediction for this game.
Our tips
Performance
Zimbabwe
Last games
Zimbabwe performance of the last 4 home matches
South Africa
Last games
South Africa performance of the last 6 away matches
Current Standing
| POS | TEAM | PTS | MP | W | D | L | GF | GA | GD |
| --- | --- | --- | --- | --- | --- | --- | --- | --- | --- |
| 1 | | 13 | 6 | 4 | 1 | 1 | 7 | 3 | 4 |
| 2 | | 13 | 6 | 4 | 1 | 1 | 6 | 2 | 4 |
| 3 | | 5 | 6 | 1 | 2 | 3 | 4 | 7 | -3 |
| 4 | | 2 | 6 | 0 | 2 | 4 | 2 | 7 | -5 |