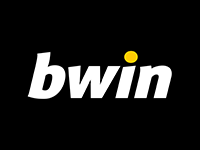 Bwin (Zambia 🇿🇲)
Advantages and disadvantages
Good welcome bonus
Large sportsbook
Excellent customer support
Only available in Zambia
Disclaimer August 2023: As of now, Bwin have launched an online betting site accessible to users from Zambia. This is a first important step of Bwin establishing its presence in the African betting market. The following review hence primarily focuses on Bwin Zambia, but also makes some general statements about the bookmaker's international profile. Here you can find all information about the current Bwin Bonus Zambia.  
Bwin can definitely be considered one of the top companies in the betting market. Founded in 1997, Bwin has established itself in the sports betting industry by means of great marketing and a great offer alike. The bookie has always pushed forward with great innovation. Bwin were one of the first companies that offered enhanced odds, and one of the first bookies that introduced a bet builder feature. Considering this, it is quite surprising that the company took so long to explore the African market. Now, with Bwin Zambia however, we can expect that there is more to come.
For our detailed review of Bwin Zambia here at livetipsportal, we have put the bookie through its paces and tried to find out whether the Bwin sportsbook offer can live up to the bookie's excellent reputation. Our review comprises our experiences with the bookie's customer service and payment options as well as an analysis of the scope of the sportsbook, the usability of the site in terms of signing up and placing bets, and a lot more.
Deposit
Registration at Bwin Zambia
To enjoy the betting experience at the world's biggest bookie portal, we have to sign up at Bwin Zambia. The signup procedure requires you to give your phone number. As all deposits and withdrawals at Bwin Zambia are done via mobile money transfer, your phone number will be your ID and your bank account so to speak. The following screenshot shows you how to register at Bwin Zambia: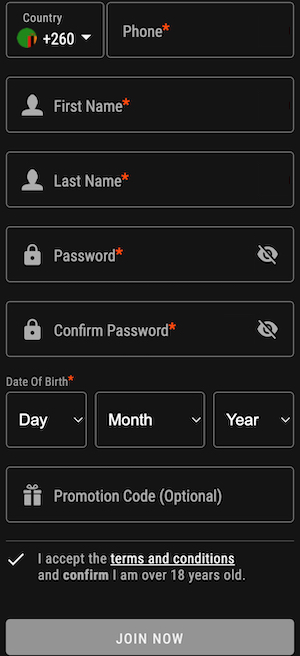 Besides your phone number, Bwin also requires you to give your first and last name and your date of birth. Furthermore you have to create a safe password and accept the bookie's terms and conditions. If you have a promo code to enter, you can either do that at registration or when making your first deposit.
Making a deposit at Bwin
Before you can start placing your bets, you need to have some money in the bank. As previously mentioned, Bwin Zambia only accepts payment via mobile money. You can make deposits via MTN or Airtel. For both payment methods, the minimum deposit limit is 1.00 ZMW and the maximum deposit limit is 20.000 ZMW. Whether you choose MTN or Airtel as deposit method, Bwin will not charge any fees and the money will be transferred to your Bwin Zambia betting account immediately.
Payout
How to withdraw from Bwin Zambia
After successful betting, you definitely want a safe and hassle-free withdrawal of your winnings. As previously mentioned, at Bwin Zambia, your mobile phone and mobile money account is directly linked with Bwin and just like deposits are made via Airtel and MTN, withdrawals work the same way. So all you need to do is go to your account and select withdrawal. Type in the amount you want to withdraw and confirm the transaction. Your winnings will then be transferred to your mobile money account. Again, Bwin does not charge any fees.
If some of your winnings stem from a promotional offer, you may have to provide further evidence of your identity e.g. a scan of your driver's licence or similar documents. However, this is the exception to the rule.
Betting
The Bwin sportsbook
As you might have expected from a major bookie like bwin, the sportsbook is extremely extensive and it allows bettors to choose from a variety of detailed options when placing a bet. For instance, we were able to bet on 118 different events or options in a game in the English Premier League. In general Bwin Zambia is an excellent place for Premier League betting tips, as the bookie not only offers a great variety of betting markets for each individual game, but also long term bets on outright winner, top goalscorer, most assists, league position, relegation and more.
Besides the usual options such as three-way-result, goal bets, and (Asian) handicaps as well as over/under bets, you can also bet on halftime scores and many other events which will unfold over the course of the game. In addition to that, you can combine several bets on the same event using the Bwin bet builder. With this feature, you can actually bet on a detailed match prediction including e.g. winner, first goal scorer and over/under markets for corner kicks and more.
Live Betting
The live offer at bwin is extremely extensive and an absolute dream for anyone who's looking for a bit of an adrenaline rush. The live betting page is neatly arranged. On the left-hand side, you can find various kinds of sports and the respective live events. At the centre, you can find a great variety of bet options and the respective odds which are permanently updated. You can immediately place a bet and even combine different live bets at the bottom of the screen. Unfortunately, Bwin does not offer a in-game betting configurator in Zambia. Here you can find a list of Bet Builder sites. 
A real time statistics feature helps you catch up on all the important details of the game in play and makes it easier for you to predict future outcomes. Stats features also exist for pre-match betting, where you get information on a player's or team's current form and previous head-to-head stats.
Further offers at bwin include a casino (incl. a live casino) and various games.
Additionally, bwin offers livestreams and a small media library in which you can find highlights, which is a nice feature for sports fans.
Support
If you face any problems or have any questions, you can get into contact with bwin in various ways. The customer service offers email forms as well as support via phone, and you can also send a letter to the postal address at bwin. While all these options are satisfying, we still missed the option of a live chat, which is a fairly common feature with most online bookies these days. However, the bookie's FAQ section is so comprehensive, it almost covers every imaginable problem or question.
Betting on the road with bwin mobile
If you want to enjoy the bwin betting experience while you're on the road, you should get yourself the bookie's mobile app. Make sure you check out our detailed livetipsportal review of the mobile app and learn about all the features that you can enjoy with this app.
Our verdict on Bwin in Zambia
Bwin lived up to the expectations that come along with being one of the largest companies in the sports betting industry. No matter if you're only getting started, or if you're a veteran betting expert – you'll definitely get your money's worth at bwin.com. The extensive sportsbook and the great variety in bet options leave nothing to be desired and offer a balanced mix that has something for everyone.
After our in-depth review of the bookie, we can definitely say that the page is very well organised and impresses in terms of ease of operation from the registration to the deposit and withdrawal procedure. The excellent sportsbook, additional offers such as enhanced odds, the media library and the livestreams as well as the sublime live betting offers also left us with a positive impression.
Terms & conditions apply | 18+ | bet responsibly