BetFox is one of the newest bookmakers in the African betting market. It launched its operations in Ghana in 2021 and is steadily seeking to win more customers with its offerings. BetFox does not have a mobile betting app mobile app yet, but it has ensured that the mobile version of the website has been optimized for a range of mobile devices. In this review, we evaluate the BetFox mobile site on its features and performance.
Read our BetFox review for more information about the bookmaker.
Ready for the new bookie?


ACCESSING THE BETFOX MOBILE WEBSITE ⇧
You simply type in 'BetFox' on the search bar or browser of your mobile phone and you will see the link to the website. The mobile version of BetFox website will automatically load on your smartphone when you open the link. It has been designed to fit well on the whole range of mobile devices available on the market.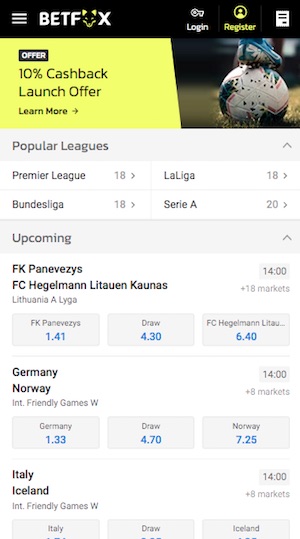 © BetFox
Both Android and iOS mobile users will be happy with the BetFox mobile site on their devices. The page loads fast and you will be able to navigate smoothly through different parts of the site. The whole experience feels just as good as using a mobile app. Speaking about a good mobile betting experience: Customers out of Kenya & Ghana can have such one with the Odibet app as well as Nigerian users with the Betway app.
REGISTRATION AT BETFOX APP ⇧
BetFox has one of the simplest registration processes you will ever come across. On the homepage, there is a prominent 'Register' tab. When you tap on it, it will open the registration form. Here, you are required to only provide your mobile phone number and your chosen PIN/Password. Once you enter the information, tap 'Register' at the bottom to complete the process. Just like that and you have a new BetFox account.
© BetFox
BetFox doesn't have a registration bonus in the common sense yet. If you are looking for a nice free bet offer we definitly recommend the Odibet free bet for new members.
DEPOSITS AND WITHDRAWAL ⇧
For now, you can fund your BetFox Ghana account using only MTN mobile money. The bookmaker has promised to add two more mobile money payment methods soon. These are Vodafone Cash and Airtel Tigo money. We will inform you when more deposit options are available from BetFox.
Mobile money payments are popular with betting customers in Ghana and across Africa. In Ghana, MTN is the most popular mobile money services provider and the addition of the other two mobile operators will take care of a majority of customers.


NOTABLE FEATURES ⇧
The BetFox mobile site layout is designed to fit well on the mobile device you are using. This ensures that you can see all the important features on the homepage. Most of the important features are just one tap away. In the middle of the homepage is a list of live ongoing matches that you can place bets on. When you scroll down, you will see a list of upcoming matches as well, with the betting odds and markets already available.
In the top right corner of your home screen, you will find a drop-down menu. When you tap on it, it shows you a list of tabs for quick access to important pages such as the Live betting page, matches for today and tomorrow, as well as the top football leagues such as Premier League, Bundesliga, La Liga, Serie A, Ligue 1, UEFA Champions League, and Europa League.
You can also find matches, leagues, and competitions under the tabs for popular countries such as England, Germany, France, Spain, and Italy. In the top right corner of the homepage are the tabs for login and registration. Basically, the BetFox mobile website is designed to give you the most important features for football betting. If you have any questions you can contact the bookmaker in different ways: Phone (+233 24 242 6522), WhatsApp (+233 54 978 3052, chat only), Facebook Messenger or Email (support.gh@betfox.com).
What impresses us the most in terms of betting bonus offers is the individual accumulator bet boost. With every additional choice on your bet slip the boost raises. You can combine up to 60 tips and receive a BetFox Ghana acca boost up to 1.000%.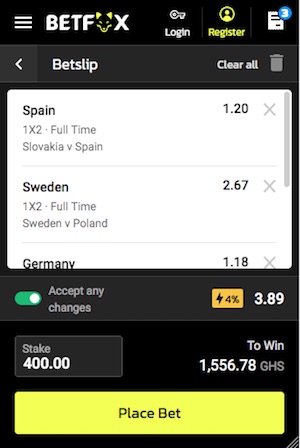 © BetFox
USABILITY AND IMPRESSIONS ⇧
Using the BetFox mobile site is like a walk in the park. The simple, standard design gives you quick access to all that you will need when betting on this platform. The pages load quickly and navigation is easy because the site only has basic features. There are no unnecessary graphics and colour schemes that may confuse you.
The neat arrangement of information and features into tabs for quick access makes the whole process smooth and can save you time if you want to go directly to a particular match or feature. All the processes are simple enough, including registration, login, making a deposit, placing bets, and making a withdrawal.
SPORTS BETTING BETFOX MOBILE SITE ⇧
The BetFox mobile website is designed to enable you to enjoy betting on your mobile phone without any hassle. Since BetFox covers only football betting markets at the moment, the bookmaker has ensured that customers get good depth and variety in terms of betting markets and options. You can bet on matches from football leagues and competitions across the world, including the popular European football matches. You can find matches to bet on under different tabs including Live Now, Upcoming, Today, and Tomorrow, as well as the popular leagues and countries.
© BetFox
You get a wide range of betting options under most football matches, especially the popular ones such as Premier League, La Liga, and the UEFA competitions. All selections are automatically added to the bet slip, which is displayed prominently on the page.
We have useful information about betting companies in Africa on our page.
CONCLUSION ON BETFOX MOBILE APP TEST ⇧
Betting on BetFox mobile site is just as good as accessing the bookmaker on other platforms, if not better. You will not worry so much about BetFox not having a mobile app since the mobile site is optimized to enhance your mobile betting experience. The simple design with tabs for all important features makes navigation easy. You can complete all processes smoothly because everything readily available. For now, BetFox customers will be happy with the mobile offerings even as the bookmaker looks to add more features.
Read about the best betting sites in Ghana here and discover lots of exciting offers and prizes.