One of the best known betting strategies is the accumulator bet. This strategy is especially popular with betting beginners. In the article below you will find everything you need to know about it.
💡 Take a look on our sure multibet tips page to geht some nice acca predictions every week!
What is an accumulator bet?
In an accumulator bet, also called Multibet, you combine a number of different bets (often called "legs") of whole games or single events and consolidate them into one bet. The biggest advantage of multiple bets is that the different odds of the various legs are multiplied, and thus the combined odds are drastically high and you can yield a good profit. That is why this betting form is so popular with beginners.
However, the risk is also very high. Since you have to guess every single event correctly, the chances that one is omitted gets higher with every added event. If you miss one, your whole stake is lost. Accumulator betting can be played with all different types of bets like halftime/fulltime, scorecast/wincast, handicap or double chance bets.
Examples for an Accubet
If you want to place your multiple bets profitably you should not, at first, combine more than 2 or 3 legs. We suggest that you choose one leg that will almost certainly turn up (also known as a "bank") and combine it with another bet that is a little more unlikely to happen. By doing so, the two odds are multiplied and you can get out (a lot) more than if you just bet on one event.
Nevertheless you should still be confident about your bets even about the more risky one.
 
Example for a double (2 legs)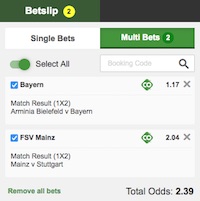 Let's take a look at this scenario: As your first leg you take the game Arminia Bielefeld – Bayern Munich from German Bundesliga Odds. You bet on Bayern as a (kind of) sure bet at odds of 1.17. Your second leg is Mainz 05 – VfB Stuttgart at odds of 2.04 on a Home-Team-Win. When you multiply those two odds you get your overall odds of 2.39. This is way higher odds than if you just bet on one leg.
If you want to further enhance your overall odds, you can add another leg to your Multibet. This is called a treble.
Example for a treble (3 legs)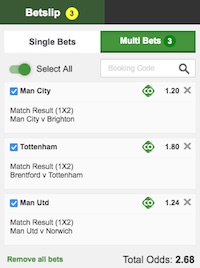 You can boost your overall odds by combining three legs into one bet. But don't forget that the more games you combine, the higher is your risk. So we suggest that you add another sure bet as your third leg. This may not give you tremendous overall odds, but at least you still have a good chance to win your bet.
Bank 1: Manchester City – Brighton, Tip 1 (Odd 1.20) plus
Bank 2: Brentford FC – Tottenham Hotspur, Tip 2 (Odd 1.80) plus
Bank 3: Manchester United – Norwich City, Tip 1 (Odd 1.24)
Your overall odds add up to 2.68 which is, all at once, very good odds and it is still highly likely that you will win the bet.
Despite all the prospects of high overall odds when you combine more good bets and fewer banks, we still advise you to keep your risk as low as possible and just play two banks with one good third leg.
🔥 If you're more of the risky guy anyway, we highly recommend our risk bet prediction with high odds and the chance of a HUGE WIN.
Which sports are good for accumulator bets?
Accubets are most common for bets with only two opponents where the game can only conclude in two or three ways – either one opponent wins/loses or they draw.
Football, especially, is an excellent sport to bet on with this strategy. On the one hand you can bet in several different leagues to diversify your bet. On the other hand the games are easier to bet on because the favourites often hold the upper hand and go away with the win. But other sports like basketball, ice-hockey and tennis are also very popular. If you need help to calculate your odds you can check out our odds and surebet calculator here.
Can you make money with it?
This kind of betting system is not so popular with professional betters. This is because it is really hard to estimate the risk of two, three or more games. Also, according to experts' beliefs, luck plays a major role in these bets. Furthermore, when you place an accumulator bet, you are restricted to one bookmaker and might not obtain the best odds for one specific leg.
It is important that you don't lose your head in the clouds of the high possible odds, but use banks to slightly improve your overall odds. You can also read our strategy for surebets.