The name gives it away – with a double chance bet you can double your chances to win. You can find a description, an example and your winning chances in the text below.
What is double chance betting?
Simply put, in this betting strategy you can bet on two outcomes of a game. Needless to say, the only precondition is that the sport you are betting on has three different possible outcomes (e.g. Win, Draw, Loss). Compared to a regular bet where you only bet on one of these three outcomes, in a double chance bet you bet on two and thus decrease your risk. The downside of this, of course, is that the odds are lower than on common bets.
 
Examples for double chance bets
As an example we take a look at a football game. In football you can bet on the required three outcomes of a game. A team can win (1), lose (2) or draw (X) against its opponent. So, if you have the feeling that the underdog (Away-Team) is able to draw with the favourite or even beat him, you could place your bet on a Draw (X) or an Away-Team-Win (2). Let's say Liverpool FC is up against Aston Villa in the Premier League. At the book-makers, the "Reds" are a runaway favourite, but you think that Aston Villa could get at least one point out of the game? In this case you could place an X2-bet to increase your chances of winning. On the right-hand side you can see an example of a double chance betting system. On Livetipsportal, you'll find a lot of Premier League betting tips, in case you need help with your betting.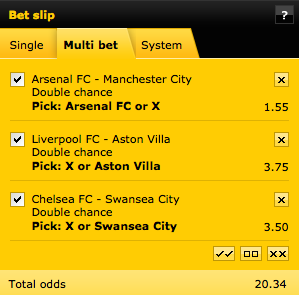 Generally speaking there are three different possibilities of a double chance bet:
Case 1: Win Team A + Draw – 1X
Case 2: Win Team B + Draw – 2X
Case 3: Win Team A + Win Team B – 12
Is it possible to make money with a double chance strategy?
All in all, yes it is. However, the odds are usually lower than on regular sports bets. That is why you should use this betting concept for games with a risky outcome. At those games the odds are generally a little higher and despite the decrease are, due to the double chance, still profitable. Because of the decreased risk that double chance bets carry, they are also perfect for pushing up your odds on your accumulator bets to push up your odds. For example you can combine your double chance tips with some handicap betting.
Which sports are ideal for double chance bets?
As mentioned earlier, these bets are only available for sports with three outcomes. Hence you cannot bet on sports like tennis or volleyball, where there is only one winner and they cannot draw. In spite of this, they can be useful in many other sports. Indeed, they are very popular with football bets because football bears so many surprising wins and losses (or draws).
Back to all betting strategies.