Parimatch mobile app is a cutting-edge and innovative mobile sportsbook offering customers similar experience and service found in Parimatch website. The brand Parimatch has built a good reputation in African market and that is why is among best betting sites in Africa with huge number of clients which keep on increasing.
You can instantly do deposit to wager in available markets for different sports like football, basketball, volleyball, tennis, cricket, boxing, rugby, handball, American Football, Ice Hockey, darts, e-sports, UFC, and MMA and yet, the cash withdrawal can be instantly done by a simple tapping.
Keep on scrolling on this page to learn more on how to download Parimatch app as the Android or iOS user, the existing distinct features and service found in the Parimatch app with their respective pros and cons.
Do you want flexibility?

Installation of the Parimatch mobile app ⇧
Parimatch Mobile app can easily be downloaded directly from their website but for Parimatch Tanzania app download allows the iOS user to download and install the Parimatch app from the app store. The installation of Parimatch app is free of charge hence anyone can enjoy the flexibility of being the Parimatch client when successfully installed the mobile app in his or her phone.
It is important to review your phone security setting before installation of the Parimatch mobile app on your phone. Below are the steps on how you can install Parimatch app.
Parimatch Mobile app installation for Android users
Go to Parimatch website download Parimatch Android apk file.
You will be prompted to enable installation from unknown sources. Alternatively go to settings to permit these settings.
Next, follow the installation instruction which pops up on your screen as you install the app.
Parimatch Mobile app installation for iOS users
Again, visit the Parimatch website and download iOS installation file.
Then, in your mobile phone allow installation from varions sources under the device management settings.
Then, Run the installation file you just downloaded.
Next, follow the installation instruction which pops up on your screen as you install the app.
But if you install from the app store then there is no need to review the security of your iOS phone instead visit the app store and proceed with installation.
We have compiled the finest details on why clients choose Parimatch from our Parimatch review page.
First thing after installation, you can note after installation of the Parimatch app is the convenience, the stunning user experience and flexibility when accessing the existing features and events. You can find a lot of sports events in Parimatch app and this includes the casino events. But before you start wager on your first event through the Parimatch app it is required to sign up for a new account.
Registration at Parimatch Mobile app ⇧
When you open the Parimatch app for the first time immediately after you finish installation, you shall be presented with registration interface. Alternatively, go down the app to profile and click SIGN UP. The Parimatch registration process is among the quickest and easiest processes which takes no more than a minute to complete the registration. You just need to:
Select the country you reside in.
Enter mobile phone number
Enter your new password then tap the signup button after agreeing with terms and condition.
You have an optional step to activate the Biometric login for quicker login.
Lastly, you are supposed to verify your phone number by using the 6 digits code sent to you through the sms
Please do not miss the existing Parimatch bonus terms and conditions after you are done with the registration process.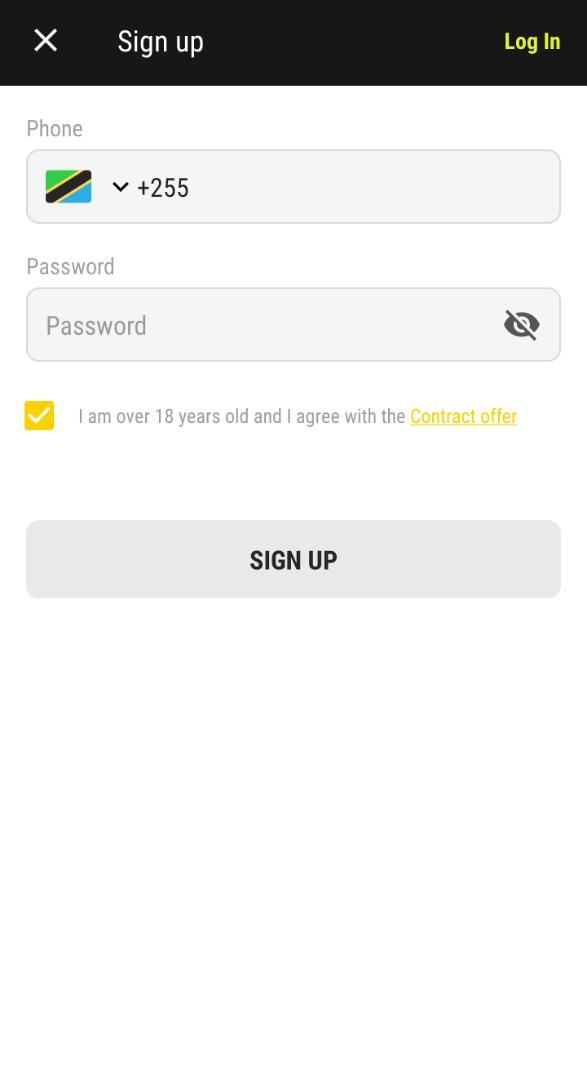 How to deposit in the Parimatch mobile betting account ⇧
In order to fund your new Parimatch account, you have to tap Profile at the bottom of the app and click deposit. Depositing money in your account depends on which country you reside that means different countries will have different means of funding your Parimatch account.
🇹🇿 Tanzania
Vodacom
Dial *150*00#
Select 4, Pay By MPESA
Enter the business number 351144
Enter phone number
Enter minimum deposit amount 100 TZS up to 500,000 TZS
Enter PIN and press 1 to confirm deposit
Tigopesa
You can either use the push method which is a much quicker deposit method. Just enter amount and tap deposit. You will be prompted to enter tigopesa password to complete deposit. Alternatively, follow the following steps:
Dial *150*01#
Select 4, Pay Bills
Enter business number 351144
Enter your phone number
Enter minimum deposit amount 1000 TZS up to 500,000 TZS
Enter password to confirm your deposit.
Airtel Money
Dial *150*60#
Select 5, Make Payments
Enter business number 351144
Enter your phone number
Enter minimum deposit amount 200 TZS up to 500,000 TZS
Enter password to confirm your deposit.
Halopesa
Dial *150*88#
Select 4, Pay Bills
Select 3, business number
Enter business number 351144
Enter your phone number
Enter minimum deposit amount 100 TZS up to 500,000 TZS
Enter password and confirm your deposit by pressing 1.
🇳🇬 Nigeria
Parimatch Nigeria's deposit method are very effective and quick one though they are not too many. Just like in other Parimatch platforms, Parimatch mobile app users can use either Paystack, credit card, bank account, or USSD to ccomplete funding their mobile betting accounts with Paystack being the most frequently used deposit method. The minimum and maximum deposit amounts are respectively ₦100 and ₦10,000,000.
Below are the steps to deposit into Parimatch through the Parimatch app:
Go to Profile at bottom of the Parimatch app and click deposit
Enter the deposit amount.
Select means of deposit (Card, USSD, Bank)
For the Card, enter the Card details but for USSD follow the instructions on your screen.
Click the Pay button.
Expect to receive a code for using it to complete the depositing.
How to withdraw cash from Parimatch account
There are no fees for claiming your money from Parimatch account. In order to redeem your return, please make sure you have verified your account first then click withdraw and tap withdrawal. In a few seconds the amount will be credite to the mobile number account or bank account that is connected to your Parimatch account.
Parimatch app features ⇧
Let us take a look at the frequently used service. It is very easy to understand every part of the Parimatch app because it has been designed with systematic arrangement of every menu either at the top or at the bottom of the app. If you wish to wager on events then betslip will always appear at the bottom while the bet history (My bets) also can be found at the bottom. Do not worry about the cash in and out as the profile tab has more than just a payment method as it includes extra features like login and logout. Just tap the profile tab found before the menu bars icon and do all needed to be done from this interface. Yet the sports events are openly located next to the Main page (Main).
Usability and navigation ⇧
Parimatch app is dominated by two color codes, black and yellow, which resemble their website to offer better user experience. This gives the similarity in looks of their website without missing out any service that pre-existed. Most of the Menu of the Parimatch can be easily located at the bottom of the app with notification icon being openly available at the top of the app. This gives clients an easy navigation process through every feature.
Mobile Sports betting with Parimatch app ⇧
Get started with your first bet by clicking the Sports icon at the bottom to list the available sports events you wish to wager. Mind you, Parimatch has more than 20 different sports. This gives you a wider range of selection of events you wish to bet on. If you do not know which betting market to wager, then our team has prepared betting tips for today for free that will give you a desired return.
Here is how you can create you first bet slip:
Tap "Sports" and choose sports you wish to wager
Select the betting market. Example: team A or B win
A popup screen will appear to show you the market you selected. Find and click "ADD TO BETSLIP"
If you need to add more events then go through the same process.
Fill the minimum amount of stake needed for a single bet.
Lastly, click PLACE BET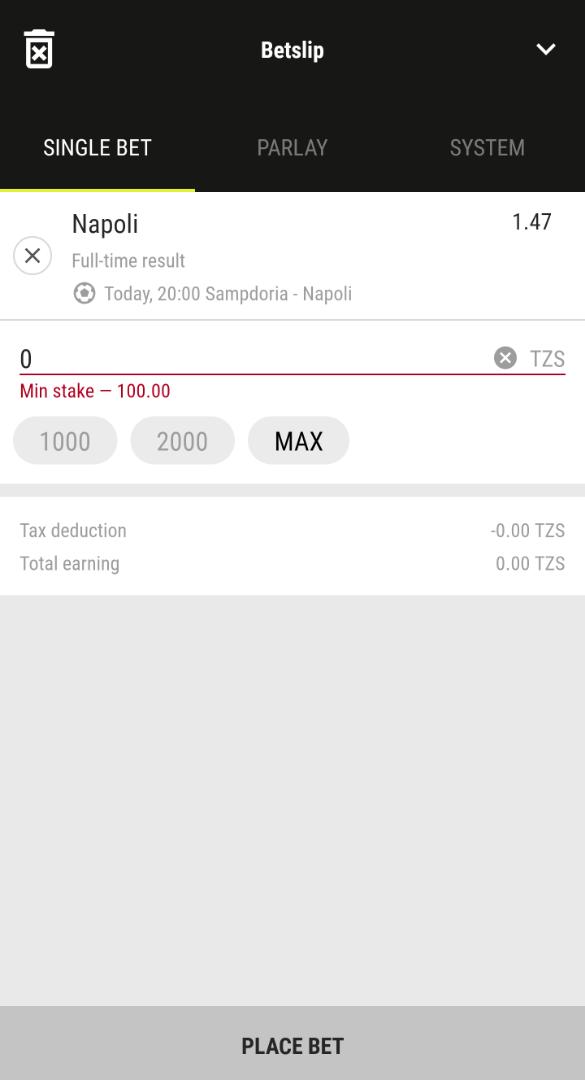 Conclusion of our Parimatch mobile app review ⇧
Parimatch app is available for installation for all types of phones, thus Android and iOS. It has been well organized with fewer icons destined to access the key features which are always needed by the punters, having just 2 color which has dominated the Parimatch app. This confirms the reason why Parimatch app loads very fast when you open it.
The money transactions have been well secured as the cash deposit and withdrawal has been carefully integrated with Parimatch app with the added condition of verifying the identity of the Parimatch clients. Parimatch app is among the most trusted mobile betting platforms as it has safegurad the usage of customer data while complying with data privacy policies for specified countries.
Moreover, you can now live stream the sports events from anywhere as you make decisions on which market to wager. We say this is how the sports betting universe operates in the modern era. Expect unlimited number of sports for both pre-match events and live events.
Back to all sports betting app tests.