Since Tipico is not available for african user anymore we recommend you take a look at these betting apps:
Betting underway gets more and more popular therefore it gains more importance for sportsbook providers. The waiting time at a doctor's office, the bus station or in line at the supermarket appears way shorter when you are able to place interesting sports bets in the meantime. Thanks to the fact that almost everyone already has a smartphone, a betting app seems to be a very interesting idea. So Tipico also developed a mobile version of its website and brought it to the market. Additionally, for Android as well as for iOS, Tipico also programmed its own apps. We from Livetipsportal tested the apps and report if they can keep up with the big desktop versions.
Our report consists of the following topics: Installation, registration, deposit modalities, usability, betting program and we summarize our findings in a brief conclusion. We hope that we answer all your questions and we wish you an enjoyable time reading our review.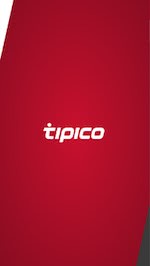 Tipico's desktop version has already been subject to our extensive Tipico sportsbook report that you can also find in our bookmakers segment here at Livetipsportal.
Installation of Tipico mobile ⇧
Before you can dive into the betting universe of Tipico the app has to be downloaded to your device. How this works, you can read below:
No matter whether you are using an iPhone/iPad or a smartphone/tablet running on Android the developers programmed an app for both. iOS users have it a little easier since the Tipico app can be found on the official App Store and then be downloaded and installed. For Android users it is a bit more advanced. As the PlayStore does not allow games that are played with real money you have to download the app externally.
The fastest way to download the Android app is over Tipico's mobile website. You reach the site by entering the URL (tipico.com) into your smartphone's browser. The website recognizes the mobile device and automatically opens a pop-up window in which it offers you to download the app. By clicking on the banner "get the app" the download can be started.
Before the download can continue you have to confirm a warning. It simply tells you that the app is a "strange" app and may cause damages. Since Tipico is a well-established sportsbook provider you can confidently ignore this warning. This makes the warning disappear and the download starts.
When the download is complete just open the file and the installation will start immediately. This time again, Android blocks the installation because the program is from an "unknown source". That's why we navigate to our safety assistance menu and activate the box "unknown source" which makes it possible that Apps outside the Google Play Store can be installed.
With this new authorization the app can be completely installed. The installation only takes a few seconds and you are able to throw yourself into the adventure of Tipico's mobile betting.
After the successful installation you recognize immediately what you can expect from Tipico sports betting mobile app. Right from the start the app appears very well-structured as it is segmented only in a few main directories. The first impression is very good and we can't wait to get into Tipico's big betting program.
Registration with the Tipico App ⇧
Before we can get started we have to set up a betting account (only if you don't have one yet). To do that, click on "Account" and "New Account".
The registration at Tipico only consists of two easy steps. First we have to enter your account information like country, date of birth, favored username, e-mail address and a secure password and confirm the terms and conditions. After that in the next step they ask for your name and address.
Deposit ⇧
You have to refresh your balance before you can place any bets. To do so you click on the deposit button and you get directed to the offered paying methods of the tipico.com sports betting app.
Tipico offers the most common paying methods. You can choose from 11 possibilities to upgrade your betting balance. You can also find PayPal amongst them which is not offered by every bookmaker. So, deposit any wished amount (within the limts) on your account and you can get started.
| | |
| --- | --- |
| | |
| Get your Tipico betting account in… | …two easy steps! |
If you are looking for a mobile promotion, check out our sportsbetting bonus promotions page.
Log in and log out at the mobile version ⇧
An important feature of a sports betting app is the fast and easy handling of the most significant functions – like the log in and log out. Once you have set up a Tipico account you can log in with your user name and your password. We recommend to check the "Save" box so you save yourself from the inconvenience of having to type in your details every time you log in.
If more than one person uses the Tipico app on the same device you have to be able to log out of one's account as well. You can do so by navigating through your account options and clicking on the "log out" button.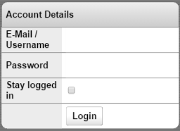 Usability ⇧
For us as enthusiastic bettors it is also important how fast we can adapt to and navigate through the app without problems. Tipico sticks to a user friendly and overseeable design to ensure a smooth handling. The composition is made of white, a light grey and the familiar Tipico-red.
The essential part of the navigation is the menu bar on the bottom of the screen over which you can control every function of the app. The menu items are the main page, the offered bets, user's placed bets as well as the account information and the bet slip.
By clicking on "bets" you reach Tipico's entire sports betting offer. It is segmented in live bets, today's bets, highlights and last minute bets. After that comes an overview of the sports provided by the tipico.com mobile app. All in all we counted as many as 17 different kinds of sports that Tipico makes available to their sports betting fans. So also the most diverse sports bettor can get enough diversion.
Concerning the style Tipico makes more than a good impression. The app convinces by its light and friendly design. The navigation works rather easy due to its well thought-out navigation bar. And thanks to the structured list of sports the user gets a good overview of the enormous betting program that tipico offers.
Placing mobile sports bets at Tipico ⇧
Next we tested if the handling of the betting itself works as well and as fast as the rest of the app. Tipico's app tries to keep the betting as easy and unproblematic as it can be. Once the bettor clicks on an odd it is automatically added to the bet slip. In the navigation bar you can find the bet slip as well as the amount of different bets in it.
You can not directly place a bet by clicking on an odd; you have to take the "detour" over the bet slip. But the bet slip itself is well structured and leaves nothing to be desired. The user can choose if they want to place their bets as a single bet, a multi bet or a system bet (check out our system betting strategy). Concerning the system bets, you can play every variation imaginable, and you can also play "banks". In one word, the bet slip of Tipico's mobile version convinced us thoroughly.
A great feature is the comprehensive statistics for every event. They can support the bettor to get a better grasp of a single event. These statistics consist of actual standings, last results and estimates for over/under bets.
We also liked the idea of "favorites". A user of Tipico's sports betting app has the possibility to save favorites in the favorites bar so they can navigate to them and place bets on them in a very quick manner.
To evaluate how fast and intuitive the tipico.com app is we counted the clicks it took us to place a bet on a game of the German Oberliga. It took us 5 clicks from the main screen to the small league of Germany. The navigation works very fast and without buffering, so it is not a big deal to having to scroll down for some leagues further down.
| | |
| --- | --- |
| | |
| The best odds… | …on your Tipico mobile bet slip |
Betting program ⇧
But to make this app a good one it takes two things: the handling as well as the sports betting offer has to be good. Tipico offers on its mobile version a variety of sports since the entire program of the desktop version got adapted and put into the mobile version. So the user can choose from 17 different sports and show their knowledge in each of them. Especially football fans with knowledge of lower leagues may benefit from Tipico's offer given that it is possible to bet even down in the fourth or fifth division of a particular country.
All the betting fun you get at the desktop version you can also get underway. Thanks to the countless betting possibilities you will not be bored. Tipico offers 3-way bets, score bets, handicap bets, goal bets, half-time bets, double chance bets, wincasts, scorecasts and other special bets. With this array of betting possibilities it is likely to lose track and the small screens of smartphones may even contribute to that.
Tipico mobile is also suitable for surebets (read our sure bet strategy), where you compare odds betweend bookmakers and create safe winnings.
The online casino is being offered as a specifically designed casino app. But this app is not included in the sports betting app.
If you have any questions or problems the customer support may help you. A ticket system guarantees a good support even on your mobile Tipico app.
Tipico mobile app conclusion ⇧
Tipico has already persuaded us with its big desktop version but also the mobile app (which is offered for Android as well as iOS) Tipico makes a really good impression. Bettors using other operating systems get directed to Tipico's mobile website to experience the app environment there.
The Tipico Sports mobile app convinces with a problem-free installation, an intuitive design, a fast handling and a large betting program with an extensive amount of betting possibilities.
Once you have grown a custom to the app navigating within it is very easy. Games and other events can be easily analyzed due to the statistic feature and bets can be placed in a very short time. This makes the betting experience on the go very enjoyable and your betting strategies can be converted, all without a computer.
The sports betting program offers a lot of variety for every possible sports fan. Also the many betting possibilities will convince every betting fan. As a small critique we can mention the missing Asian-Handicap bets that may have been interesting to the one or the other advanced bettor. But all in all it is a very good and well thought-out mobile sports betting app.
Back to best betting apps overview.