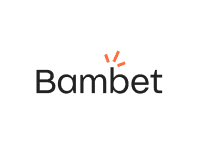 Bambet Welcome Bonus
The Bambet Welcome Bonus is much more of a comprehensive overall package than a single welcome bonus. Here you get a free bet on your first three deposits. In addition, there is also a 25 GHS freebet if you deposit at least 500 GHS. There is also a 100% Combo Boost waiting for you on Acca Bets with two or more selections. We will go into all these offers in more detail and introduce them to you. Let's start with the 10% to 1400GHS
Bambet Ghana
Freebet Bonus.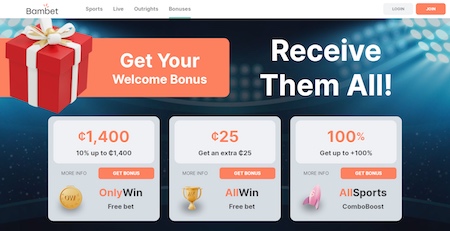 The bonus freebet accommodates both single and combined bets, offering a wide betting spectrum with odds ranging from 1.01 to 2.32 across all events. This flexibility empowers players to explore diverse betting strategies, enhancing the overall gaming experience. The fixed nature of the free bet amount, 10 % automatically determined from the first, second and third deposit, adds an element of simplicity to the bonus structure. Exclusive to the Sports and Live sections, the free bet feature amplifies the thrill of sports betting. However, crafting a coupon with a free bet bonus demands a little attention. Any bet placing event odds below 1.01 or above 2.32 renders the coupon invalid, necessitating strategic adjustments for reactivation. Crucially, cashout and Auto Cashout functionalities remain unavailable in the free bet bonus. You will receive the winnings minus the stake. So if you use a freebet worth 500 GHS at odds of 2.00 and you win, you will receive 500 GHS net winnings.
Register with Bambet
Place your first deposit
The Bonus Free Bet will be credited within 30 minutes after the deposit
It will be 10 % of your deposit amount up to 1,400 GHS 
Use your Free Bet within 3 days at odds between 1.01 and 2.32
Net winnings (without stake) will be credited
No Cash Out allowed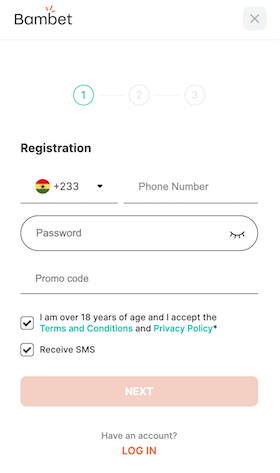 Bonus type
Free bet
Minimum deposit
GHS 2
percentage
10%
Maximum bonus
GHS 1,400
Bonus code
no bonus code is required
Turnover requirements
The conditions are actually quite simple. You will be credited with a free bet worth 10% of the deposit amount on your first three deposits. The maximum betting bonus amount is 1,400 GHS. The free bet received must be used within three days. Single and combination bets are permitted. The minimum odds are 1.01 and the maximum odds are 2.32. You will receive the winnings in real money, without the stake. This means without the amount of the free bet.
Min. odd
1.01
Valid until
unlimited
Time limit
3 days after bonus received
Summary
The triple free bet up to a total of 4,200 GHS is a really strong welcome offer. Your first three deposits of up to 1,400 GHS each will be rewarded. However, only 10 % of the deposits will be considered. Of course, we would have liked a slightly higher value here. Nevertheless, we have no complaints here, despite there is no native app. Alternatively, here you can find out more about another first-class app and start the Betika app download here. There is practically no minimum odds, but the maximum odds of 2.32 are also a little too low. However, the probability of success remains high.
Pros and Cons
3 Freebets of up to 1,400 GHS each for first 3 deposits
No minimum odds & net winnings in real money
freebet must be wagered only once
Low maximum odds of 2.32 for freebet
Only 10 % Bonus
Example
First of all you have to register and log in. Then make your first deposit. You will automatically be credited with the free bet worth 10%. So if you deposit 1000 GHS, a 100 GHS free bet will be credited to your account. You now have to wager this once at odds between 1.01 and 2.32. You have three days to do this. If you need some betting tips, just tap on the linke before. If you wager the 100 GHS free bet at odds of 2.00, for example, and win, 100 GHS will be credited to your account as real money. You can do the same for the 2nd and 3rd deposit.
Get your Bonus in 3 Steps
Step 1
Create a new acount and make a first deposit.
Step 2
Receive a free bet of 10 % of the deposit amount.
Step 3
Use the free bet within 3 days at odds between 1.01 and 2.32.
More Bambet Bonus offers
As already mentioned, there are other bonus offers in addition to the 3x 1,400 GHS Bambet bonus. You can also pick up a 25 GHS free bet on each of your first three deposits and then there's the 100 % Acca odds Boost. On every further deposit you will also receive a 1.5 % Black Star Bonus – forever. Let's start with the 25 GHS ALLWIN Bonus.
25 GHS Bambet ALL WIN Bonus
Here you basically only have to make deposits of 500 GHS or more. The first three deposits after registration are counted. Within 30 minutes of making the deposits, you will be credited with the 25 GHS free bet if your first, second and/or third deposit is at least 500 GHS.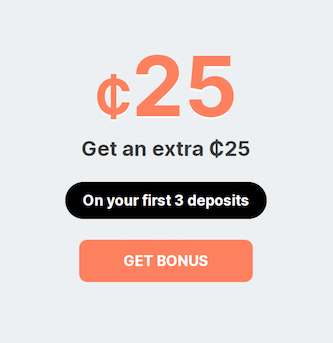 100 % All Sports Combo Boost
This is a classic ACCA boost. The more selections you combine in an acca bet, the more boost you are granted. You can double your odds by a maximum of 100%. The decisive factor here is that at least two selections are combined. The total odds must be at least 1.36.
• 2 – 3 events – Bonus odds 1.01
• 3 – 4 events – Bonus odds 1.02
• 4 – 5 events – Bonus odds 1.03
• 5 – 6 events – Bonus odds 1.04
• 6 – 7 events – Bonus odds 1.05
• 7 – 8 events – Bonus odds 1.06
• 8 – 9 events – Bonus odds 1.07
• 9 – 10 events – Bonus odds 1.08
• 10 – 11 events – Bonus odds 1.09
• 11 – 13 events – Bonus odds 1.10
• 13 – 16 events – Bonus odds 1.12
• 16 – 21 events – Bonus odds 1.15
• 21 – 26 events – Bonus odds 1.20
• 26 – 31 events – Bonus odds 1.25
• 31 – 41 events – Bonus odds 1.30
• 41 – 51 events – Bonus odds 1.40
• 51 – 61 events – Bonus odds 1.50
• 61 – 81 events – Bonus odds 1.60
• 81 – 101 events – Bonus odds 1.80
• 101 – 9999 events – Bonus odds 2.00