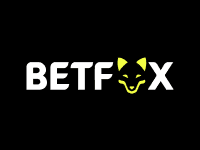 BetFox Bonus
BetFox
is one of newest kid on the block in Ghana. Launched in March 2021, they are still figuring their way out around the market and have made baby steps towards launching offers and promotions that are geared towards satisfying the interests of the local users.
For starters, starting April 2021, they launched the unlimited Acca Bonus, which enables you to boost your bets exponentially, at times by more than 1000%. That's crazy, right? You will get anything close to this anywhere. Instead of basing your bonus on the number of selections, they give an individual
accumulator bets
Bonus for each of your bets. As a result, you will always get the maximum value.


© BetFox
How Exactly Does This Work?
It's really simple! Add selections to your Betslip and get your Acca Bonus shown next to the total odds. The more selections you add, the bigger your bonus.
This BetFox Acca Bonus comes with some terms and conditions.
First, there are no minimum odds. This is self-explanatory really. Every selection counts. So essentially you can choose to pick safe bets with low odds and your bet will still qualify.
Again, there are no minimum or maximum number of legs. Most bonus offers come with this requirement but not Betfo. You can pick anywhere between 2 selections all the way to 60 selections!
It doesn't end there, they also do not have a payout limit. Again, unlike their competitors, with Betfox, there is no cap on the bonus payout percentage which can even exceed 1000%!
It is noteworthy that for purposes of settling/paying this bonus, in the event of one or more of your selections getting voided or pushed (i.e. settled with odds of 1.00), your Acca Bonus is pro-rated. Example: Your bet has 10 selections and a 70% Acca Bonus. If 1 selection gets void, 1/10 of your Acca Bonus is removed and you are getting a 63% Acca Bonus instead.
Closely connected with this is the fact that if you accept changes while placing a bet, your bonus may also change slightly due to the updated odds of one or more of your selections. In order to get an idea of some good bets to place while using this bonus, check out our
betting tips today
.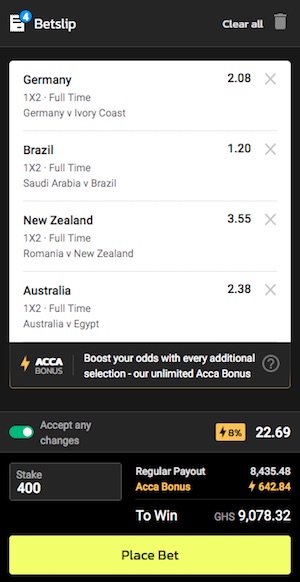 © BetFox
To enjoy this offer, you need to have a Bet Fox account and registration on Betfox is one of the easiest things ever. It literally just takes a few seconds. Follow these quick and easy steps to register a new account:
Click on 'Register' at the top of the Betfox page
Input your Ghanaian mobile number and PIN/password in the registration form
An SMS verification code is sent to your mobile phone immediately
Enter the verification code in the space provided. That's it!
Despite being a new bookie in Ghana, BetFox are making strides in the market and this Acca Bonus has been a big part of that. You can get to know what other offers and promos are available across the continent by reading our review of the
betting sites in Africa
.
Bonus type
Combo Bonus
Minimum deposit
GHS 1
percentage
1,000%
Maximum bonus
GHS 9,999,999
Bonus code
no bonus code is required
Turnover requirements
Select a multibet with any given number of selections. Minimum number of selections is two and you can select up to 60 games. Next to the total odds, you will see the percentage of the bonus on the bet. The more selections you place, the higher the bonus.

Unlike other bookies who cap the maxium bonus you can get, with Betfox, there is no limit and you can get bonuses that even exceed 1000% from your multibet! This will be paid if the bet is settled and is successful. The bonus is prorated in the event of a postponed event.
Min. odd
1.01
Valid until
unlimited
Summary
This is an excellent bonus that has absolutely no strings attached unlike most bonuses in the market. There is no minimum odd or stake requirement to qualify for the offer. Again, the bonus is not capped and therefore the more selections you place the more bonus will be paid out on your bet.
Pros and Cons
More than 1000% Acca Bonus
Usable more than once
Easy and fair bonus requirements
Limited to accumulator bets
No extra betting amount
Example
Register an account on BetFox Ghana. Verify your account using the SMS verification sent to your phonr and make an initial deposit on the account. Place any multibet in your account and at the total odds section of your betslip you will get the bonus percentage that the bet qualifies for. The more, the merrier i.e more selections equals a bigger payout bonus.
Get your Bonus in 3 Steps
Step 1
Register and create an account with BetFox.
Step 2
Verify your account and make an initial deposit.
Step 3
Place any multibet and you will receive an Acca bonus directly proportionate to the number of selections in the multibet. Read our Betfox bookie review for a full and comprehensive picture of what else they have other than this bonus.