To keep the bettors happy the bookmakers always introduce new betting systems and other new possibilities to bet on games. An already well-introduced betting system is the so called over/under bet. This article is about all these over/under bets and how to play them profitably.
What is an over/under-bet?
In the beginning the over/under-bet was used to bet on how many goals will be scored at a game. Usually book-makers offered to bet on whether there will be more or less than 2.5 goals. But by now many bookmakers like Tipico Sportsbook, Bwin or Bet365 have introduced a various range of over/under-bets. So now you can almost bet on everything to be over or under a certain point. E. g. more or less yellow cards, red cards, off-sides, throw-ins, corners and so on.
Examples for an over/under-bet
Since the odds of a single over/under-bet are not that high it is highly likely to win it but on the other hand you won't make a lot of money. Thus it is probably better to combine 2 or 3 over/under-bets to a multibet or a system/yankee-bet. Naturally you should inform yourself about the games and/or teams you want to bet on. You can check how many goals they usually score or receive or if they get a lot of cards and so on.
As an example we take odds from the spanish Primera Division: if you take a look at the last games of FC Barcelona or Real Madrid you can see that both teams usually score many goals. At almost every game of the last 10 games of the two teams were at least 3 goals. So that is kind of a sure bet.
Also, you can examine their opponents. If they are prone to receiving many goals or for being roughnecks and receiving a lot of cards.
In our betting slip example you can see that we decided for the two previous examined teams FC Barcelona and Real Madrid. As the previous clash of FC Barcelona and Athletic Bilbao ended in a 2-1 we bet on an over 2.5 goals. The second game can also contain many goals so we bet on an over 2.5. Although the risk is relatively low we get a good deal with these two legs.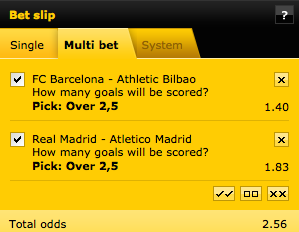 Another very interesting variation of the over/under-bet is to combine the bet with a regular Winner-bet. Obviously the risk is a little higher but on the sunny side so are the odds.
Which sports are best for an over/under betting strategy?
As earlier described these bets are most common amongst football bettors to bet on over/under 2.5 goals. In other countries, maybe where football is not as popular, you can also over and under bet on a variety of other sports – e.g. in basketball or tennis.
Can you make money with this strategy?
Of course you can. Although your profits won't be really high when you only single bet on overs/unders. That is why we recommend that you should play a multi or accumulation bet with a few overs/unders and make a multibet of up to 8 legs. If you analyze a league well enough so you can predict how many goals will be scored at each game this kind of betting strategy can be your key to success.
Livetipsportal betting strategies overview.