1XBet has announced their latest promotional offer, "Champions Season," in honor of the highly anticipated UEFA Champions League season 2023/2024. Known for their wide range of promotional offers and an extremely sophisticated sportsbook, 1XBet is considered one of the best bookmakers for betting on football matches, especially those in the prestigious Champions League.
To take part in this exciting promotion, participants are required to register or log in on the 1XBet website or app. Once logged in, users simply need to press the "Take part" button on the offer page. To earn promotional tickets, bets of at least 3655 NGN (or currency equivalent) must be placed on Champions League matches between 03.10.2023 and 01.06.2024. For bets of at least 6091 NGN, participants will have the opportunity to open a ball (much like in the UCL draw ceremony), where they can win guaranteed bonuses and golden tickets to enter the final superprize draw.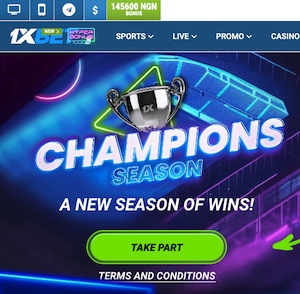 Opening a ball guarantees participants one of several amazing bonuses, including 10, 50, 100, or 300 bonus points, or a free bet ranging from 1 USD to 5 USD. Additionally, lucky winners can unlock golden tickets to participate in the final draw, providing them with the chance to win even bigger prizes.
📲 get the 1XBet App 📲
Throughout the promotion, there will be three prize draws
The first draw will be held on 14.12.2023 at 16:00 (+3 UTC), after the group stage of the UEFA Champions League. Winners will be randomly chosen from the tickets earned during the group stage, with prizes such as super prizes ranging from 5000 USD to 500 USD, bonus points, and free bets up for grabs.
The second draw will take place on 04.06.2024 at 16:00 (+3 UTC), after the knockout stage of the UEFA Champions League. Similar to the first draw, winners will be selected randomly from the corresponding stage's tickets, with a chance to win attractive prizes.
Finally, the eagerly awaited final superprize draw will be held on 05.06.2024 at 16:00 (+3 UTC), where lucky winners with golden tickets earned through opening balls will have the opportunity to win remarkable prizes. These prizes include a grand super prize of 50000 USD, as well as bonus points and free bets.
Participants can maximize their chances of winning by placing larger bets, as tickets are awarded as a bonus for bets placed on UEFA Champions League matches. The more tickets earned, the higher the probability of winning fantastic prizes. Find UCL betting predictions in our banker tip of the day and use the bets to participate in the 1XBet Champions Season draw.
How to participate – terms and conditions
It is important to note that this exclusive offer is available only for registered customers who fill in their full name, mobile phone number, email address, and country of residence. Participants must also select to participate in bonus offers in their account settings. Learn how to use 1xbet bonus offers here.
1XBet reserves the right to cancel or amend this offer at any time without prior notification or explanation. Winners will receive their cash prizes in their account currency, taking into account the current exchange rate, and free bets will be credited according to the customer's account currency.
Don't miss the chance to participate in 1XBet's "Champions Season" promotion and win incredible prizes. Register or log in now and place your bets on the UEFA Champions League matches to earn your tickets and discover how luck will favor you in the exhilarating prize draws.