A goalless draw doesn't have to be a disappointment: The goalless draw promo from 1xbet insures your bets.
Have you ever placed a bet on a big match in one of the top leagues in Europe only for the match to end in a goalless draw? It does happen, especially when both teams cancel each other out, and would rather draw than lose the match. You can use the 1xbet's Goalless Football promo to hedge against such an occurrence.
If you've read our 1xbet betting review, then you'll know that the bookmaker is one of the best bookmakers when it comes to promotions. As always, the promo also has its restrictions otherwise known as terms and conditions. We provide you with all the information you need on the promo below.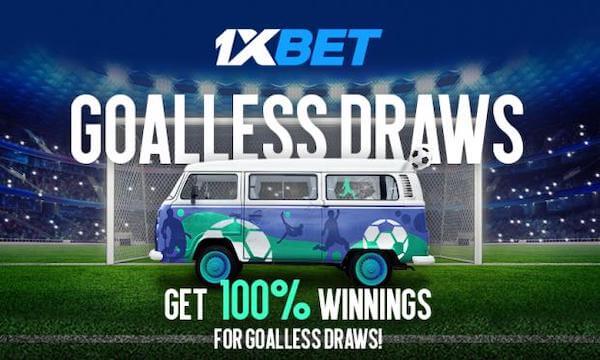 © 1xBet
Do Bets Placed With 1xbet Bonus Count?
Principally, the promotion does not apply to all games, but a select few that you can find on the goalless football offer page. Should you play any of the games on offer as a single bet and the game ends in a goalless draw, your bonus account will be credited with the amount wagered up to NGN7,985.
Only home or away win betting options qualify for this promo. Aside from having a valid registered account, you must agree to participate in 1xbet promotions in your account settings. Our 1xbet betting review explains how you can do this.
The single bets must be placed with money from your account; that is, bets placed with 1xbet bonus will not be eligible for the promo. Advanced bets and bets placed with promo codes will not count towards the promo. Also, if the bet is voided, it would cease to meet the requirement for the offer.
The refund will be credited as a promo code within 24 hours of bet settlement; all terms and conditions of using 1xbet promo code also apply. 1xbet reserves the right to change the terms and conditions at its discretion.
Upcoming Games That Could Qualify
Typical games that are listed on the offer page include Liverpool vs Manchester City, Bayern Munich vs Borussia Dortmund, and Juventus vs AC Milan. Based on the size of this sample, potential upcoming games that could make the cut include AC Milan vs Napoli, Manchester City vs Chelsea and possibly Real Madrid vs Real Sociedad.
These are all tough games that are quite difficult to predict, and using the goalless football promo might just come in handy if you choose to play any of these games as single bets. As always, you can keep an eye on our football betting tips page for more information on these matches.