Place your accumulator bets at Betway and boost your multibet winnings by up to 250%.
Betway's Win Boost promo is simply a chance for you to more than triple your potential winnings when you make an accumulator bet, otherwise known as multi bets. Certain conditions need to be met for the bonus to be automatically calculated. Below, we delve into how the Betway online sportsbook Win Boost works, and we go over the terms and conditions.


© Betway
How Betway Win Boost Works
When you make accumulator bets that meet the set requirements (more on that anon), your winnings are automatically upgraded. For starters, you need a minimum of five games on your bet slip for the promo to kick into place; the more games on your ticket or bet slip, the bigger the accumulation boost.
Also, only events with 1.2 odds and above will count towards the boost. So, for example, if your bet slip contains 5 games and one of the games has less than 1.2 odds, you would not qualify for the boost. Similarly, a bet slip of 20 legs with only 15 events meeting the 1.2 odds, will only generate the boost commensurate to 15 events, and not 20 events.
Having five games on your bet slip with qualifying terms and conditions fetches a boost of 5%, while having at least 30 games on your bet slip that meet the Win Boost requirements attracts a boost of 250%. The Win Boost promo is available on both desktop and the Betway betting app. The breakdown of the available boost based on the number of games is attached in the image below.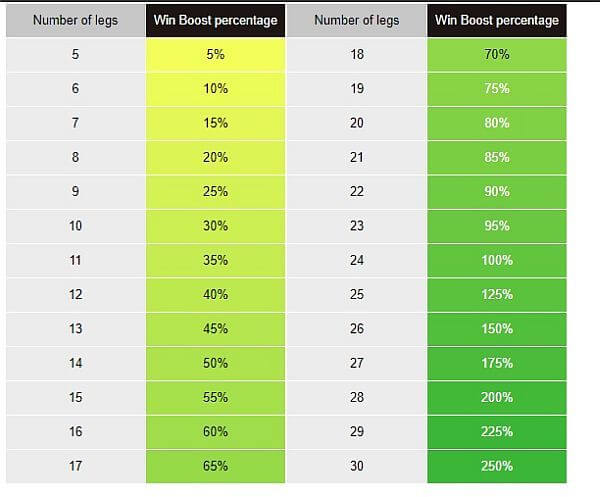 © Betway
Other Win Boost Terms and Conditions
Only bets placed on pre-game selections are eligible for the boost. Additionally, you cannot earn more than 50 million naira once the boost has been applied to your winnings. Outright and tournaments bets do not attract the additional winning boost either. Games such as 'Draw No Bet' that can earn users a percentage of their stake or give them a partial win, are not counted towards the boost winnings. If a game is voided it automatically no longer counts towards the boost winning. So if you played a betslip with 5 legs that initially qualified for the boost and one of the matches was postponed, you'll forfeit the 5% winning boost.
Upcoming Matches To Include in Your Betway Online Sportsbook Accumulators
The fact that the odds requirement per game is 1.2 means you can minimize your risks with your game selection. Real Madrid vs. Galatasaray, Bayern Munich vs. Olympiacos and Barcelona vs. Slavia Prague are examples of matches that you can include in your accumulators with more balanced risks and odds. The bigger teams are expected to be too strong for the opposition. Yet the three matches offer odds of 1.2 and above on Betway online sportsbook for each team's win. You can subscribe to our website to get all football betting tips every week.