Snap Your Losing Run with A Free Bet - Take a look at the Betway rebound boost and get your winnings back.
On a cool Saturday morning while gathering betting tips for the weekend, your phone buzzes. You pick it up to see that it's a message from the Betway app. Your Betway free bet account has been credited with a "REBOUND BOOST" in your country's currency. We review what the promo is about below. You can also check out our comprehensive Betway Review for more details on the bookie.
How Can You Receive the Rebound Boost?
While a losing run is not what any punter wants to experience, it helps that a bookie has provided a way of reducing the impact of these losses by offering a free bet to get you back onto winning ways. To earn the free Betway bonus, you do not need to do anything special; just look out for a message from Betway or simply keep an eye on your free bet account balance.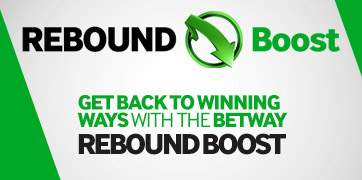 © Betway
However, we reckon that the amount of the free bet is a percentage of your total stake on the bets that make up your losing streak. The bonus is available across Africa, so, whether you're betting in Kenya or Nigeria, you can partake in the Rebound Boost promo.
Terms and Conditions on the Free Bet
All free bets credited into the user's account is only valid for 180 days before it is removed. The amount credited as a free bet must be wagered at once. That is, if you're awarded NGN 500 or 200 KES in free bets, you must use the entire NGN 500 or 200 KES once, or else the balance is forfeited.
Also, the value of the free bet is not included in your earnings. For example, if you have a free bet of NGN 5,000 and place a bet of 3 odds, the NGN5,000 free bet is removed from your winnings of NGN 15,000. In effect, your real account will be credited with NGN10,000 only. The highest return you can earn from a free bet is NGN 150,000. Once you make a withdrawal, the amount in your free bet account is automatically forfeited.
Upcoming Games to Use Your Betway Bonus On
As the terms and conditions for using the awarded free bets do not include any odd-related minimums, there's no limit on how creative you can be with it. However, since you're trying to get back on a winning path, it makes sense to opt for more low-risk events.
Examples of games you can include in your betting tips include Borussia Dortmund vs. Paderborn, Roma vs. Brescia, and Ajax Amsterdam vs. Heracles. Paderborn and Brescia are both rooted to the bottom of the Bundesliga and Serie A table respectively and should be comfortable matches for their opponents.
Ajax has been in super form in the Eredivisie and is yet to lose in the league after 13 matches, winning 11 and drawing the other two; so it looks like a win and multiple goals for the defending champions.