Angers
VS
Lille OSC
Stade Raymond-Kopa
Angers
Angers SCO - Lille OSC betting tip & odds comparison 23.05.2021
In gameweek 38 of Ligue 1, Angers will host Lille OSC at Stade Raymond-Kopa. Kick-off is scheduled for 9:00 PM on May 23, 2021 With our match prediction and odds comparison for Angers vs. Lille OSC you are guaranteed to get all the important facts and details for this fixture. First and foremost, we will take a close look at the teams' recent performances.
Where to find the best tomorrow's betting tips? Livetipsportal offers you a vast selection of predictions for the most popular domestic leagues and international competitions.
Angers have won 1 of their last 5 league matches (1 win, 0 draws, 4 defeats. In the previous 18 home games in the Ligue 1 season 2020/2021, Angers have won 6 matches, 3 games ended in a draw, and 9 games in defeat. (Goal difference 19:25).
Out of their last 5 Ligue 1 fixtures, Lille OSC have won 3 games (3 wins, 2 draws, 0 defeats). The away record in the current Ligue 1 season reads as follows: 13 wins, 4 draws und 1 defeat - Goal difference 34:11.
In their last five Ligue 1 encounters, Angers managed to get 2 wins against Lille OSC, while Lille scored 3 wins. On 0 occasions, there was no winner. If we focus exclusively on the home games that Angers played against Lille OSC in the Ligue 1, we get the following record: 3 wins for Angers, 1 draw and 1 win for Lille OSC.
Have you heard of the 1xbet bonus code yet? This offer, which is available to all customers who register for the first time, will allow you to start off with some extra credit.
Angers vs Lille, Ligue 1, 23.05.2021
Lille will have their eyes firmly fixed on winning their first Ligue 1 title since 2011 when they travel to take on Angers on the Sunday in the last round of Ligue 1 fixtures.
Angers don't really have much to play for but they do have the potential to provide some final day drama to cap one of the most intriguing Ligue 1 title races ever.
We will focus on Betfox bookie review prices for our betting tips in this preview.
ANGERS
Angers haven't had much worth writing home about this season. They are in 12th place on the log and have lost six of their last seven matches. The one game they won in this run was their last match at this venue which they won 3-0. That was however against an already relegated Dijon team.
They did try to ruffle Marseille's feathers last weekend when they came from 2-0 down to pull level with 5 minutes to play. An injury-time penalty however spared Marseille some blushes.
They will be without a significant number of their first-team players who are either suspended or injured and that might just put them on the back foot for most of the game.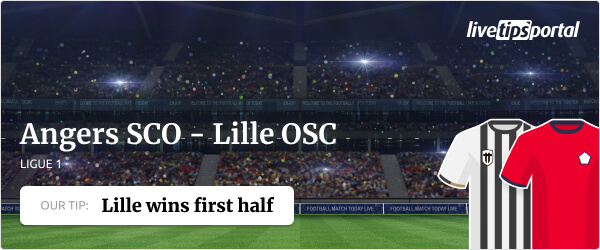 © Livetipsportal
LILLE
Lille are looking to do what no one thought could possibly be done. Slay the Ligue 1 dragon PSG and wrestle the Ligue 1 title that they have monopolized over the last decade or so, away from them. They lead them by a solitary point which means this is a must-win fixture for them if they are to finish the job.
Les Dogues missed the chance to get a firm grip on the race when they were held to a disappointing goalless draw at home against St Etienne last weekend which PSG took full advantage of by whopping Reims 4-0, thereby lighting a match on the league leaders backsides coming into the last day.
Christophe Galtier will need to rally his troops to clear this final hurdle and all indications are that they will.
Possible Line Ups
ANGERS
LILLE

Bernardoni
Capelle
Thomas
Pavlovic
Manceau
Mangani
Bobichon
Thioub
Fulgini
El Melali
Diony
Coach: Stéphane Moulin

Maignan
Celik
Djaló
Botman
Mandava
Araujo
Andre
Soumaré
Bamba
David
Yilmaz
Coach: Christophe Galtier

Out: Coulibaly (Suspended), Amadou (Thigh, Traore (Knee), Doumbia (Leg), Bamba (Knee) injury, Boufal (Knee), Alioui (Illness), Ebosse (ACL) and Fonte (Suspended), Lihadji (Calf)
ANGERS VS LILLE BETTING PREDICTIONS
Angers have hit a terrible slump to close finish the season. They have lost six of their last seven matches while failing to score in five of those matches. That 3-0 win over Dijon has to be considered as a bit of a mirage considering Dijon have already been relegated. Lille on the other hand are on the precipice of history. A win is all they need to get their hands on the long-coveted Ligue 1 trophy. They have been solid defensively as we get to the homestretch keeping clean sheets in their last three matches. This being their biggest game of the season, we fancy them to maintain that form and we are therefore backing them to keep another clean sheet here @ 1.87 as our the first of our betting tips for today.
With so much on the line, we expect Lille to go for the jugular from the get-go. Angers have been terrible defensively in their slump. In these last six losses they have suffered, they trailed at halftime in five of them. Lille meantime have won three of their last 4 matches and led at the half in two of these matches. Considering Angers injury report, we feel there is value in backing Lille to lead at halftime here also @ 1.87 for our final prediction.
We have done comprehensive reviews of the best betting sites in Ghana. Take a look and see how the top bookmakers in the country compare when juxtaposed against one another.
Our tips
Performance
Angers
Last games
Angers performance of the last 5 home matches
Lille OSC
Last games
Lille OSC performance of the last 5 away matches
Current Standing
| POS | TEAM | PTS | MP | W | D | L | GF | GA | GD |
| --- | --- | --- | --- | --- | --- | --- | --- | --- | --- |
| 1 | | 83 | 38 | 24 | 11 | 3 | 64 | 23 | 41 |
| 2 | | 82 | 38 | 26 | 4 | 8 | 86 | 28 | 58 |
| 3 | | 78 | 38 | 24 | 6 | 8 | 76 | 42 | 34 |
| 4 | | 76 | 38 | 22 | 10 | 6 | 81 | 43 | 38 |
| 5 | | 60 | 38 | 16 | 12 | 10 | 54 | 47 | 7 |
| 6 | | 58 | 38 | 16 | 10 | 12 | 52 | 40 | 12 |
| 7 | | 57 | 38 | 15 | 12 | 11 | 55 | 54 | 1 |
| 8 | | 54 | 38 | 14 | 12 | 12 | 60 | 62 | -2 |
| 9 | | 52 | 38 | 15 | 7 | 16 | 50 | 53 | -3 |
| 10 | | 47 | 38 | 12 | 11 | 15 | 44 | 48 | -4 |
| 11 | | 46 | 38 | 12 | 10 | 16 | 42 | 54 | -12 |
| 12 | | 45 | 38 | 13 | 6 | 19 | 42 | 56 | -14 |
| 13 | | 44 | 38 | 12 | 8 | 18 | 40 | 58 | -18 |
| 14 | | 42 | 38 | 9 | 15 | 14 | 42 | 50 | -8 |
| 15 | | 42 | 38 | 11 | 9 | 18 | 49 | 58 | -9 |
| 16 | | 42 | 38 | 11 | 9 | 18 | 50 | 68 | -18 |
| 17 | | 41 | 38 | 11 | 8 | 19 | 50 | 66 | -16 |
| 18 | | 40 | 38 | 9 | 13 | 16 | 47 | 55 | -8 |
| 19 | | 35 | 38 | 9 | 8 | 21 | 40 | 71 | -31 |
| 20 | | 21 | 38 | 4 | 9 | 25 | 25 | 73 | -48 |
Legend
Champions League

Champions League Quali.

Europa League

Europa Conference League Quali.

Relegation

Abstieg