Arsenal FC
VS
Liverpool FC
Betting tips & odds comparison 03.04.2021 Arsenal FC - Liverpool FC
Betting Tip for matchday 30 of the 2020/2021 Premier League between Arsenal FC and Liverpool FC. The game will be played at Emirates Stadium (London, England) on 03.04.2021 at 21:00.
Arsenal vs Liverpool, EPL 03.04.2021
Premier League fans will be treated to a box-office clash to break the boredom of the latest international break as Arsenal host soon-to-be dethroned champions Liverpool at the Emirates on Saturday evening.
Both teams have had a fair share of their struggles this season but a good run to close the season from either or both of them could see them make a let push for Champions League places.
This context makes this contest all the more intriguing as we take a look at 1xBet bookie review's prices for our betting lines here.
ARSENAL
Arsenal come into this fixture on the back of a captivating, come-from-behind 3-3 draw at West Ham in their London derby played on March 21. They looked dead in the water as West Ham raced to a 3-0 halftime lead.
They did however turn the game around in the second half, thanks in large part to West Ham's own collapse with the hammers scoring back to back own goals to open the second half which gave the Gunners a chance to get back into the game that they gladly took with a late Alexandre Lacazette header helping them claim a share of the points.
Arteta will hope to build on their second-half tenacity and determination in that game. He will however need to clean up the defensive mess as Liverpool possess lethal forwards that will make them pay for any errors they make.
LIVERPOOL
With a massive 25 points separating the champions from league leaders and likely champions-elect Manchester City, it is safe to assume Liverpool's defence of their title is done and dusted. They are currently languishing in 7th place on the log, although they are just five points away from Chelsea in fourth place.
What looked like a textbook defence of the title coming into the Christmas break turned into a nightmare for the Reds when they lost their first game at Anfield in over three years to Burnley. That loss opened the flood gates and Liverpool have since been losing to every Tom, Dick and Harry at their own backyard which is why they find themselves where they are.
Of course, their injury situation has compounded their struggles this season although have gotten some reprieve with the return of Diogo Jota. He showed just how much he is needed for this final leg of the season as his goal on his return to Molineux was the difference as Liverpool claimed a 1-0 win.
Possible Line Ups
ARSENAL
LIVERPOOL

Leno
Tierney
Villar
Gabriel
Chambers
Xhaka
Partey
Pepe
Ødegaard
Aubameyang
Lacazette
Coach: Mikel Arteta

Alisson
Alexander-Arnold
Kabak
Phillips
Robertson
Fabinho
Alcantara
Jones
Salah
Mané
Jota
Coach: Jurgen Klopp

Injured: Smith-Rowe (Hip), Saka (Hamstring) and Henderson (Groin), Matip (Ligament), Gomez (Knee), Van Dijk (ACL), Origi (Muscle), Firmino (Knee)
ARSENAL VS LIVERPOOL BETTING TIPS
Despite the strange positions these two teams find themselves in at the moment, encounters between them have never been slugfests by any stretch of the imagination. They never hold anything back as they go for each other's jugulars back and forth. Recent games between them have witnessed crazy scorelines like 3-3, 4-4 and even 5-5 draws! With both teams desperately needing the three points on offer, we expect another all-out attacking spectacle. We fancy Over 7.5 shots on target @ 1.50 to land as our initial betting prediction today.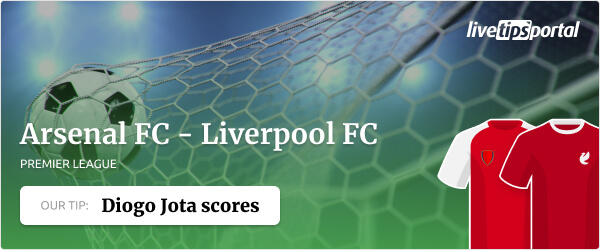 © livetipsportal.com
Signing Diogo Jota and now getting Jota back from injury has perhaps been one of the few silver linings in Liverpool's otherwise disastrous campaign. They badly missed his services while he was injured from early December up until March. The 24-year-old has not missed a beat in his return, banging in goals both for Liverpool and Portugal. Arsenal's defence has looked shaky and with Jurgen Klopp's side looking good on their travels, they could create a few chances here and we are happy to take the red hot Jota to get on the scoresheet anytime @ 2.30 on the 1xBet betting app for our final call here.
Our tips
Performance
Arsenal FC
Last games
Arsenal FC performance of the last 4 home matches
Liverpool FC
Last games
Liverpool FC performance of the last 6 away matches
Current Standing
| POS | TEAM | PTS | MP | W | D | L | GF | GA | GD |
| --- | --- | --- | --- | --- | --- | --- | --- | --- | --- |
| 1 | | 86 | 38 | 27 | 5 | 6 | 83 | 32 | 51 |
| 2 | | 74 | 38 | 21 | 11 | 6 | 73 | 44 | 29 |
| 3 | | 69 | 38 | 20 | 9 | 9 | 68 | 42 | 26 |
| 4 | | 67 | 38 | 19 | 10 | 9 | 58 | 36 | 22 |
| 5 | | 66 | 38 | 20 | 6 | 12 | 68 | 50 | 18 |
| 6 | | 65 | 38 | 19 | 8 | 11 | 62 | 47 | 15 |
| 7 | | 62 | 38 | 18 | 8 | 12 | 68 | 45 | 23 |
| 8 | | 61 | 38 | 18 | 7 | 13 | 55 | 39 | 16 |
| 9 | | 59 | 38 | 18 | 5 | 15 | 62 | 54 | 8 |
| 10 | | 59 | 38 | 17 | 8 | 13 | 47 | 48 | -1 |
| 11 | | 55 | 38 | 16 | 7 | 15 | 55 | 46 | 9 |
| 12 | | 45 | 38 | 12 | 9 | 17 | 46 | 62 | -16 |
| 13 | Wolverhampton Wanderers FC | 45 | 38 | 12 | 9 | 17 | 36 | 52 | -16 |
| 14 | | 44 | 38 | 12 | 8 | 18 | 41 | 66 | -25 |
| 15 | | 43 | 38 | 12 | 7 | 19 | 47 | 68 | -21 |
| 16 | Brighton & Hove Albion FC | 41 | 38 | 9 | 14 | 15 | 40 | 46 | -6 |
| 17 | | 39 | 38 | 10 | 9 | 19 | 33 | 55 | -22 |
| 18 | | 28 | 38 | 5 | 13 | 20 | 27 | 53 | -26 |
| 19 | | 26 | 38 | 5 | 11 | 22 | 35 | 76 | -41 |
| 20 | | 23 | 38 | 7 | 2 | 29 | 20 | 63 | -43 |
Legend
Champions League

Europa League

Abstieg

Europa Conference League