AS Monaco
VS
Olympique Lyon
AS Monaco FC - Olympique Lyon betting tip & odds comparison 02.05.2021
Matchday 35 in the Ligue 1 features the clash between AS Monaco and Olympique Lyon at Stade Louis II. The referee for this fixture (May 2, 2021 at 9:00 PM) will be Clément Turpin. In our preview of AS Monaco vs. Olympique Lyon, you will receive all the important details and facts about this Ligue 1 fixture. We will begin with an analysis of the current form of the two teams.
Livetipsportal is your expert-level platform for tips of tomorrow. We offer you the best sports betting predictions for the world's top leagues as well as for the most popular international competitions in football.
AS Monaco emerged the winner in 5 of their last 5 league games (5 wins, 0 draws, 0 defeats. In 17 games on home turf in the current Ligue 1 season 2020/2021, AS Monaco have won 11 times, with 5 matches ending in a draw, and 1 game ending in defeat (Goal difference 39:17).
In their last 5 Ligue 1 fixtures, Olympique Lyon have won 2 games (2 wins, 1 draw, 2 defeats). In all previous Ligue 1 matches away from home, Olympique Lyon have a positive record: 9 wins, 7 draws and 1 defeat - Goal difference 31:16.
A head-to-head comparison of the two teams in their last five Ligue 1 clashes shows that AS Monaco managed to get 2 wins, while in 2 matches, Olympique Lyon snatched the three points. In 1 encounter between the two teams, the points were shared. If we solely focus on the home record of AS Monaco against Lyon, the stats are as follows: 2 wins AS Monaco, 0 draws and 3 wins for Olympique Lyon.
You want to place a bet at a bookie you haven't signed up with yet? In this case, we can recommend the Melbet registration bonus for newly customers. We have already tested this offer for you.
AS Monaco vs Lyon, Ligue 1, 02.05.2021
Currently ranked 3rd and 4th respectively, both Monaco and Lyon still have a chance to win the league title with just 4 games to go. Monaco are having a great season and have registered 5 straight league wins before this match. Lyon were unlucky to throw a 2-goal lead to lose 3-2 to league leaders Lille but they remain only 6 points off the top.
This game is a must-win for both teams because even if they miss out on the title, there are Champions League places to fight for. The last 4 games will be crucial for all the top 4 teams.
This time we'll go with the fresh bookmaker Helabet for our betting tips today.
Read more about bonus promotions from the leading bookmakers in the game.
AS MONACO
AS Monaco have performed beyond expectations if their results for last season are anything to go by. At this stage last season, they had 38 points less. Now they are in contention for the title only 2 points behind the league leaders with 4 games to go. If they can continue with their winning streak then the title could just be theirs.
Monaco's strength lies in their defence. They have conceded only 1 goal in their last 9 league matches during which they won 7, drew 1, and lost only 1. Their attack is not bad either, having scored an average of 3.00 goals per match in their last 5 league matches. They are unbeaten at home in 9 league matches, which gives them an edge going into this match.
OLYMPIQUE LYON
Lyon need a victory to help them bounce back after their loss to league leaders Lille in their last game. They currently occupy 4th spot in the league which would guarantee Europa League football next season. Nevertheless, they still have a chance to play the Champions League and even win the title if they win all their remaining games and other results favor them.
Going into this game, Lyon will be buoyed by the fact that they are unbeaten in their last 15 away games (Won 9 drew 6). They are also known for scoring early goals to help them secure their victories. However, they recently lost to Monaco in the league cup and will be hoping to turn the tables in this league game.
Possible Line Ups
MONACO
LYON

Lecomte
Sidibe
Maripan
Disasi
Henrique
Aguilar
Fabregas
Tchouameni
Fofana
Volland
Ben Yedder
Coach: Niko Kovač

Lopes
Dubois
Marcelo
Denayer
Cornet
Caqueret
Bruno
Ekambi
Paqueta
Aouar
Slimani
Coach: Rudi Garcia

Injured: Diatta (Illness), Diop (Ankle), Golovin (Illness), Jovetic, (Calf), Martins (Illness), Matazo (Illness), Matsima (Illness), Millot (Illness) and Depay (Suspension)
OUR TIP
Monaco are on a roll and are unbeaten in 8 games (W6 D2). With only 2 points behind the league leaders, Monaco know they stand a good chance of winning the title if they win all their remaining games. Their strong defence has helped them earn tough victories, including a 2-0 win over Lyon in the league cup less than 2 weeks ago. You can read our betting strategies page for more insights into betting.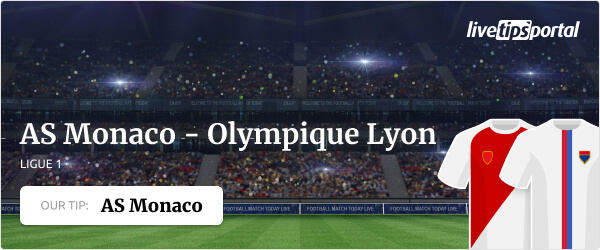 © Livetipsportal
Lyon are also title contenders and have an impressive away record going into this game. They need to win their games if they want to have a chance of playing Champions League football next season. Lyon will be relying on their attack led by Slimani to help them reach the tough Monaco defence but it will not be easy. We therefore go for Monaco to Win @ 2.30 as our match tip for this game.
Our tips
Performance
AS Monaco
Last games
AS Monaco performance of the last 4 home matches
Olympique Lyon
Last games
Olympique Lyon performance of the last 6 away matches
Current Standing
| POS | TEAM | PTS | MP | W | D | L | GF | GA | GD |
| --- | --- | --- | --- | --- | --- | --- | --- | --- | --- |
| 1 | | 83 | 38 | 24 | 11 | 3 | 64 | 23 | 41 |
| 2 | | 82 | 38 | 26 | 4 | 8 | 86 | 28 | 58 |
| 3 | | 78 | 38 | 24 | 6 | 8 | 76 | 42 | 34 |
| 4 | | 76 | 38 | 22 | 10 | 6 | 81 | 43 | 38 |
| 5 | | 60 | 38 | 16 | 12 | 10 | 54 | 47 | 7 |
| 6 | | 58 | 38 | 16 | 10 | 12 | 52 | 40 | 12 |
| 7 | | 57 | 38 | 15 | 12 | 11 | 55 | 54 | 1 |
| 8 | | 54 | 38 | 14 | 12 | 12 | 60 | 62 | -2 |
| 9 | | 52 | 38 | 15 | 7 | 16 | 50 | 53 | -3 |
| 10 | | 47 | 38 | 12 | 11 | 15 | 44 | 48 | -4 |
| 11 | | 46 | 38 | 12 | 10 | 16 | 42 | 54 | -12 |
| 12 | | 45 | 38 | 13 | 6 | 19 | 42 | 56 | -14 |
| 13 | | 44 | 38 | 12 | 8 | 18 | 40 | 58 | -18 |
| 14 | | 42 | 38 | 9 | 15 | 14 | 42 | 50 | -8 |
| 15 | | 42 | 38 | 11 | 9 | 18 | 49 | 58 | -9 |
| 16 | | 42 | 38 | 11 | 9 | 18 | 50 | 68 | -18 |
| 17 | | 41 | 38 | 11 | 8 | 19 | 50 | 66 | -16 |
| 18 | | 40 | 38 | 9 | 13 | 16 | 47 | 55 | -8 |
| 19 | | 35 | 38 | 9 | 8 | 21 | 40 | 71 | -31 |
| 20 | | 21 | 38 | 4 | 9 | 25 | 25 | 73 | -48 |
Legend
Champions League

Champions League Quali.

Europa League

Europa Conference League Quali.

Relegation play-off

Relegation