AS Roma
VS
AC Milan
Betting tips & odds comparison 31.10.2021 AS Roma - AC Milan
Betting Tip for matchday 11 of the 2021/2022 Serie A between AS Roma and AC Milan. The game will be played at Olimpico (Rom, Italy) on 31.10.2021 at 20:45.
AS Roma vs AC Milan, Serie A, 31.10.2021
The Serie A clash between Roma and Milan at Stadio Olimpico will be filled with fireworks. The Romans will so continue their difficult schedule, having faced Juventus and Napoli in two of their past three Serie A games.
Their most recent meeting took place on February 28, 2021, in Rome, when the Rossoneri defeated the Giallorossi 2-1. It promises to be a more intriguing encounter when they meet for the first time in the new 2021/2022 Serie A season.
We promote greatodds bonus in our preview of this game.
Learn more about the bonus promotion offered by the betting companies in Africa. Customers from all around the continent will be able to join up with other outstanding bookmakers.
AS ROMA
AS Roma is enjoying a twisty season under Jose Mourinho. They are undefeated in their past two games after being thrashed 6-1 by Bodo Glimt in the Europa Conference League. On Wednesday evening in Cagliari, Roma managed to escape with the win. They had 22 shots on goal, but only Roger Ibanez and Lorenzo Pellegrini scored late in the second half to give them the victory.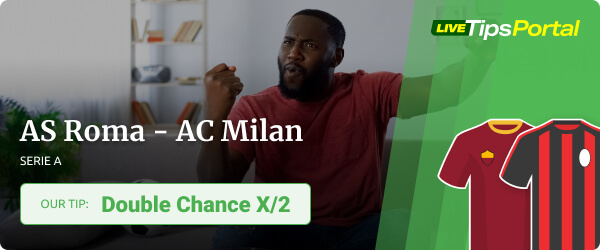 © Livetipsportal
AC MILAN
On Tuesday night, the Rossoneri defeated Torino 1-0 at home. As a result, they continued their excellent start to the season, with nine victories and one tie in their first ten games. Olivier Giroud was the difference-maker, scoring the game's sole goal early in the first half. AC Milan are on a good run, only being able to lose one match in their last 5 games. The visitors are actually unbeaten in their opening 10 matches by only drawing one match. This is actually going to be an interesting match. They are missing the services of Rebic and Florenzi is still in recovery.
Possible Line Ups
AS ROMA
AC MILAN

Patricio
Vina
Mancini
Ibanez
Karsdorp
Veretout
Cristante
Mkhitaryan
Pellegrini
Zaniolo
Abraham
Coach: Jose Mourinho

Tatarusanu
Tomori
Calabria
Kalulu
Romagnoli
Tonali
Kessie
Saelemaekers
Krunic
Leao
Giroud
Coach: Steffano Pioli

Injured: Smalling (Thigh), Spinazzola (Achilles Tendon) and Rebic (Ankle), Florenzi (Meniscus), Maignan (Wrist) Mesiass (Muscle)
OUR TIP
AC Milan has only lost one of their previous six league games against Roma, and we expect them to do it again on Sunday. Roma has lost three of their past four matches in all competitions, while AC Milan has won four of their last five games in all competitions, so it's easy to understand why we're picking a double chance bet on Draw/AC Milan in this clash. Remember to check as well our football betting strategy.
TODAY'S BETTING TIP: AC Milan Win/Draw @ 1.55 odds.
Our tips
Performance
AS Roma
Last games
AS Roma performance of the last 5 home matches
AC Milan
Last games
AC Milan performance of the last 5 away matches
Current Standing
| POS | TEAM | PTS | MP | W | D | L | GF | GA | GD |
| --- | --- | --- | --- | --- | --- | --- | --- | --- | --- |
| 1 | | 86 | 38 | 26 | 8 | 4 | 69 | 31 | 38 |
| 2 | | 84 | 38 | 25 | 9 | 4 | 84 | 32 | 52 |
| 3 | | 79 | 38 | 24 | 7 | 7 | 74 | 31 | 43 |
| 4 | | 70 | 38 | 20 | 10 | 8 | 57 | 37 | 20 |
| 5 | | 64 | 38 | 18 | 10 | 10 | 77 | 58 | 19 |
| 6 | | 63 | 38 | 18 | 9 | 11 | 59 | 43 | 16 |
| 7 | | 62 | 38 | 19 | 5 | 14 | 59 | 51 | 8 |
| 8 | | 59 | 38 | 16 | 11 | 11 | 65 | 48 | 17 |
| 9 | | 53 | 38 | 14 | 11 | 13 | 65 | 59 | 6 |
| 10 | | 50 | 38 | 13 | 11 | 14 | 46 | 41 | 5 |
| 11 | | 50 | 38 | 13 | 11 | 14 | 64 | 66 | -2 |
| 12 | | 47 | 38 | 11 | 14 | 13 | 61 | 58 | 3 |
| 13 | | 46 | 38 | 12 | 10 | 16 | 44 | 55 | -11 |
| 14 | | 41 | 38 | 10 | 11 | 17 | 50 | 70 | -20 |
| 15 | | 36 | 38 | 10 | 6 | 22 | 46 | 63 | -17 |
| 16 | | 36 | 38 | 10 | 6 | 22 | 41 | 71 | -30 |
| 17 | | 31 | 38 | 7 | 10 | 21 | 33 | 78 | -45 |
| 18 | | 30 | 38 | 6 | 12 | 20 | 34 | 68 | -34 |
| 19 | | 28 | 38 | 4 | 16 | 18 | 27 | 60 | -33 |
| 20 | | 27 | 38 | 6 | 9 | 23 | 34 | 69 | -35 |