AS Roma
VS
Inter Milan
AS Roma - Inter Milan betting tip & odds comparison 04.12.2021
In gameweek 16 of Serie A, AS Roma will host Inter Milan at Olimpico. Kick-off is scheduled for 6:00 PM on Dec 4, 2021 With our match prediction and odds comparison for AS Roma vs. Inter Milan you are guaranteed to get all the important facts and details for this fixture. First and foremost, we will take a close look at the teams' recent performances.
Where to find the best free multi bet tips? Livetipsportal offers you a vast selection of predictions for the most popular domestic leagues and international competitions.
AS Roma have won 2 of their last 5 league matches (2 wins, 0 draws, 3 defeats. In the previous 7 home games in the Serie A season 2021/2022, AS Roma have won 5 matches, 1 game ended in a draw, and 1 game in defeat. (Goal difference 10:4).
Out of their last 5 Serie A fixtures, Inter Milan have won 4 games (4 wins, 1 draw, 0 defeats). The away record in the current Serie A season reads as follows: 5 wins, 2 draws und 1 defeat - Goal difference 16:9.
In their last five Serie A encounters, AS Roma managed to get 0 wins against Inter Milan, while Inter scored 1 win. On 4 occasions, there was no winner. If we focus exclusively on the home games that AS Roma played against Inter Milan in the Serie A, we get the following record: 1 win for AS Roma, 3 draws and 1 win for Inter Milan.
Have you heard of the Betway deposit bonus yet? This offer, which is available to all customers who register for the first time, will allow you to start off with some extra credit.
Inter Milan Visit to Olimpico with just a point behind city rivals Milan and 2 points adrift of leaders Napoli, the Nerazzurri will be seeking a nineth win from 10, while their visitors are languishing six points below the top 4 in the Serie A standings after their latest loss on Wednesday.
Take a look at all our betting tips today for free.
AS ROMA
As they prepare to welcome one of the more illustrious teams of recent times back to the Olimpico this weekend, Roma are experiencing their first major dip in fortunes after a rosy start to life under Jose Mourinho.
After being bailed out by a rookie teenager last weekend, Roma followed that result with an embarrassing 1-0 loss to Bologna. Nevertheless, The hosts have been one of Serie A's top-performing sides on home turf.
As a result, we believe the Romans will expect a positive results in this tough fixture.
With our betting strategies as a guide, you can spicing your betting experience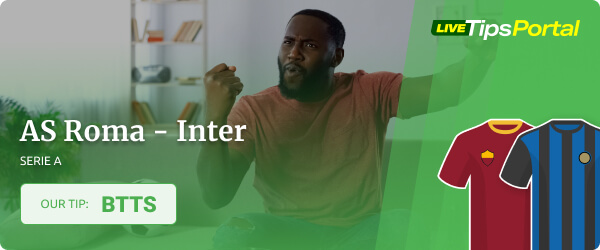 INTER MILAN
Inter Milan started a hectic December schedule with a 2-0 victory at home to struggling Spezia on Wednesday, having closed in on the league leaders with some superb recent form.
Almost without warning, last season's champions have crept back into the thick of the Scudetto race, as momentum builds under the guidance of Simone Inzaghi.
Possible Line-Up
AS ROMA
Patricio
Mancini
Malling
Ibanez
Karsdorp
Veretout
Diawara
Mkhitaryan
Shaarawy
Zaniolo
Abraham
MISSING PLAYERS: Afena-Gyan (Covid-19), Pellegrini (Muscle injury)
INTER MILAN
Handanovic
Dimarco
Skriniar
D'Ambrosio
Dumfries
Gagliardini
Brozovic
Calhanoglu
Perisic
Correa
Martinez
MISSING PLAYERS: Bastoni (Muscle injury), Eriksen (Heart problems), Darmian (Groin injury), de Vrij (Hamstring injury)
Our AS Roma vs. Inter Milan betting tip
While AS Roma are a match for anyone this season at their headquarters, they are yet to prove themselves against the top four teams. As a result, we expect Inter Milan to continue their unbeaten form in this match.
At the same time, statistics shows that, 9 of their last 10 consecutive meetings has featured both teams to score, therefore, we can expect the best performance from both sides enough to find the nets . In the second of our Serie A betting tips, we say both teams to score in this match @ 1.55 odds from Sahara Games.
Performance
AS Roma
Last games
AS Roma performance of the last 3 home matches
Inter Milan
Last games
Inter Milan performance of the last 7 away matches
Current Standing
| POS | TEAM | PTS | MP | W | D | L | GF | GA | GD |
| --- | --- | --- | --- | --- | --- | --- | --- | --- | --- |
| 1 | | 86 | 38 | 26 | 8 | 4 | 69 | 31 | 38 |
| 2 | | 84 | 38 | 25 | 9 | 4 | 84 | 32 | 52 |
| 3 | | 79 | 38 | 24 | 7 | 7 | 74 | 31 | 43 |
| 4 | | 70 | 38 | 20 | 10 | 8 | 57 | 37 | 20 |
| 5 | | 64 | 38 | 18 | 10 | 10 | 77 | 58 | 19 |
| 6 | | 63 | 38 | 18 | 9 | 11 | 59 | 43 | 16 |
| 7 | | 62 | 38 | 19 | 5 | 14 | 59 | 51 | 8 |
| 8 | | 59 | 38 | 16 | 11 | 11 | 65 | 48 | 17 |
| 9 | | 53 | 38 | 14 | 11 | 13 | 65 | 59 | 6 |
| 10 | | 50 | 38 | 13 | 11 | 14 | 46 | 41 | 5 |
| 11 | | 50 | 38 | 13 | 11 | 14 | 64 | 66 | -2 |
| 12 | | 47 | 38 | 11 | 14 | 13 | 61 | 58 | 3 |
| 13 | | 46 | 38 | 12 | 10 | 16 | 44 | 55 | -11 |
| 14 | | 41 | 38 | 10 | 11 | 17 | 50 | 70 | -20 |
| 15 | | 36 | 38 | 10 | 6 | 22 | 46 | 63 | -17 |
| 16 | | 36 | 38 | 10 | 6 | 22 | 41 | 71 | -30 |
| 17 | | 31 | 38 | 7 | 10 | 21 | 33 | 78 | -45 |
| 18 | | 30 | 38 | 6 | 12 | 20 | 34 | 68 | -34 |
| 19 | | 28 | 38 | 4 | 16 | 18 | 27 | 60 | -33 |
| 20 | | 27 | 38 | 6 | 9 | 23 | 34 | 69 | -35 |
Legend
Champions League

Europa League

Europa Conference League Quali.

Relegation