Atlético Madrid
VS
FC Barcelona
Wanda Metropolitano
Madrid
Betting tips & odds comparison 02.10.2021 Atlético de Madrid - FC Barcelona
Betting Tip for matchday 8 of the 2021/2022 Primera División between Atlético de Madrid and FC Barcelona. The game will be played at Wanda Metropolitano (Madrid, Spain) on 02.10.2021 at 21:00.
Atletico Madrid vs Barcelona, La Liga, 02.10.2021
Atletico Madrid will play Barcelona in a Spanish La Liga match at the Estadio Wanda Metropolitano, with both clubs trying to rediscover their best form.
Atletico Madrid suffered their first La Liga setback of the season when they were defeated 1-0 by Alaves in their previous match. Barcelona will be trying to bounce back after a three-goal defeat to Benfica in the Champions League on Wednesday.
We will give odds from Betway on this match.
ATLETICO MADRID
Atletico Madrid are strong at home, having gone undefeated in their past 11 matches in all competitions, winning seven of them. Diego Simeone's side has one of the strongest defenses in La Liga this season, keeping clean sheets in three of their previous four home games this season in all events.
They were defeated in the last match of La Liga. They lost to Alves 0-1. This was Alves's first point for the new season.
In the Champions League encounter, Atletico Madrid against AC Milan was scored first. However, in the seventh minute of extra time, they managed to level the score and seized the win.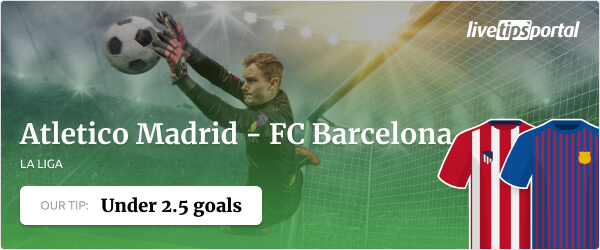 © Livetipsportal
BARCELONA
After a 3-0 victory against Levante in their previous La Liga match, Barcelona looked to relieve some of the strain on manager Ronald Koeman.
After a 3-0 defeat to Benfica in the Champions League, though, the pressure was back in full force. Barcelona did not register a single shot on goal against Benfica or Bayern Munchin, which is unusual for a club of this caliber.
Although Barcelona is still undefeated in La Liga this season, they have only won three of their past six matches in all competitions, and they are presently sixth in La Liga, outside the top four.
Possible Line Ups
ATLETICO MADRID
BARCELONA

Oblak
Felipe
Savic
Gimenez
Hermoso
Lodi
Llorente
Kondogbia
De Paul
Griezmann
Correa
Coach: Diego Simeone

Ter Stergen
Araujo
Pique
Garcia
Dest
Pedri
Busquets
de Jong
Roberto
de Jong
Depay
Coach: Ronald Koeman

Injured: Trippier (Ankle Injury) and Aguero (Calf Injury), Alba (Muscle Injury), Balde (Back Injury), Braithwaite (Knee Injury) Dembele (Knee Injury)
ATLETICO MADRID VS BARCELONA BETTING TIPS AND PREDICTIONS
Considering Benfica's massive blow, their morale will be quite low this weekend. This will gives Atletico Madrid a fantastic chance to go back on track in LaLiga with a win. Barcelona's offense is disastrous, therefore I don't believe they have the capacity to imperil Atletico's defense at this time, hence I predict a narrow win for the home team with fewer goals. Actually, three of the last five meetings between Atletico Madrid and Barcelona have ended with a total score of fewer than 2.5 goals. In essence, those three games finished with a single goal or less. As a result, we predict another competitive match in which the club will focus on defense, especially because Barcelona's offense has struggled this season. We foresee an under 2.5 goals as our betting tip today in this match and Betway offers it at an odd of 1.78. We have well-prepared betting strategies to guide you in making decisions.
Our tips
Performance
Atlético Madrid
Last games
Atlético Madrid performance of the last 5 home matches
FC Barcelona
Last games
FC Barcelona performance of the last 5 away matches
Current Standing
| POS | TEAM | PTS | MP | W | D | L | GF | GA | GD |
| --- | --- | --- | --- | --- | --- | --- | --- | --- | --- |
| 1 | | 30 | 13 | 9 | 3 | 1 | 32 | 14 | 18 |
| 2 | | 29 | 14 | 8 | 5 | 1 | 19 | 10 | 9 |
| 3 | | 28 | 13 | 8 | 4 | 1 | 23 | 9 | 14 |
| 4 | | 26 | 13 | 7 | 5 | 1 | 22 | 13 | 9 |
| 5 | | 24 | 14 | 7 | 3 | 4 | 22 | 17 | 5 |
| 6 | | 24 | 15 | 7 | 3 | 5 | 23 | 16 | 7 |
| 7 | | 23 | 14 | 6 | 5 | 3 | 23 | 16 | 7 |
| 8 | | 20 | 14 | 4 | 8 | 2 | 13 | 10 | 3 |
| 9 | | 19 | 15 | 4 | 7 | 4 | 22 | 21 | 1 |
| 10 | | 19 | 14 | 5 | 4 | 5 | 14 | 18 | -4 |
| 11 | | 17 | 14 | 4 | 5 | 5 | 14 | 14 | 0 |
| 12 | | 16 | 14 | 3 | 7 | 4 | 16 | 16 | 0 |
| 13 | | 16 | 15 | 4 | 4 | 7 | 16 | 19 | -3 |
| 14 | | 16 | 15 | 3 | 7 | 5 | 14 | 22 | -8 |
| 15 | | 14 | 14 | 4 | 2 | 8 | 11 | 19 | -8 |
| 16 | | 12 | 14 | 2 | 6 | 6 | 14 | 22 | -8 |
| 17 | | 12 | 14 | 2 | 6 | 6 | 12 | 23 | -11 |
| 18 | | 11 | 14 | 2 | 5 | 7 | 11 | 20 | -9 |
| 19 | | 10 | 15 | 2 | 4 | 9 | 10 | 19 | -9 |
| 20 | | 7 | 14 | 0 | 7 | 7 | 12 | 25 | -13 |
Legend
Champions League

Europa League

Europa Conference League Quali.

Abstieg