Bor. Mönchengladbach
VS
Bayern Munich
Borussia-Park
Mönchengladbach
Borussia Mönchengladbach - Bayern Munich betting tip & odds comparison 13.08.2021
Matchday 1 in the Bundesliga features the clash between Bor. Mönchengladbach and Bayern Munich at Borussia-Park. In our preview of Bor. Mönchengladbach vs. Bayern Munich, you will receive all the important details and facts about this Bundesliga fixture. We will begin with an analysis of the current form of the two teams.
Looking for more Bundesliga betting tips? In our overview, you can find the entire matchday with individual betting tips for each game.
A head-to-head comparison of the two teams in their last five Bundesliga clashes shows that Bor. Mönchengladbach managed to get 3 wins, while in 2 matches, Bayern Munich snatched the three points. In 0 encounters between the two teams, the points were shared. If we solely focus on the home record of Bor. Mönchengladbach against Bayern, the stats are as follows: 3 wins Bor. Mönchengladbach, 0 draws and 2 wins for Bayern Munich.
You want to place a bet at a bookie you haven't signed up with yet? In this case, we can recommend the first deposit bonus of 1xbet for newly customers. We have already tested this offer for you.
Monchengladbach vs Bayern Munich, Bundesliga, 13.08.2021
Season opener Borussia M'gladbach against Bayern Munchen at Borussia-Park is sure to be a thriller. David Alaba, who joined Real Madrid in the summer transfer window, will miss as Bayern attempt to retain their Bundesliga championship this season. There has been no transfer activity at Bayern Munich only Dayot Upamecano, a center-back from RB Leipzig, was signed by the club.
New users get a 200% up to KES 34,164 Melbet bonus on their First Deposit. A handful of their betting possibilities for this game are highlighted in this preview.
On our website, we list a number of bookmakers who provide bonus promotions to their consumers.
MONCHENGLADBACH
It is Adi Hutter, who joins from Eintracht Frankfurt, as Borussia Monchengladbach new head coach. He takes the position of Marco Rose, who left to join Borussia Dortmund when Lucien Favre was fired. In his time at Eintracht Frankfurt, Hutter was a huge success, leading the team to Europa League qualifying last season.
In the preseason, Borussia Monchengladbach beat Bayern 2-0. Borussia Monchengladbach opened their season with a 1-0 win over Kaiserslautern in the DFB Pokal. The triumph capped up a strong preseason run in which they had won their first three games. Borussia Monchengladbach comes into this game on a four-game undefeated streak and three clean sheets.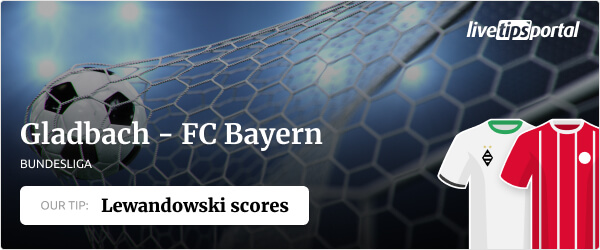 © Livetipsportal
BAYERN MUNICH
In Julian Nagelsmann, Bayern Munich has a new coach, one whose tactics and preparation might come in the way of the team's success.
During the summer, there were a few concerns at Bayern Munich. No preseason match was won by Nagelsmann; he lost 3 times and drew once. They played Napoli, and the result finished 0-3 for their opponents.
Possible Line Ups
MONCHENGLADBACH
BAYERN MUNICH

Sommer
Lainer
Ginter
Elvedi
Scally
Kramer
Neuhaus
Herrmann
Stindl
Wolf
Plea
Coach: Adi Hütter

Neuer
Pavard
Nianzou
Upamecano
Stanisic
Kimmich
Goretzka
Sane
Müller
Gnabry
Lewandowski
Coach: Julian Nagelsmann

Injured: Doucoure (Achilles' tendon), Embolo (thigh), Kone (knee), Zakaria (match fitness) and Hernandez (knee), Roca (ankle)
OUR TIP
A draw might not be the worst result in this difficult opening encounter for both clubs. We might have a tight game because the coaches are more concerned with avoiding losing than with winning.
You can read our betting strategies page for more insights into betting.
This is Lewandowski's second consecutive season in which he has excelled in the local market. In 29 Bundesliga appearances last season, he scored 41 goals. Against Borussia Monchengladbach, Lewandowski scored four goals in two league games in 2020-21. Lewandowski is expected to score for Bayern Munich if they are going to do so.
BETTING TIP TODAY: We are going for Lewandoski to score at any time @ 1.40 as our prediction.
Our tips
Performance
Bor. Mönchengladbach
Last games
Bor. Mönchengladbach performance of the last 4 home matches
Bayern Munich
Last games
Bayern Munich performance of the last 6 away matches
Current Standing
| POS | TEAM | PTS | MP | W | D | L | GF | GA | GD |
| --- | --- | --- | --- | --- | --- | --- | --- | --- | --- |
| 1 | | 77 | 34 | 24 | 5 | 5 | 97 | 37 | 60 |
| 2 | | 69 | 34 | 22 | 3 | 9 | 85 | 52 | 33 |
| 3 | | 64 | 34 | 19 | 7 | 8 | 80 | 47 | 33 |
| 4 | | 58 | 34 | 17 | 7 | 10 | 72 | 37 | 35 |
| 5 | | 57 | 34 | 16 | 9 | 9 | 50 | 44 | 6 |
| 6 | | 55 | 34 | 15 | 10 | 9 | 58 | 46 | 12 |
| 7 | | 52 | 34 | 14 | 10 | 10 | 52 | 49 | 3 |
| 8 | | 46 | 34 | 13 | 7 | 14 | 50 | 45 | 5 |
| 9 | | 46 | 34 | 13 | 7 | 14 | 58 | 60 | -2 |
| 10 | | 45 | 34 | 12 | 9 | 13 | 54 | 61 | -7 |
| 11 | | 42 | 34 | 10 | 12 | 12 | 45 | 49 | -4 |
| 12 | | 42 | 34 | 12 | 6 | 16 | 43 | 54 | -11 |
| 13 | | 42 | 34 | 12 | 6 | 16 | 38 | 52 | -14 |
| 14 | | 38 | 34 | 10 | 8 | 16 | 39 | 56 | -17 |
| 15 | | 33 | 34 | 7 | 12 | 15 | 41 | 59 | -18 |
| 16 | | 33 | 34 | 9 | 6 | 19 | 37 | 71 | -34 |
| 17 | | 28 | 34 | 5 | 13 | 16 | 27 | 53 | -26 |
| 18 | | 18 | 34 | 3 | 9 | 22 | 28 | 82 | -54 |