If you are on the lookout for a Bundesliga betting tips guide, then you have come to the right place. Here at Livetipsportal, we pride ourselves on helping our users get the best possible return on their betting investments. Whether it is result oriented betting tips today or the best odds available, we always strive to give you the best. Speaking of best odds: We do have a list for the 1X2, BTTS and Over/Under 2.5 goals markets. Just click on your prefered option and the tip will directly occur in your betslip.
Here, you are guaranteed quality insight into games in the German Bundesliga. Our tipsters are vastly experienced and they bring it to bare on every Bundesliga prediction you find on this page. Additionally you'll find plenty of Bundesliga tips based on the LiveTipsPortal betting index. This house intern tool analyzes the odds and sets them in relation to many parameters concerning the recent performances of the teams.
GERMAN BUNDESLIGA PREDICTION FOR THE UPCOMING GAMES:
How do we generate our Bundesliga Betting Tips?
There are no hard and fast rules for generating betting tips, and it is no different for Bundesliga tips. However, we would not just throw anything at our users and hope for a miracle. Our experts rely on their knowledge of the German topflight and their betting experience over the years to produce a Bundesliga prediction.
In settling for a betting market or option, there are quite a number of statistics to be considered. These considerations are basically centred on the two teams involved in a game. Statistics such as current form of teams (Home and Away), Venue of the match, Injuries or suspensions pedigree of the teams involved in the match, quality of opposition, and so many more are carefully considered in formulating a Germany Bundesliga prediction. Aside from the German Bundesliga betting predictions, we have a myriad of betting tips that could be of immense value in your betting career.
The German Bundesliga is one of the top five leagues in Europe and there is no shortage of betting markets and options for punters. As for that matter the German Bundesliga odds are one of the highest on the market. If we for example calculate the Bundesliga odds of Bet9ja Nigeria of the 12th matchday in the 21/22 season, we see how good the payout rate really is:
FC Augsburg vs Bayern Munich → 94,8%
Borussia Dortmund vs VfB Stuttgart → 95,4%
TSG Hoffenheim vs RB Leipzig → 94,9%
About 95% or even over it is pretty good. Besides you'll find some odds boosts or some special odds offers. Other recommended bookmakers for Bundesliga betting tips are Sahara Games (👉 Get the Sahara Games free bet) and Helabet.
How to bet on the German Bundesliga?
Betting on games of the Bundesliga is no different from betting on other football leagues or competitions. The league is extremely popular around the world, and as such there countless betting markets and options to wager on.
Punters can bet on any of the plethora of betting options provided by bookmakers, but it is important to have a proper understanding of betting rudiments. To this end, we recommend our betting strategies to you.
Our Germany Bundesliga prediction are free of charge and can be used by anyone, as long as they have attained the legal age of betting. It should also be noted that there are no guaranteed winnings with our Bundesliga free tips.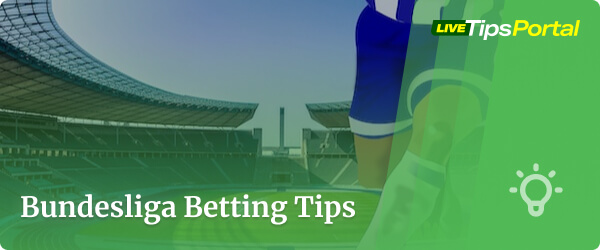 What types of Bundesliga predictions do we provide?
We have quite a large array of Bundesliga tips. All types of Bundesliga betting tips available, are catered to on this page. No matter your betting preferences or the betting options or markets available on your preferred betting sites in Africa, there is always something for everyone on this page.
Whether you like to wager on goals or full-time results, you will be adequately covered here. Find some of the best football betting strategy we provide on our Bundesliga tips page:
Correct Score
As the name implies, this is predicting the final score at the end of regular time. All you have to do is to predict the outcome of a match- in this case, the exact score line after normal time.
The odds may vary with different bookies, but we always strive to guide you into maximising your potential returns. Usually, the odds for this bet type are usually enticing, but it is fraught with risks.
Half Time/ Full Time (HT/FT) Results
This is also referred to as the 'double result'. This basically involves predicting the result of a football match after the first 45 minutes and after the regular time also.
First Goalscorer
With this betting option you will be predicting the scorer of the first goal in a football match. For example, if you wager on player A to score first in a game. As long as player A is the first to bury the ball in a net, your bet is a winner. However, you need to check the terms and conditions of some bookies as own goals do not count as legitimate goals.
Draw No Bet (DNB)
This is more or less like a full-time result bet other than the fact that there is no option for the draw. You can bet on any of the teams in a match to win, and if it is a draw, you get your initial stake back. There is a little disadvantage however, the odds on each team winning are reduced because of this.
Asian Handicap
This is a very popular football bet. Each team is given a goals handicap and you bet on the match result after that handicap. Because of the variations in the handicaps given and the different types of handicap, but you need a proper understanding of this betting option, as it can be confusing at first.
Full Time Results
This is the most common type of football bet. This is basically predicting the result of a match after 90 minutes. You have the option of betting on the home or away team to win, as well as the option of a full-time draw. The pool notation for this bet type is "1×2″. We have a variety of sure straight wins for tomorrow available for you with no charge whatsoever.
Total Goals (Over/Under)
This bet type is also known as under/over, typically punters have two options here. They can bet on whether there will be more or less than the number of goals quoted. The most popular variant of this betting options is more or less than 2.5 goals but there are other variations such as 0.5, 1.5, 3.5 and 4.5. Again, this is at the end of normal time. This is really popular because there are only two possible outcomes.
Structure of the German Bundesliga
The structure of the German Bundesliga is such that each club plays every other club once at home and once away. Originally, a victory was worth two points, with one point for a draw and none for a loss. But that has changed since the 1995–96 season, the reward for a win is now three points, while a draw is worth a solitary point, and there are no points for a defeat. The club with the most points at the end of the season becomes German champion. Currently, the German Bundesliga have four automatic qualifying spots for the UEFA Champions League.
The bottom two teams in the table are demoted to the 2. Bundesliga, while the top two teams are promoted to the 1. Bundesliga. In the 2. Bundesliga, a two-leg play-off match is played between the 16th-placed team (third-last) and the third-placed team. The winner of this match will play in the Bundesliga next season, while the loser will play in the 2. Bundesliga. If teams are level on points, tie-breakers are applied in the following sequence:
Goal difference for the entire season
Total goals scored for the entire season
Head-to-head results (total points)
Head-to-head goals scored
Head-to-head away goals scored
Total away goals scored for the entire season
If after applying all of these tie-breakers, two clubs are still tied, a single match is held at a neutral site to determine the placement. In the history of the Bundesliga, however, this has never been necessary.
Matchday squads must include a maximum of five non-EU representatives. There are nine substitutions available, of which three can be used for the length of the game.
Current Standing
| POS | TEAM | PTS | MP | W | D | L | GF | GA | GD |
| --- | --- | --- | --- | --- | --- | --- | --- | --- | --- |
| 1 | | 36 | 17 | 10 | 6 | 1 | 51 | 15 | 36 |
| 2 | | 33 | 17 | 10 | 3 | 4 | 29 | 22 | 7 |
| 3 | | 32 | 17 | 9 | 5 | 3 | 37 | 23 | 14 |
| 4 | | 31 | 17 | 9 | 4 | 4 | 36 | 25 | 11 |
| 5 | | 31 | 17 | 10 | 1 | 6 | 31 | 25 | 6 |
| 6 | | 31 | 17 | 9 | 4 | 4 | 26 | 24 | 2 |
| 7 | | 29 | 17 | 8 | 5 | 4 | 35 | 20 | 15 |
| 8 | | 24 | 17 | 7 | 3 | 7 | 30 | 28 | 2 |
| 9 | | 22 | 17 | 6 | 4 | 7 | 30 | 28 | 2 |
| 10 | | 21 | 17 | 5 | 6 | 6 | 29 | 31 | -2 |
| 11 | | 21 | 17 | 6 | 3 | 8 | 27 | 36 | -9 |
| 12 | | 20 | 17 | 5 | 5 | 7 | 21 | 27 | -6 |
| 13 | | 19 | 17 | 5 | 4 | 8 | 25 | 27 | -2 |
| 14 | | 18 | 17 | 5 | 3 | 9 | 22 | 30 | -8 |
| 15 | | 16 | 17 | 3 | 7 | 7 | 21 | 30 | -9 |
| 16 | | 16 | 17 | 5 | 1 | 11 | 17 | 39 | -22 |
| 17 | | 14 | 17 | 3 | 5 | 9 | 20 | 30 | -10 |
| 18 | | 9 | 17 | 2 | 3 | 12 | 14 | 41 | -27 |
Records and Milestones of the Bundesliga Teams:
| | |
| --- | --- |
| Most titles: | Bayern Munich (31) |
| Most titles in a row: | Bayern Munich (10 – 2013 until 2022) |
| Champions as a promoted team: | 1. FC Kaiserslautern (1997/98) |
| Highest win: | Bor. Monchengladbach vs Borussia Dortmund 12:0 in 1977/78 |
| Most wins in a single season: | Bayern Munich (29 – 2012/13 & 2013/14) |
| Least loses in a single season: | Bayern Munich (1 – 1986/87 & 2012/13) |
| Highest attendance: | 88.075 at Hertha BSC vs 1. FC Cologne (29.09.1969) |
Stats as they stand before the 2021/22 seaon
Records and Milestones of the Bundesliga Players:
| | |
| --- | --- |
| Most games played: | Karl-Heinz Korbel (602 – all for Eintracht Frankfurt) |
| Most goals scored: | Gerd Muller (365) |
| Most goals scored in a single season: | Robert Lewandowski (41 in 2020/21) |
| Most times highest scoring player: | Gerd Muller & Robert Lewandowski (each 7x) |
| Youngest goalscorer: | Youssoufa Moukoko (16 Years, 28 Days – for BVB in 2020/21) |
| Oldest goalscorer: | Claudio Pizzaro (40 Years, 136 Days – for Werder in 2018/19) |
| Most games with a clean sheet: | Manuel Neuer (214) |
Stats as they stand before the 2021/22 seaon
---