Football fans across the world follow the Champions League religiously as it is easily the best club football competition in the world. It features the crème de la crème from all of Europe's top tier leagues: Premier League, Bundesliga, La Liga, Serie A and Ligue 1, as well as others as determined from time to time by UEFA co-efficiency ratings. Chelsea as the defending champions have their work cut out with the likes of Bayern Munich, Real Madrid, PSG, Manchester City and Manchester United all throwing their hats in the ring in a bid to dislodge them.
There were significant transfers last summer, and it is therefore a bit awkward to see Lionel Messi donning a PSG jersey after nearly two decades we have seen him representing and even winning this trophy for Barcelona. Mr Champions League himself, Cristiano Ronaldo also returned back to Old Trafford like the prodigal's son so he too will be donning Man United colours this season.
Our betting experts here at Livetipsportal are all set to cover this tournament from the beginning to the end. So if at all you have been looking for Champions League betting tips, look no more. We've got you covered!
🏆 UCL FINAL 2021/22: Liverpool FC vs. Real Madrid 🏆
CHAMPIONS LEAGUE PREDICTIONS FOR THE UPCOMING GAMES:
CHAMPIONS LEAGUE FORMAT
The current format has the Champions League beginning in late June with a preliminary round, three qualifying rounds and a play-off round, all played over two legs. The six teams that remain standing from these rounds enter the group stage, joining 26 teams that had qualified in advance.
The 32 teams are then drawn into eight groups of four teams and play each other in a double round-robin system. The eight group winners and eight runners-up proceed to the knockout phase that goes all the way to the final match in late May or early June. The eventual winner of the Champions League qualifies for the following year's Champions League, and participates in the UEFA Super Cup and the FIFA Club World Cup.
SEMIFINAL
Manchester City – Real Madrid 4:3 & 1:3 a.e.t.
Liverpool FC – Villarreal CF 2:0 & 3:2
QUARTERFINAL
Benfica Lisbon – Liverpool FC 1:3 & 3:3
Manchester City – Atlético Madrid 1:0 & 0:0
Villarreal CF – Bayern Munich 1:0 & 1:1
Chelsea FC – Real Madrid 1:3 & 3:2 a.e.t.
ROUND OF SIXTEEN
Sporting Lisbon – Manchester City 0:5 & 0:0
PSG – Real Madrid 1:0 & 1:3
FC Salzburg – Bayern Munich 1:1 & 1:7
Inter – Liverpool FC 0:2 & 1:0
Chelsea FC – Lille OSC 2:0 & 2:1
Villarreal CF – Juventus 1:1 & 3:0
Benfica Lisbon – Ajax 2:2 & 1:0
Atlético Madrid – Manchester United 1:1 & 1:0
CHAMPIONS LEAGUE OUTRIGHT WINNER ODDS
Coming into the knockout stage, Melbet have England's Manchester City as the outright favorites at odds of 3.70. This is not a surprise though as they were runners up last year and had a fairly easy run in the group with four wins and a couple of losses in their six group games, scoring a total of 18 goals, only bettered by Bayern and Ajax.
Right behind them is the German machine Bayern Munich at odds of 4.70. They wiped the floor with their Group E opponents finishing with a 100% record after winning all 6 of their group games.
Completing the top three is 2019 winners Liverpool at odds of 6.00. The Reds also had perfect record in Group B which was quite impressive considering the other group members were Atletico Madrid, AC Milan and FC Porto.

MORE CHAMPIONS LEAGUE BETTING MARKETS
Being the most prestigious event in European club football, Champions League games have hundreds of betting markets on most bookmakers given the level of interest from punters in the competition.
Our betting experts also share this enthusiasm and bring you a wide variety of betting tips that are not just limited to the common markets like 1×2 and both teams to score. We cover other markets like handicaps, goalscorer, corners, and bookings, just to name a few.
Our Champions League predictions tonight have a detailed analysis of the reasoning behind them. You will therefore get great value following our tips, which are all offered for free!
Because of this wide range of markets it is also important to develop a proper betting strategy when it comes to the Champions League to enable you choose the markets wisely and control your bankroll prudently.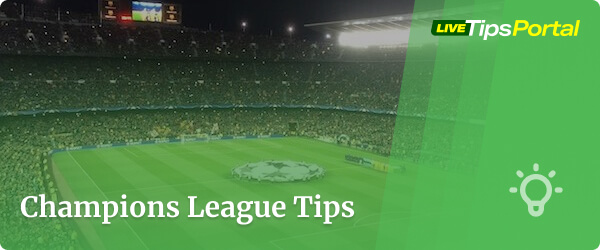 WHICH BOOKMAKERS OFFER THE BEST CHAMPIONS LEAGUE BETS
As you may have noticed, literally every bookmaker under the sun offers Champions League bets. So how do you decide where to place your bets?
These are some of the main factors to consider: the odds, range of markets and the offers and promos from the bookmaker.
Our review of the best betting sites in Africa breaks down some of these factors to make it easy for you to make this call.
CHAMPIONS LEAGUE PAST WINNERS
Spanish clubs have dominated this competition with the most victories (18 wins), followed by England (14 wins) and Italy (12 wins).
England however has the largest number of winning teams (5).
The competition has been won by 22 clubs, 13 of which have won it more than once and eight successfully defended their title.
Real Madrid is the most successful club in the tournament's history, having won it 13 times, including its first five seasons and also three in a row from 2016 to 2018.
Let's take a look at the last ten Champions League winners and runners up:
| SEASON | WINNER | RUNNER UP |
| --- | --- | --- |
| 2020/21 | Chelsea | Manchester City |
| 2019/20 | Bayern Munich | PSG |
| 2018/19 | Liverpool | Tottenham |
| 2017/18 | Real Madrid | Liverpool |
| 2016/17 | Real Madrid | Juventus |
| 2015/16 | Real Madrid | Atlético Madrid |
| 2014/15 | FC Barcelona | Juventus |
| 2013/14 | Real Madrid | Atlético Madrid |
| 2012/13 | Bayern Munich | Borussia Dortmund |
| 2011/12 | Chelsea | Bayern Munich |
STANDINGS IN GROUP STAGE 2021/22:
Group A
| POS | TEAM | PTS | MP | W | D | L | GF | GA | GD |
| --- | --- | --- | --- | --- | --- | --- | --- | --- | --- |
| 1 | | 12 | 6 | 4 | 0 | 2 | 18 | 10 | 8 |
| 2 | | 11 | 6 | 3 | 2 | 1 | 13 | 8 | 5 |
| 3 | | 7 | 6 | 2 | 1 | 3 | 15 | 14 | 1 |
| 4 | | 4 | 6 | 1 | 1 | 4 | 6 | 20 | -14 |
Legend
Nächste Runde

Europa League
Group B
| POS | TEAM | PTS | MP | W | D | L | GF | GA | GD |
| --- | --- | --- | --- | --- | --- | --- | --- | --- | --- |
| 1 | | 18 | 6 | 6 | 0 | 0 | 17 | 6 | 11 |
| 2 | | 7 | 6 | 2 | 1 | 3 | 7 | 8 | -1 |
| 3 | | 5 | 6 | 1 | 2 | 3 | 4 | 11 | -7 |
| 4 | | 4 | 6 | 1 | 1 | 4 | 6 | 9 | -3 |
Legend
Nächste Runde

Europa League
Group C
| POS | TEAM | PTS | MP | W | D | L | GF | GA | GD |
| --- | --- | --- | --- | --- | --- | --- | --- | --- | --- |
| 1 | | 18 | 6 | 6 | 0 | 0 | 20 | 5 | 15 |
| 2 | Sporting Clube de Portugal | 9 | 6 | 3 | 0 | 3 | 14 | 12 | 2 |
| 3 | | 9 | 6 | 3 | 0 | 3 | 10 | 11 | -1 |
| 4 | | 0 | 6 | 0 | 0 | 6 | 3 | 19 | -16 |
Legend
Nächste Runde

Europa League
Group D
| POS | TEAM | PTS | MP | W | D | L | GF | GA | GD |
| --- | --- | --- | --- | --- | --- | --- | --- | --- | --- |
| 1 | | 15 | 6 | 5 | 0 | 1 | 14 | 3 | 11 |
| 2 | | 10 | 6 | 3 | 1 | 2 | 8 | 5 | 3 |
| 3 | | 7 | 6 | 2 | 1 | 3 | 7 | 11 | -4 |
| 4 | | 2 | 6 | 0 | 2 | 4 | 2 | 12 | -10 |
Legend
Nächste Runde

Europa League
Group E
| POS | TEAM | PTS | MP | W | D | L | GF | GA | GD |
| --- | --- | --- | --- | --- | --- | --- | --- | --- | --- |
| 1 | | 18 | 6 | 6 | 0 | 0 | 22 | 3 | 19 |
| 2 | | 8 | 6 | 2 | 2 | 2 | 7 | 9 | -2 |
| 3 | | 7 | 6 | 2 | 1 | 3 | 2 | 9 | -7 |
| 4 | | 1 | 6 | 0 | 1 | 5 | 1 | 11 | -10 |
Legend
Nächste Runde

Europa League
Group F
| POS | TEAM | PTS | MP | W | D | L | GF | GA | GD |
| --- | --- | --- | --- | --- | --- | --- | --- | --- | --- |
| 1 | | 11 | 6 | 3 | 2 | 1 | 11 | 8 | 3 |
| 2 | | 10 | 6 | 3 | 1 | 2 | 12 | 9 | 3 |
| 3 | | 6 | 6 | 1 | 3 | 2 | 12 | 13 | -1 |
| 4 | | 5 | 6 | 1 | 2 | 3 | 7 | 12 | -5 |
Legend
Nächste Runde

Europa League
Group G
| POS | TEAM | PTS | MP | W | D | L | GF | GA | GD |
| --- | --- | --- | --- | --- | --- | --- | --- | --- | --- |
| 1 | | 11 | 6 | 3 | 2 | 1 | 7 | 4 | 3 |
| 2 | | 10 | 6 | 3 | 1 | 2 | 8 | 6 | 2 |
| 3 | | 6 | 6 | 1 | 3 | 2 | 5 | 5 | 0 |
| 4 | | 5 | 6 | 1 | 2 | 3 | 5 | 10 | -5 |
Legend
Nächste Runde

Europa League
Group H
| POS | TEAM | PTS | MP | W | D | L | GF | GA | GD |
| --- | --- | --- | --- | --- | --- | --- | --- | --- | --- |
| 1 | | 15 | 6 | 5 | 0 | 1 | 10 | 6 | 4 |
| 2 | | 13 | 6 | 4 | 1 | 1 | 13 | 4 | 9 |
| 3 | | 5 | 6 | 1 | 2 | 3 | 10 | 10 | 0 |
| 4 | | 1 | 6 | 0 | 1 | 5 | 1 | 14 | -13 |
Legend
Nächste Runde

Europa League
---