Brazil
VS
Argentina
International
WC-Quali. South America
Brazil - Argentina betting tip & odds comparison 22.09.2022
In gameweek 6 of WC-Quali. South America, Brazil will host Argentina. Kick-off is scheduled for 9:00 PM on Sep 22, 2022, and the fixture will be refereed by Jesús Valenzuela Sáez. With our match prediction and odds comparison for Brazil vs. Argentina you are guaranteed to get all the important facts and details for this fixture. First and foremost, we will take a close look at the teams' recent performances.
Livetipsportal is your expert-level platform for tips of tomorrow. We offer you the best sports betting predictions for the world's top leagues as well as for the most popular international competitions in football.
Brazil were victorious in 3 of their previous 5 league matches (3 wins, 2 draws, 0 defeats. In the current WC-Quali. South America season 2020-2022, Brazil were able to win 8 of their 8 games at home, with a total of 0 draws, and 0 defeats (Goal difference 23:1).
A head-to-head comparison of the two teams in their last five WC-Quali. South America clashes shows that Brazil managed to get 1 win, while in 2 matches, Argentina snatched the three points. In 2 encounters between the two teams, the points were shared. If we solely focus on the home record of Brazil against Argentina, the stats are as follows: 2 wins Brazil, 1 draw and 2 wins for Argentina.
You want to place a bet at a bookie you haven't signed up with yet? In this case, we can recommend the Betway first deposit bonus for newly customers. We have already tested this offer for you.
Brazil vs Argentina, CONMEBOL WC Qualifier, 05.09.2021
Brazil faces Argentina on Sunday after their last play in Copa America. Brazil has 21 points out of 21 on the top of the qualification ranking of the CONMEBOL World Cup. In the Copa America 2021 final, it was Brazil's only loss to Argentina in 2021.
Cyberbet is offering decent prices on this game and we will highlight it in this preview.
BRAZIL
In the quarter-final stage, Brazil was knocked out from the World Cup 2018 as they had a 2-1 loss by Belgium and they'll look forward to getting back on track next year.
In the next year's Cup America, the Selecao bound off Peru 3-1, before starting the next World Cup Qualifying Campaign with successive winners over Bolivia, Peru, Venezuela, Uruguay, Ecuador and Paraguay.
That brought them to the Copa America tournament this year and Tite's players appeared rather powerful, wrestling with hard-fought winners over Chile and Peru in the final only for Sunday's opponents to shortage on home turf.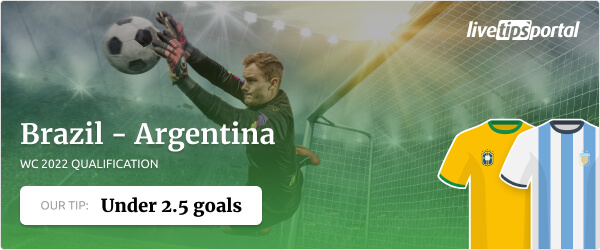 © Livetipsportal
ARGENTINA
Argentina heads home to its competitors knowing they have to win this game. They're second in the group and know the win would push the opponents and the current rate-setter into three points, but the break will clear Brazil by 9 points. After seven games they will tie things together. The strain on the distant squad and football enthusiasts will all be curious to see how they handle it.
With three wins and three draws Argentina has ten points on the board out of a possible 18. Nine goals have been scored and five were granted by Argentina.
Without winning their final two starts and only one win in their last four outings, Argentina is ready for this competition.
Possible Line Ups
BRAZIL
ARGENTINA

Ederson
Danilo
Marquinhos
Silva
Lodi
Paqueta
Casemiro
Fred
Everton
Neymar
Richarlison
Coach: Tite

Martinez
Montiel
Romero
Otamendi
Acuna
Di Maria
De Paul
Paredes
Lo Celso
Messi
Martinez
Coach: Lionel Scaloni

Injured: None and Aguero (Injured)
BRAZIL VS ARGENTINA MATCH PREVIEW AND BETTING TIPS
Argentina will care for the tight victory over Brazil, but it's a different game and its hosts are out for retribution. Argentina is under pressure to do as it has relinquished itself in drawing recent qualifications. The last competitive game he played was a 1-0 win against Brazil to raise the trophy in America Copa after Colombia 3-2 was beaten for the half-final penalty. During its last two meetings, matches between Brazil and Argentina were low.
Brazil and Argentina have scored less than 2.5 goals in the last five games. This weekend, as Brazil and Argentina face in CONMEBOL World Cup qualifications. We are forecasting our betting tips we are backing them to have an Under 2.5 goals in this match.
You can read our betting strategies page for more insights into betting.
BETTING TIP TODAY: We go for Under 2.5 Goals @ 1.57 as our prediction for this game.
Our tips
Performance
Brazil
Last games
Brazil performance of the last 5 home matches
Argentina
Last games
Argentina performance of the last 5 away matches
Current Standing
| POS | TEAM | PTS | MP | W | D | L | GF | GA | GD |
| --- | --- | --- | --- | --- | --- | --- | --- | --- | --- |
| 1 | | 45 | 17 | 14 | 3 | 0 | 40 | 5 | 35 |
| 2 | | 39 | 17 | 11 | 6 | 0 | 27 | 8 | 19 |
| 3 | | 28 | 18 | 8 | 4 | 6 | 22 | 22 | 0 |
| 4 | | 26 | 18 | 7 | 5 | 6 | 27 | 19 | 8 |
| 5 | | 24 | 18 | 7 | 3 | 8 | 19 | 22 | -3 |
| 6 | | 23 | 18 | 5 | 8 | 5 | 20 | 19 | 1 |
| 7 | | 19 | 18 | 5 | 4 | 9 | 19 | 26 | -7 |
| 8 | | 16 | 18 | 3 | 7 | 8 | 12 | 26 | -14 |
| 9 | | 15 | 18 | 4 | 3 | 11 | 23 | 42 | -19 |
| 10 | | 10 | 18 | 3 | 1 | 14 | 14 | 34 | -20 |