Brentford FC
VS
West Ham United
Brentford Community Stadium
Brentford
Brentford FC - West Ham United FC betting tip & odds comparison 10.04.2022
Gameweek 32 in the Premier League will see the clash between Brentford FC and West Ham United at Brentford Community Stadium. Kick-off time is at 3:00 PM on Apr 10, 2022, and the match will be refereed by Martin Atkinson. In our preview of Brentford FC vs. West Ham United we will provide you with all the important facts and stats for this Premier League fixture. Let's start by having a look at the current form of the two teams involved.
Here, you have all Premier League betting tips at a glance. We provide you with detailed forecasts for every matchday. In addition to that, you can also find a comprehensive odds comparison.
Brentford FC were victorious in 3 of their previous 5 league matches (3 wins, 0 draws, 2 defeats. In the current Premier League season 2021/2022, Brentford FC were able to win 5 of their 15 games at home, with a total of 2 draws, and 8 defeats (Goal difference 16:19).
West Ham United have won 3 of their last 5 Premier League encounters (3 wins, 0 draws, 2 defeats. The away record in this year's Premier League season for West Ham United reveals the following stats: 6 wins, 3 draws and 6 defeats - Goal difference 22:19.
Out of the last five Premier League encounters between the two teams, Brentford FC won 2. In 1 match the points between the two sides were shared, and 2 times West Ham United got the win. If we look at the home record of Brentford FC against West Ham United, the stats are as follows: 1 win Brentford FC, 1 draw and 3 wins West Ham United.
Naturally, you can follow our advice and place the same bet free of charge. If you decide to do so at a new bookie, you can benefit from the Betway signup bonus. We have already tested the offer for you in detail.
These two squads met only once in the Premier League matches. This Sunday they are expected to face each other for the second time at the Brentford Community Stadium. In this local derby, Brentford is seeking to maintain the striking force revealed in their game with the blues. We are presenting to you the right betting strategies to collect the winning tickets.
Brentford FC
Brentford's 4-1 win against Chelsea was a triumph for the bees and now to extend the celebration of their fans will be keen to continue where they left off in their match with Chelsea.
Though we are seeing four recent home matches are dominated by mixed forms having 2 losses, we still have confidence Brentford will manage to be undefeated once again.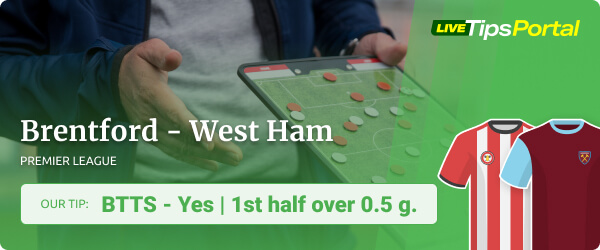 West Ham United
Following their 2-1 win against Everton, the Hammers are ready to avenge their previous defeat to Brentford while targeting to stay on the right track to secure their seat for Champions League next season.
Their scramble for the top four can get complicated if this game will end without earning a point(s). Let the pitch decide who will give a smile to their fans.
Possible Lineups
Brentford FC
Raya
Henry
Pinnock
Jansson
Ajer
Roerslev
Janelt
Norgaard
Eriksen
Toney
Mbeumo
MISSING PLAYERS: Jeanvier (Knee Injury), Dasilva (Thigh Injury)
West Ham United
Fabianski
Fredericks
Dawson
Zouma
Cresswell
Soucek
Rice
Bowen
Benrahma
Fornals
Antonio
MISSING PLAYERS: Ogbonna (Knee Injury)
Our Brentford FC vs. West Ham United betting tips
Though they manage to thrash the EPL giant, Brentford is still underrated as the team that is coming from a lower division which is contrary to their recent efforts. We still see the possibility of having both sides scoring at least a goal. Then you can opt to claim your MrXbet bonus and use it to wager on Both Teams to Score at 1.80 odds
Brentford has been involved with either conceding a goal or scoring a goal in 1st half in most of their games in this season's English Premier League hence we are sure they can do it again. While their confidence level has been boosted from their recent EPL match, more goals can be expected in this game hence this fixture will record at least 1 goal in 1st half. Choose to leverage the Odibet free bet as you select the 1st half Over 0.5 Goal at 1.46 odds
We also recommend that you check out the sure straight wins for tomorrow to increase your chance of winning some good money.
Performance
Brentford FC
Last games
Brentford FC performance of the last 4 home matches
West Ham United
Last games
West Ham United performance of the last 6 away matches
Current Standing
| POS | TEAM | PTS | MP | W | D | L | GF | GA | GD |
| --- | --- | --- | --- | --- | --- | --- | --- | --- | --- |
| 1 | | 93 | 38 | 29 | 6 | 3 | 99 | 26 | 73 |
| 2 | | 92 | 38 | 28 | 8 | 2 | 94 | 26 | 68 |
| 3 | | 74 | 38 | 21 | 11 | 6 | 76 | 33 | 43 |
| 4 | | 71 | 38 | 22 | 5 | 11 | 69 | 40 | 29 |
| 5 | | 69 | 38 | 22 | 3 | 13 | 61 | 48 | 13 |
| 6 | | 58 | 38 | 16 | 10 | 12 | 57 | 57 | 0 |
| 7 | | 56 | 38 | 16 | 8 | 14 | 60 | 51 | 9 |
| 8 | | 52 | 38 | 14 | 10 | 14 | 62 | 59 | 3 |
| 9 | Brighton & Hove Albion FC | 51 | 38 | 12 | 15 | 11 | 42 | 44 | -2 |
| 10 | Wolverhampton Wanderers FC | 51 | 38 | 15 | 6 | 17 | 38 | 43 | -5 |
| 11 | | 49 | 38 | 13 | 10 | 15 | 44 | 62 | -18 |
| 12 | | 48 | 38 | 11 | 15 | 12 | 50 | 46 | 4 |
| 13 | | 46 | 38 | 13 | 7 | 18 | 48 | 56 | -8 |
| 14 | | 45 | 38 | 13 | 6 | 19 | 52 | 54 | -2 |
| 15 | | 40 | 38 | 9 | 13 | 16 | 43 | 67 | -24 |
| 16 | | 39 | 38 | 11 | 6 | 21 | 43 | 66 | -23 |
| 17 | | 38 | 38 | 9 | 11 | 18 | 42 | 79 | -37 |
| 18 | | 35 | 38 | 7 | 14 | 17 | 34 | 53 | -19 |
| 19 | | 23 | 38 | 6 | 5 | 27 | 34 | 77 | -43 |
| 20 | | 22 | 38 | 5 | 7 | 26 | 23 | 84 | -61 |
Legend
Champions League

Europa League

Europa Conference League Quali.

Relegation