Fiorentina
VS
Internazionale
Betting tips & odds comparison 21.09.2021 ACF Fiorentina - FC Internazionale Milano
Betting Tip for matchday 5 of the 2021/2022 Serie A between ACF Fiorentina and FC Internazionale Milano. The game will be played at Artemio Franchi (Firenze, Italy) on 21.09.2021 at 20:45.
Fiorentina vs Inter Milan, Serie A, 21.09.2021
Fiorentina's recovery is completed and they will proceed to their home match against Inter Milan after winning three consecutive games. Inter has six victories and no loss in their last ten matches against Fiorentina and will be blasted by a win of 6-1 over Bologna. This is a highly eventful event as Inter Millan is going to confront Fiorentina.
We promote Betway in our preview of this game.
Read more about the bonus promotion from the leading best betting sites in Africa.
FIORENTINA
Florence has 9 points and is coming from a 2-1 win over Genoa, which was a play they were in close proximity to their first clean sheet of the Serie A season.
Duan Vlahovic has been instrumental for Fiorentina this season, scoring five goals in the team's first five games. He is the one to watch and seeks to add to his tally against the champions and he is the man to watch. The hosts have another motive to wish their great run with Fiorentina winless in the last 10 encounters against Inter.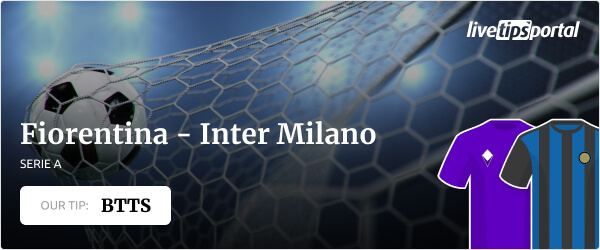 © Livetipsportal
INTER MILAN
In the new season, Inter has not lost yet, and it is certain that nobody would lose momentum. The Milan team aggressively crushed the vast majority of adversaries, therefore the odds of a second consecutive Championship are pretty good.
In the last four encounters, Inter was given a late goal against Bologna. The league's only clean bill remained the 4-0 win over Genoa. In just one match this season they failed to score against Real Madrid.
Possible Line Ups
FIORENTINA
INTER MILAN

Dragowski
Odriozola
Quarta
Igor
Biraghi
Bonaventura
Pulgar
Castrovilli
Callejon
Vlahovic
Gonzalez
Coach: Vincenzo Italiano

Handanovic
Skriniar
de Vrij
Bastoni
Dumfries
Barella
Brozovic
Vecino
Dimarco
Martinez
Correa
Coach: Simone Inzaghi

Injured: Cerofolini (Knee Injury), Venuti (Shoulder Injury) and Sanchez (Muscle), Brazao (Knee)
OUR TIP
In four of their last five matches, Inter Milan scored two or more goals. On the other hand, Fiorentina has achieved more than 2.5 goals in all its matches this season, and its only smooth sheet was the 4-0 triumph against Cosenza at Serie A.
Both sides were not fantastic to maintain clean sheets and while it looks potential to scoring both teams and more goals. As our today's betting tips, we are predicting to see goals from both ends. We have as well offered more analysis on our football betting strategy.
FOOTBALL BETTING TIP TODAY: Both Teams To Score @ 1.63 odds at Betway.
Our tips
Performance
Fiorentina
Last games
Fiorentina performance of the last 4 home matches
Internazionale
Last games
Internazionale performance of the last 6 away matches
Current Standing
| POS | TEAM | PTS | MP | W | D | L | GF | GA | GD |
| --- | --- | --- | --- | --- | --- | --- | --- | --- | --- |
| 1 | | 32 | 13 | 10 | 2 | 1 | 26 | 7 | 19 |
| 2 | | 32 | 13 | 10 | 2 | 1 | 29 | 15 | 14 |
| 3 | | 31 | 14 | 9 | 4 | 1 | 34 | 15 | 19 |
| 4 | | 28 | 14 | 8 | 4 | 2 | 28 | 17 | 11 |
| 5 | | 22 | 13 | 7 | 1 | 5 | 23 | 15 | 8 |
| 6 | | 21 | 13 | 6 | 3 | 4 | 25 | 21 | 4 |
| 7 | | 21 | 14 | 7 | 0 | 7 | 21 | 19 | 2 |
| 8 | | 21 | 14 | 6 | 3 | 5 | 18 | 16 | 2 |
| 9 | | 19 | 14 | 5 | 4 | 5 | 28 | 25 | 3 |
| 10 | | 19 | 14 | 6 | 1 | 7 | 21 | 26 | -5 |
| 11 | | 18 | 13 | 5 | 3 | 5 | 19 | 24 | -5 |
| 12 | | 17 | 13 | 5 | 2 | 6 | 17 | 13 | 4 |
| 13 | | 15 | 13 | 4 | 3 | 6 | 19 | 20 | -1 |
| 14 | | 15 | 14 | 4 | 3 | 7 | 20 | 26 | -6 |
| 15 | | 15 | 14 | 4 | 3 | 7 | 12 | 21 | -9 |
| 16 | | 14 | 13 | 3 | 5 | 5 | 16 | 20 | -4 |
| 17 | | 11 | 13 | 3 | 2 | 8 | 15 | 31 | -16 |
| 18 | | 9 | 13 | 1 | 6 | 6 | 17 | 26 | -9 |
| 19 | | 8 | 14 | 1 | 5 | 8 | 16 | 29 | -13 |
| 20 | | 8 | 14 | 2 | 2 | 10 | 11 | 29 | -18 |