Hoffenheim
VS
1. FC Cologne
TSG 1899 Hoffenheim - 1. FC Cologne betting tip & odds comparison 15.10.2021
Betting Tip for matchday 8 of the 2021/2022 Bundesliga between TSG 1899 Hoffenheim and 1. FC Cologne. The game will be played at PreZero Arena (Sinsheim, Germany) on 15.10.2021 at 20:30.
Hoffenheim vs Cologne, Bundesliga, 15.10.2021
Round 8 begins with a match between Hoffenheim and Koln at PreZero Arena. Hoffenheim has seen peaks and troughs during the first half of the season, and even as a consequence, they are currently 11th in the rankings. Colonge is also standing have been well only losing the match in their last 7 league games.
For our preview here, we will examine Odibet bonus betting options and prices.
HOFFENHEIM
The guests have enjoyed a far better start to the season, with a five-game unbeaten streak to their credit, putting them just four points behind Bayern Munich, who are now in first place in the Bundesliga.
Hoffenheim entered the international break after a 3-1 loss to Stuttgart in their last Bundesliga game. They were second best throughout the game and scored a late consolation goal through Jacob Bruun Larson after falling behind three goals. Hoffenheim has had a tough start to the season, with only two victories in seven games. This season, they have struggled to keep a clean sheet, with only one in their past six games.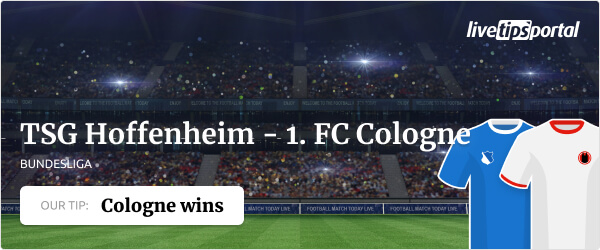 © Livetipsportal
COLOGNE
FC Köln got off to a fantastic start to the new season, putting last season's problems behind them. They are presently sixth in the rankings, and a win on Friday could propel them into the top four.
Köln had a fantastic recovery after nearly avoiding relegation to the second division at the end of last season. This season, though, they were considerably more tenacious, losing only once in six games. They've won three games, drawn three, and scored 13 goals thus far.
Possible Line Ups
HOFFENHEIM
COLOGNE

Baumann
Akpoguma
Posch
Vogt
Raum
Rudy
Stiller
Baumgartner
Kramaric
Larsen
Dabbur
Coach: Sebastian Hoeneß

Schwabe
Hector
Czichos
Mere
Schmitz
Ljubicic
Uth
Ozcan
Ostrak
Modeste
Andersson
Coach: Steffen Baumgart

Injured: Belfodil (thigh), Bicakcic (knee), Grillitsch (muscular), Hübner (ankle), Kaderabek (calf), Nordtveit (thigh) and Castrop (Illness), Horn (Hip), Hubers (Knee), Kainz (Suspension)
HOFFENHEIM VS COLOGNE BETTING PREDICTIONS
In this match, Hoffenheim holds the overall edge, having won 11 of the previous 24 meetings. In the same time frame, Köln won only seven games. Hoffenheim has controlled recent games, winning six in a row since 2017. Köln's last victory in this tournament was in April 2015.
Köln was in a fantastic position at the start of the season, and they have a chance to win their fourth game in a row this weekend. We predict this trend to hold and we are backing Cologne's win @ 2.10 at Odibet as the first of our football betting tips today.
Check out our analysis of the finest best betting sites in Africa to learn about some of the main players driving this expansion.
Our tips
Performance
Hoffenheim
Last games
Hoffenheim performance of the last 4 home matches
1. FC Cologne
Last games
1. FC Cologne performance of the last 6 away matches
Current Standing
| POS | TEAM | PTS | MP | W | D | L | GF | GA | GD |
| --- | --- | --- | --- | --- | --- | --- | --- | --- | --- |
| 1 | | 77 | 34 | 24 | 5 | 5 | 97 | 37 | 60 |
| 2 | | 69 | 34 | 22 | 3 | 9 | 85 | 52 | 33 |
| 3 | | 64 | 34 | 19 | 7 | 8 | 80 | 47 | 33 |
| 4 | | 58 | 34 | 17 | 7 | 10 | 72 | 37 | 35 |
| 5 | | 57 | 34 | 16 | 9 | 9 | 50 | 44 | 6 |
| 6 | | 55 | 34 | 15 | 10 | 9 | 58 | 46 | 12 |
| 7 | | 52 | 34 | 14 | 10 | 10 | 52 | 49 | 3 |
| 8 | | 46 | 34 | 13 | 7 | 14 | 50 | 45 | 5 |
| 9 | | 46 | 34 | 13 | 7 | 14 | 58 | 60 | -2 |
| 10 | | 45 | 34 | 12 | 9 | 13 | 54 | 61 | -7 |
| 11 | | 42 | 34 | 10 | 12 | 12 | 45 | 49 | -4 |
| 12 | | 42 | 34 | 12 | 6 | 16 | 43 | 54 | -11 |
| 13 | | 42 | 34 | 12 | 6 | 16 | 38 | 52 | -14 |
| 14 | | 38 | 34 | 10 | 8 | 16 | 39 | 56 | -17 |
| 15 | | 33 | 34 | 7 | 12 | 15 | 41 | 59 | -18 |
| 16 | | 33 | 34 | 9 | 6 | 19 | 37 | 71 | -34 |
| 17 | | 28 | 34 | 5 | 13 | 16 | 27 | 53 | -26 |
| 18 | | 18 | 34 | 3 | 9 | 22 | 28 | 82 | -54 |