Manchester City
VS
Brentford FC
Etihad Stadium
Manchester
Manchester City FC - Brentford FC betting tip & odds comparison 12.11.2022
In gameweek 16 of Premier League, Manchester City will host Brentford FC at Etihad Stadium. Kick-off is scheduled for 1:30 PM on Nov 12, 2022 With our match prediction and odds comparison for Manchester City vs. Brentford FC you are guaranteed to get all the important facts and details for this fixture. First and foremost, we will take a close look at the teams' recent performances.
You can't get enough of Premier League betting predictions? We provide you with betting tips for every matchday fixture, and additionally, we offer a comprehensive odds comparison.
Manchester City have won 3 of their last 5 league matches (3 wins, 1 draw, 1 defeat. In the previous 8 home games in the Premier League season 2022/2023, Manchester City have won 7 matches, 1 game ended in a draw, and 0 games in defeat. (Goal difference 29:7).
Out of their last 5 Premier League fixtures, Brentford FC have won 1 game (1 win, 3 draws, 1 defeat). The away record in the current Premier League season reads as follows: 0 wins, 5 draws und 3 defeats - Goal difference 8:17.
In their last five Premier League encounters, Manchester City managed to get 4 wins against Brentford FC, while Brentford scored 1 win. On 0 occasions, there was no winner. If we focus exclusively on the home games that Manchester City played against Brentford FC in the Premier League, we get the following record: 3 wins for Manchester City, 0 draws and 1 win for Brentford FC.
Have you heard of the Melbet registration bonus yet? This offer, which is available to all customers who register for the first time, will allow you to start off with some extra credit.
Manchester City could go into the World Cup break on top of Premier League standings if they beat Brentford in this game and Arsenal fails to win against Wolves later in the day. For Brentford, their recent form has not been impressive, and it may be an uphill task trying to turn things around against the league defending champions. Nevertheless, we expect a well-fought game from both sides. As we preview this early kickoff fixture, we promote Playabet – new new bookie on Livetipsportal with a risk free Playabet welcome bonus – and the BetKing app. You can read about the best betting companies in Africa on our page.
MANCHESTER CITY
Manchester City needed a controversial injury-time penalty to get a 2-1 win over Fulham. It was a tough game for City who were reduced to 10 men for more than an hour. Coach Pep Guardiola was delighted with the fighting spirit, as the win kept them within 2 points of league leaders Arsenal, who have continued to impress week in week out.
The Citizens have won all their last 4 games across all competitions and are now unbeaten in their last 6 games (W5 D1). They have also won all their last 11 home games. When they played Brentford in the league last season, Manchester City won both games without conceding any goal. All these give them confidence that they can win and go top of the league at the end of the game.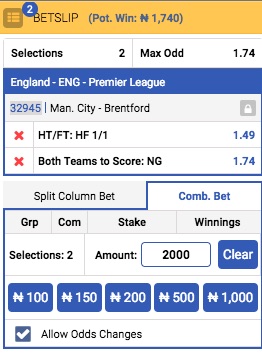 BRENTFORD
After being eliminated from the EFL Cup 3rd Round by League Two side Gillingham on penalties, Brentford must be feeling very low at the moment. They are now winless in their last 5 games in all competitions (D4 L1). This is not the time that they would want to face their high-flying opponents, but the Bees know that a good result in this game would be the huge morale booster to help turn their fortunes around.
Manager Thomas Frank can take some solace in the fact that the team has scored in all their last 3 games. Scoring goals had been a problem in the game before that. Nevertheless, their growing list of injuries and star striker Ivan Toney's FA betting investigation are likely to take a toll on the team. The Bees need to be at their bets if they are to get something from this game.
Possible Line-ups
MANCHESTER CITY
Ederson
Stones
Akanji
Ake
Lewis
De Bruyne
Rodri
Gundogan
Silva
Haaland
Foden
MISSING PLAYERS: Mendy (Suspended), Walker (Muscle)
BRENTFORD FC
Raya
Roerslev
Mee
Pinnock
Henry
Jensen
Janelt
DaSilva
Wissa
Toney
Lewis-Potter
MISSING PLAYERS: Ajer (Knee), Baptiste (Muscle), Goode (Knee), Hickey (Ankle), Jansson (Thigh), Strakosha (Ankle)
OUR MANCHESTER CITY VS BRENTFORD PREDICTIONS & ODDS
Manchester City are in great form going into this game while Brentford are the opposite of that. With 11 wins in their last 11 home games, Manchester City are likely to get another win here, especially since Brentford are going through a winless run of 5 games. We expect City to take control from the 1st half and see the game through.
TIP 1: Halftime/Fulltime –> 1/1 @ 1.49
Manchester City scored 8 goals in their last 5 games while Brentford scored 4 goals during the same time. When the two teams met last season, Brentford failed to score in both games. Going by their current form, this game is likely to have one or both teams failing to score again.
TIP 2: Both Teams To Score No @ 1.74
You can follow other football betting tips for free on our page covering matches from different leagues.
Performance
Manchester City
Last games
Manchester City performance of the last 6 home matches
Brentford FC
Last games
Brentford FC performance of the last 4 away matches
Current Standing
| POS | TEAM | PTS | MP | W | D | L | GF | GA | GD |
| --- | --- | --- | --- | --- | --- | --- | --- | --- | --- |
| 1 | | 39 | 16 | 12 | 3 | 1 | 33 | 11 | 22 |
| 2 | | 34 | 16 | 10 | 4 | 2 | 40 | 14 | 26 |
| 3 | | 31 | 16 | 8 | 7 | 1 | 29 | 11 | 18 |
| 4 | | 30 | 16 | 9 | 3 | 4 | 31 | 21 | 10 |
| 5 | | 28 | 16 | 8 | 4 | 4 | 20 | 20 | 0 |
| 6 | | 24 | 16 | 6 | 6 | 4 | 28 | 17 | 11 |
| 7 | Brighton & Hove Albion FC | 23 | 16 | 6 | 5 | 5 | 23 | 19 | 4 |
| 8 | | 23 | 16 | 6 | 5 | 5 | 17 | 17 | 0 |
| 9 | | 21 | 16 | 5 | 6 | 5 | 15 | 18 | -3 |
| 10 | | 20 | 16 | 5 | 5 | 6 | 24 | 26 | -2 |
| 11 | | 20 | 16 | 4 | 8 | 4 | 23 | 25 | -2 |
| 12 | | 19 | 16 | 5 | 4 | 7 | 16 | 22 | -6 |
| 13 | | 18 | 16 | 5 | 3 | 8 | 25 | 25 | 0 |
| 14 | | 17 | 16 | 4 | 5 | 7 | 22 | 26 | -4 |
| 15 | | 17 | 16 | 4 | 5 | 7 | 18 | 32 | -14 |
| 16 | | 15 | 16 | 4 | 3 | 9 | 12 | 17 | -5 |
| 17 | | 15 | 16 | 3 | 6 | 7 | 11 | 17 | -6 |
| 18 | | 14 | 16 | 3 | 5 | 8 | 11 | 30 | -19 |
| 19 | | 13 | 16 | 3 | 4 | 9 | 13 | 27 | -14 |
| 20 | Wolverhampton Wanderers FC | 11 | 16 | 2 | 5 | 9 | 8 | 24 | -16 |