In this article we introduce you to another interesting betting strategy which has become more and more popular throughout the last years. With this online strategy, you bet on the half-time result as well as the full-time result. You can find out how that works and how you can win those bets in the following paragraphs. Enjoy!
🗣️ SUGGESTION: Visit our solo prediction section – you'll find a betting tip for every day of the week, of course including some Halftime/Fulltime predictions!
How does a half-time/full-time bet work?
A half-time/full-time bet is a special betting variant of the usual half-time bet, and belongs to the category double bets. The only difference is, that at these bets, you bet on BOTH the standing at half-time as well as the result after the full-time. This type of bet is very similar to scorecast/wincast betting.
Important: A half-time/full-time bet is only successful if you predicted the half-time standing AND the full-time result correctly. The only precondition of this bet is that the event has to be interrupted by a break.
Now a quick example of a bet and how the odds usually apply
The following table gives a visual overview of a half-time/full-time bet, and should help you to understand this betting strategy. The odds indicated in the table are realistic and show the differences between the 9 different outcomes of a game:
| TIP | HALFTIME | FULLTIME | ODDS |
| --- | --- | --- | --- |
| 1/1 | home-team leads | home-team wins | 3,25 |
| 1/X | home-team leads | draw | 13,50 |
| 1/2 | home-team leads | away-team wins | 28,25 |
| X/1 | draw | home-team wins | 5,50 |
| X/X | draw | draw | 5,10 |
| X/2 | draw | away-team wins | 10,25 |
| 2/1 | away-team leads | home-team wins | 23,50 |
| 2/X | away-team leads | draw | 13,75 |
| 2/2 | away-team leads | away-team wins | 6,20 |
As a typical example we chose three bets from the English Premier League and decided on three different half-time/full-time bets.
The first bet is 2/1,where we bet on an Away-Team lead at half-time and a Home-Team win after 90 minutes. The second bet is as easy as it appears. We bet on a half-time Home-Team-Lead, and a Home-Team-Win at full-time – a classic 1/1-bet. In the third bet we guessed that the Home-Team would lead after 45 minutes, but in the end the two teams would draw.
Visit our England Premier League prediction section where we give you a good insight into the most important games of the highest league in Great Britain, and provide you with information so you can place your bets in the best manner possible.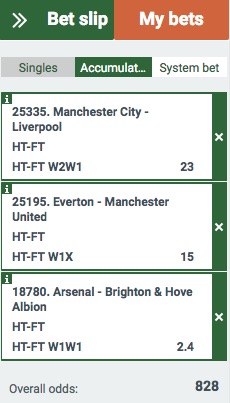 Which sports are good for halftime/fulltime bets?
The popularity of this betting form spreads out into almost every sport. As mentioned earlier, as long as the games are separated into (at least) two periods, you can bet on a variety of different sports.
Although Football games are leading the way, other sports like Rugby, American Football or Basketball have often been used for half-time/full-time bets. A special form constitutes ice-hockey games which, most people know, are separated into three thirds. Nevertheless, a few betting sites offer wagers where you can bet on the standings after the first, second or third in combination with the result after the full game. In our sports betting tips section you also get information about half time full time tips.
Can you make money with halftime/fulltime betting concept?
These bets are most revered for their usually high odds. Bets on a team to lead at half-time but lose at full-time generally go hand in hand with odds between 20 and 30. To play half-time/full-time bets profitably, we suggest specialising on favourite wins.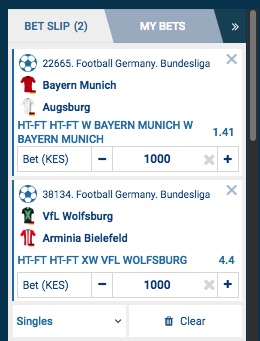 As an example, look for games in which the favourite (Home-Team) display odds of about 1.50 to win. Then place two single bets. In the first you bet on 1/1. That means you bet on a Home-Team-Lead after 45 minutes and a Home-Team-Win after 90 minutes. As a second bet place an X/1-wager where the half-time standing can be a Draw, but in the end the Home-Team goes away with the win again. In this way you can gain the best profit out of these bets.
You can probably recognise that this strategy is, as described, the most lucrative. This is because, even if you guess every third bet wrong, you will still obtain money due to the high odds of the half-time/full-time bets. You can also try half-time/full-time betting as a system or yankee bet.
Back to sports betting strategies.