Manchester City
VS
Chelsea FC
Etihad Stadium
Manchester
Manchester City FC - Chelsea FC betting tip & odds comparison 08.05.2021
In gameweek 35 of Premier League, Manchester City will host Chelsea FC at Etihad Stadium. Kick-off is scheduled for 6:30 PM on May 8, 2021 With our match prediction and odds comparison for Manchester City vs. Chelsea FC you are guaranteed to get all the important facts and details for this fixture. First and foremost, we will take a close look at the teams' recent performances.
You can't get enough of free Premier League predictions? We provide you with betting tips for every matchday fixture, and additionally, we offer a comprehensive odds comparison.
Manchester City have won 4 of their last 5 league matches (4 wins, 0 draws, 1 defeat. In the previous 17 home games in the Premier League season 2020/2021, Manchester City have won 12 matches, 2 games ended in a draw, and 3 games in defeat. (Goal difference 37:15).
Out of their last 5 Premier League fixtures, Chelsea FC have won 3 games (3 wins, 1 draw, 1 defeat). The away record in the current Premier League season reads as follows: 9 wins, 4 draws und 4 defeats - Goal difference 24:15.
In their last five Premier League encounters, Manchester City managed to get 3 wins against Chelsea FC, while Chelsea scored 2 wins. On 0 occasions, there was no winner. If we focus exclusively on the home games that Manchester City played against Chelsea FC in the Premier League, we get the following record: 4 wins for Manchester City, 0 draws and 1 win for Chelsea FC.
Have you heard of the Betway signup bonus yet? This offer, which is available to all customers who register for the first time, will allow you to start off with some extra credit.
Manchester City vs Chelsea, EPL, 08.05.2021
The weekend Premier League fixture between Manchester City and Chelsea provides an opportunity for a dress rehearsal for both teams ahead of the UEFA Champions League coming up later in the month.
We are going to explore Paripesa bookie review for our preferred betting options.
MANCHESTER CITY
Manchester City would still be in a celebratory mood following their qualification into the UEFA Champions League for the very first time in their history.
The Mancunian outfit did a double over French Champions, PSG, besting both them both home and away. Pep Guardiola's men are also champions-elect of the Premier League and are waiting to be officially crowned champions to add to their trophy cabinet.
A win for Manchester city on Saturday will confirm them as Champions. The Citizens are in fine fettle, and they will go into the game off the back of a series of wins. Last weekend they defeated Crystal Palace 2-0 at Selhurst to equal their own record of the most consecutive away wins in the Premier League.
At the Etihad, City are on a 14 game unbeaten run against teams from the Capital. This is in addition to their five-game winning streak in all competitions.
CHELSEA
The visitors just Manchester City booked their place in the final of this season's Champions League with a 3-1 aggregate win over former Champions Real Madrid. Their qualification for the final now means that Chelsea have a chance to get their hands on two titles this season.
Meanwhile, Chelsea are still not a shoo-in for the top four yet. So the game at the Etihad is as important as the two-legged Semi-final tie against the Spanish giants.
Last time out in the league, Chelsea earned a relatively easy 2-0 success over relegation-threatened Fulham. Kai Havertz got both goals and he is expected to be in action against, leading the line against the Citizens along with fellow German, Timo Werner.
Jorginho and Kante should continue in midfield with Mateo Kovacic still ruled out with a hamstring problem.
Possible Line Ups
MANCHESTER CITY
CHELSEA

Ederson
Zinchenko
Walker
Dias
Laporte
Rodri
Gundogan
Silva
Foden
Mahrez
Jesus
Coach: Pep Guardiola

Mendy
Silva
Rudiger
Christensen
Azpilicueta
Chilwell
Jorginho
Kante
Mount
Havertz
Werner
Coach: Thomas Tuchel

Injured: None and Kovacic (Hamstring)
OUR BETTING TIPS AND PREDICTIONS
Manchester City have plundered 71 goals this campaign and conceded 24. This team is not bereft of attacking talents and they are raring to go again. However Chelsea boasts of one the best defensive records in the League, so something has got to give.
Nonetheless, we reckon both teams will score @ 2.04 on Paripesa welcome bonus. Both teams have been scoring loads of goals both in the league and on the continent. Chelsea's German duo of Timo Werner and Kai Havertz are brimming with confidence now and they are beginning to pay back Thomas Tuchel for his faith in them.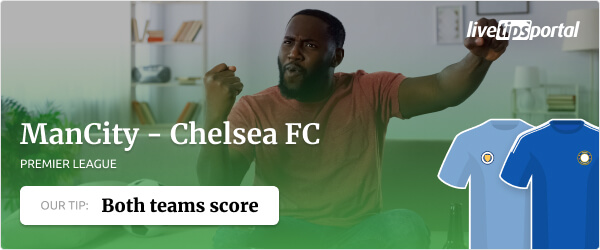 © Livetipsportal
On the other hand, Manchester City have a stellar cast of strikers who are capable of some of the toughest defence in World football. Chelsea's much-improved defence will be put to test here. Therefore smart money should be on both teams to score.
Additionally, given the form of Manchester City at the moment, we will back them to win or draw at home @ 1.25 on Paripesa again. We have more sure wins for tomorrow on our page free of charge. Check it out today for a chance to land a massive win.
Our tips
Performance
Manchester City
Last games
Manchester City performance of the last 5 home matches
Chelsea FC
Last games
Chelsea FC performance of the last 5 away matches
Current Standing
| POS | TEAM | PTS | MP | W | D | L | GF | GA | GD |
| --- | --- | --- | --- | --- | --- | --- | --- | --- | --- |
| 1 | | 86 | 38 | 27 | 5 | 6 | 83 | 32 | 51 |
| 2 | | 74 | 38 | 21 | 11 | 6 | 73 | 44 | 29 |
| 3 | | 69 | 38 | 20 | 9 | 9 | 68 | 42 | 26 |
| 4 | | 67 | 38 | 19 | 10 | 9 | 58 | 36 | 22 |
| 5 | | 66 | 38 | 20 | 6 | 12 | 68 | 50 | 18 |
| 6 | | 65 | 38 | 19 | 8 | 11 | 62 | 47 | 15 |
| 7 | | 62 | 38 | 18 | 8 | 12 | 68 | 45 | 23 |
| 8 | | 61 | 38 | 18 | 7 | 13 | 55 | 39 | 16 |
| 9 | | 59 | 38 | 18 | 5 | 15 | 62 | 54 | 8 |
| 10 | | 59 | 38 | 17 | 8 | 13 | 47 | 48 | -1 |
| 11 | | 55 | 38 | 16 | 7 | 15 | 55 | 46 | 9 |
| 12 | | 45 | 38 | 12 | 9 | 17 | 46 | 62 | -16 |
| 13 | Wolverhampton Wanderers FC | 45 | 38 | 12 | 9 | 17 | 36 | 52 | -16 |
| 14 | | 44 | 38 | 12 | 8 | 18 | 41 | 66 | -25 |
| 15 | | 43 | 38 | 12 | 7 | 19 | 47 | 68 | -21 |
| 16 | Brighton & Hove Albion FC | 41 | 38 | 9 | 14 | 15 | 40 | 46 | -6 |
| 17 | | 39 | 38 | 10 | 9 | 19 | 33 | 55 | -22 |
| 18 | | 28 | 38 | 5 | 13 | 20 | 27 | 53 | -26 |
| 19 | | 26 | 38 | 5 | 11 | 22 | 35 | 76 | -41 |
| 20 | | 23 | 38 | 7 | 2 | 29 | 20 | 63 | -43 |
Legend
Champions League

Europa League

Abstieg

Europa Conference League