Manchester City
VS
Tottenham
Etihad Stadium
Manchester
Manchester City - Tottenham Hotspur betting tip & odds comparison 19.02.2022
Gameweek 26 in the Premier League will see the clash between Manchester City and Tottenham at Etihad Stadium. Kick-off time is at 6:30 PM on Feb 19, 2022. In our preview of Manchester City vs. Tottenham we will provide you with all the important facts and stats for this Premier League fixture. Let's start by having a look at the current form of the two teams involved.
Here, you have all Premier League predictions at a glance. We provide you with detailed forecasts for every matchday. In addition to that, you can also find a comprehensive odds comparison.
Manchester City were victorious in 4 of their previous 5 league matches (4 wins, 1 draw, 0 defeats. In the current Premier League season 2021/2022, Manchester City were able to win 10 of their 12 games at home, with a total of 1 draw, and 1 defeat (Goal difference 34:6).
Tottenham have won 2 of their last 5 Premier League encounters (2 wins, 0 draws, 3 defeats. The away record in this year's Premier League season for Tottenham reveals the following stats: 4 wins, 2 draws and 4 defeats - Goal difference 10:14.
Out of the last five Premier League encounters between the two teams, Manchester City won 2. In 0 matches the points between the two sides were shared, and 3 times Tottenham got the win. If we look at the home record of Manchester City against Tottenham, the stats are as follows: 4 wins Manchester City, 1 draw and 0 wins Tottenham.
Naturally, you can follow our advice and place the same bet free of charge. If you decide to do so at a new bookie, you can benefit from the Betway welcome bonus. We have already tested the offer for you in detail.
Manchester City will be looking to consolidate their leadership status in the English Premier League when they welcome Tottenham Hotspur on Saturday.
For this fixture, our betting tips and markets will be obtained from Betbonanza and Mybet Africa.
MANCHESTER CITY
Manchester City sent a very strong signal ahead of their clash against Tottenham this weekend with a 5-0 thumping of Sporting Lisbon in the Champions League during the week.
With that performance, Pep Guardiola's men have all but secured that passage into the next round of the competition. This means that Guardiola does not have to worry about rotating his team for the clash against the London team.
The Citizens are 9 points ahead of Liverpool, but the Anfield giants have a game in hand and City can not afford to slip here.
Manchester City have not been defeated since the end of October and they have won 14 games in their last 15 in all competitions.
City could welcome back Kyle Walker and Gabriel into their Matchday squad for this match.
TOTTENHAM
Tottenham have it all to do on Saturday if they are to keep their top-four hopes alive. Although the Lilly whites have won 3 of their last four Premier League meetings against Manchester City with all the victories coming in London.
On the contrary, Spurs are looking for their first win at the Etihad since February 2016 and they are certainly not going into the game in a confident mood having lost three straight league games.
Worse still, Antonio Conte's comments in recent weeks aren't going to give his players the impetus needed to go past the City hurdle.
The spurs have some cheering news though. Eric Dier is back in training. Japhet Tanganga is also fit but Oliver skip is a doubt fit for this game.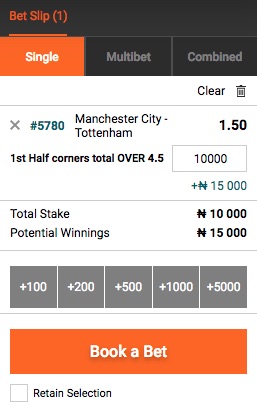 Possible Line Ups
MANCHESTER CITY
Ederson
Walker
Cancelo
Dias
Laporte
Rodri
Silva
De Bruyne
Sterling
Mahrez
Foden
MISSING PLAYERS: Grealish (Leg Injury), Palmer(Ankle Injury), Steffen (Hip Injury), Mendy (Suspended)
TOTTENHAM
Lloris
Davies
Romero
Sanchez
Sessegnon
Bentacur
Winks
Doherty
Moura
Son
Kane
MISSING PLAYERS Skipp ( Groin Injury)
MANCHESTER CITY VS TOTTENHAM BETTING TIPS
Despite the fact that City are 9 points clear of their nearest challenger, Liverpool, this is a very important fixture for the Citizens as they would not want their lead reduced.
They have also lost three of their last four meetings to the Londoners and they will take this match with all seriousness.
City have returned a lot of profits in the corner markets lately. Together with the Spurs they could provide good value with Over 4.5 Corners in the 1st half.
Betbonanza has priced this market at a handsome 1.50 odds. And all new customers of course can use the Betbonanza bonus code FIRST100 and claim a bonus up to NGN 100,000.
Spurs are struggling at the moment and plus they haven't had a win at the Etihad since 2016. It is looking like they are headed for 4th straight loss in the league. So, we are backing City to win.
On the Mybet App the option "Manchester City win" is set at 1.30 odds. Find more Premier League betting tips at no cost.
Performance
Manchester City
Last games
Manchester City performance of the last 6 home matches
Tottenham
Last games
Tottenham performance of the last 4 away matches
Current Standing
| POS | TEAM | PTS | MP | W | D | L | GF | GA | GD |
| --- | --- | --- | --- | --- | --- | --- | --- | --- | --- |
| 1 | | 93 | 38 | 29 | 6 | 3 | 99 | 26 | 73 |
| 2 | | 92 | 38 | 28 | 8 | 2 | 94 | 26 | 68 |
| 3 | | 74 | 38 | 21 | 11 | 6 | 76 | 33 | 43 |
| 4 | | 71 | 38 | 22 | 5 | 11 | 69 | 40 | 29 |
| 5 | | 69 | 38 | 22 | 3 | 13 | 61 | 48 | 13 |
| 6 | | 58 | 38 | 16 | 10 | 12 | 57 | 57 | 0 |
| 7 | | 56 | 38 | 16 | 8 | 14 | 60 | 51 | 9 |
| 8 | | 52 | 38 | 14 | 10 | 14 | 62 | 59 | 3 |
| 9 | Brighton & Hove Albion FC | 51 | 38 | 12 | 15 | 11 | 42 | 44 | -2 |
| 10 | Wolverhampton Wanderers FC | 51 | 38 | 15 | 6 | 17 | 38 | 43 | -5 |
| 11 | | 49 | 38 | 13 | 10 | 15 | 44 | 62 | -18 |
| 12 | | 48 | 38 | 11 | 15 | 12 | 50 | 46 | 4 |
| 13 | | 46 | 38 | 13 | 7 | 18 | 48 | 56 | -8 |
| 14 | | 45 | 38 | 13 | 6 | 19 | 52 | 54 | -2 |
| 15 | | 40 | 38 | 9 | 13 | 16 | 43 | 67 | -24 |
| 16 | | 39 | 38 | 11 | 6 | 21 | 43 | 66 | -23 |
| 17 | | 38 | 38 | 9 | 11 | 18 | 42 | 79 | -37 |
| 18 | | 35 | 38 | 7 | 14 | 17 | 34 | 53 | -19 |
| 19 | | 23 | 38 | 6 | 5 | 27 | 34 | 77 | -43 |
| 20 | | 22 | 38 | 5 | 7 | 26 | 23 | 84 | -61 |
Legend
Champions League

Europa League

Europa Conference League Quali.

Relegation