Newcastle United
VS
Arsenal FC
Newcastle United FC - Arsenal FC betting tip & odds comparison 16.05.2022
In gameweek 37 of Premier League, Newcastle United will host Arsenal FC at St James' Park. Kick-off is scheduled for 9:00 PM on May 16, 2022 With our match prediction and odds comparison for Newcastle United vs. Arsenal FC you are guaranteed to get all the important facts and details for this fixture. First and foremost, we will take a close look at the teams' recent performances.
You can't get enough of Premier League betting tips? We provide you with betting tips for every matchday fixture, and additionally, we offer a comprehensive odds comparison.
Newcastle United have won 3 of their last 5 league matches (3 wins, 0 draws, 2 defeats. In the previous 18 home games in the Premier League season 2021/2022, Newcastle United have won 7 matches, 6 games ended in a draw, and 5 games in defeat. (Goal difference 24:27).
Out of their last 5 Premier League fixtures, Arsenal FC have won 4 games (4 wins, 0 draws, 1 defeat). The away record in the current Premier League season reads as follows: 9 wins, 1 draw und 8 defeats - Goal difference 26:29.
In their last five Premier League encounters, Newcastle United managed to get 0 wins against Arsenal FC, while Arsenal scored 5 wins. On 0 occasions, there was no winner. If we focus exclusively on the home games that Newcastle United played against Arsenal FC in the Premier League, we get the following record: 1 win for Newcastle United, 0 draws and 4 wins for Arsenal FC.
Have you heard of the Betway deposit bonus yet? This offer, which is available to all customers who register for the first time, will allow you to start off with some extra credit.
Arsenal's quest for a top four berth faces another test in this away trip to Newcastle.
With the 3-0 loss in the North London derby and Spurs' victory against Burnley, Arsenal are 2 points of the top 4. This means, to remain in contention, a return to winning ways is essential.
For Newcastle, there's practically nothing to play for as Premier League football is guaranteed next season. However, getting a home win over Arteta's men would be a good way to wrap up your final game on home turf this campaign.
The excitement the premier league brings is never in doubt. To help you win big this week, our betting tips today will be drawn from odds provided by the Mybet app and the Betking app.
NEWCASTLE
The Saudi takeover and emergence of Eddie Howe at the helm has triggered a huge turnaround for the Magpies. As it stands, Newcastle, hitherto fighting for safety, can start preparing for top flight English football next season
They will be grateful to have secured safety before a fixture as tricky as this one. The difficult nature of this tie is evident in the fact that Newcastle have lost 33 PL games against Arsenal, more than they have against any other side in the league. In fact, the Gunners have won their last 7 games against Newcastle in all competitions without conceding a goal.
Despite the challenge and quality of opposition they face, the Magpies will take solace in the fact that they have won their final home game in 6 of their last 8 seasons, losing just twice.
One of the great features of this bookmaker is the Sports Jumbo Bonus with reall good Betking bonus terms and conditions. With it you can boost your Multibet Tips up to 225%!
ARSENAL
Following the embarrassing 3-0 defeat to rivals Spurs, the Gunners must re-discover their form to remain in the top four battle.
To avoid any deadline day surprises against relegation threatened Everton, Arteta's men must get a win here and keep their push four Champions League football in their hands.
Arsenal's last loss at St James' park came back in April 2018 when Newcastle won 2-1. This means the Londoners have won 17 of their last 18 against Newcastle. We expect this to bolster Arsenal's confidence heading into this tie.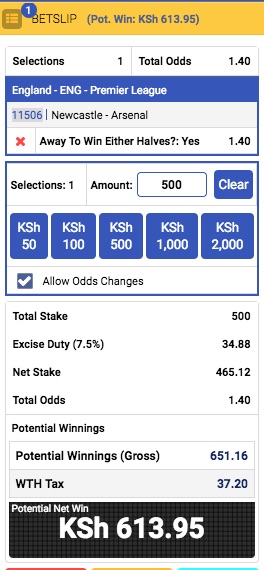 POSSIBLE LINE UP
NEWCASTLE
Dúbravka
Targett
Burn
Schar
Manquillo
Joelinton
Shelvey
Willock
Saint-Maximin
Wood
Fraser
MISSING PLAYERS: Hayden (Knee Injury), Lewis (Groin Injury), Trippier (Ankle Injury), Wilson (Calf Injury)
ARSENAL
Ramsdale
Cedric
Holding
Gabriel
Tomiyasu
Odegaard
Elneny
Xhaka
Saka
Nketiah
Martinelli
MISSING PLAYERS: Partey (Muscle), Tierney (Knee)
NEWCASTLE Vs ARSENAL PREVIEW AND BETTING PREDICTIONS
Tottenham's new found form has made this year's top 4 battle hard to predict. A 1-0 win over Burnely on Sunday has given Conte's men 2 point advantage over the Gunners ahead of this Monday night trip to St James' Park.
Therefore, in the context of their pursuit of European football next season, the Gunners cannot afford to drop points here. To this end, we are backing them to win at least one half in this tie. Betking has this option pegged at odd of 1.40.
Although Newcastle have nothing to fight for, getting something over Arteta's men in front of their fans will be a good way to wrap up what has been an impressive season. Therefore. We expect Eddie Howe's men to score at least a goal here.
For our second Premier League Prediction, we are going with odd of 1.45 offered by Mybet.Africa.
Performance
Newcastle United
Last games
Newcastle United performance of the last 5 home matches
Arsenal FC
Last games
Arsenal FC performance of the last 5 away matches
Current Standing
| POS | TEAM | PTS | MP | W | D | L | GF | GA | GD |
| --- | --- | --- | --- | --- | --- | --- | --- | --- | --- |
| 1 | | 93 | 38 | 29 | 6 | 3 | 99 | 26 | 73 |
| 2 | | 92 | 38 | 28 | 8 | 2 | 94 | 26 | 68 |
| 3 | | 74 | 38 | 21 | 11 | 6 | 76 | 33 | 43 |
| 4 | | 71 | 38 | 22 | 5 | 11 | 69 | 40 | 29 |
| 5 | | 69 | 38 | 22 | 3 | 13 | 61 | 48 | 13 |
| 6 | | 58 | 38 | 16 | 10 | 12 | 57 | 57 | 0 |
| 7 | | 56 | 38 | 16 | 8 | 14 | 60 | 51 | 9 |
| 8 | | 52 | 38 | 14 | 10 | 14 | 62 | 59 | 3 |
| 9 | Brighton & Hove Albion FC | 51 | 38 | 12 | 15 | 11 | 42 | 44 | -2 |
| 10 | Wolverhampton Wanderers FC | 51 | 38 | 15 | 6 | 17 | 38 | 43 | -5 |
| 11 | | 49 | 38 | 13 | 10 | 15 | 44 | 62 | -18 |
| 12 | | 48 | 38 | 11 | 15 | 12 | 50 | 46 | 4 |
| 13 | | 46 | 38 | 13 | 7 | 18 | 48 | 56 | -8 |
| 14 | | 45 | 38 | 13 | 6 | 19 | 52 | 54 | -2 |
| 15 | | 40 | 38 | 9 | 13 | 16 | 43 | 67 | -24 |
| 16 | | 39 | 38 | 11 | 6 | 21 | 43 | 66 | -23 |
| 17 | | 38 | 38 | 9 | 11 | 18 | 42 | 79 | -37 |
| 18 | | 35 | 38 | 7 | 14 | 17 | 34 | 53 | -19 |
| 19 | | 23 | 38 | 6 | 5 | 27 | 34 | 77 | -43 |
| 20 | | 22 | 38 | 5 | 7 | 26 | 23 | 84 | -61 |
Legend
Champions League

Europa League

Europa Conference League Quali.

Relegation