Paris Saint-Germain
VS
Lille OSC
Betting tips & odds comparison 29.10.2021 Paris Saint-Germain FC - Lille OSC
Betting Tip for matchday 12 of the 2021/2022 Ligue 1 between Paris Saint-Germain FC and Lille OSC. The game will be played at Parc des Princes (Paris, France) on 29.10.2021 at 21:00.
PSG vs Lille, Ligue 1, 29.10.2021
Runaway Ligue 1 leaders PSG meet the defending champions Lille in what is without a doubt the biggest Ligue 1 game this weekend. PSG may have revenge on their mind while Lille have a lot of catch up to do to be among the contenders for this season's title.
The two teams met in the season opener Supercup while Lille won 1-0 but since then their fortunes have dipped while PSG have shown imperious form in the league to open a 7 point gap at the top.
We promote 22bet bonus in our preview of this game.
Read more about the bonus promotion from the leading betting companies in Africa. Customers from all over the continent will find other great bookies to sign up with.
PSG
9 wins and 1 draw in their first 11 league games have seen PSG top Ligue 1 with 28 points at this stage. The Parisians have managed to get wins even with Lionel Messi and Neymar yet to hit their top form domestically.
The last 3 league games have seen PSG drop 5 points after 1 win, 1 draw, and 1 loss. They come up against one of the teams that have given them trouble in recent times and will be keen to change that trend.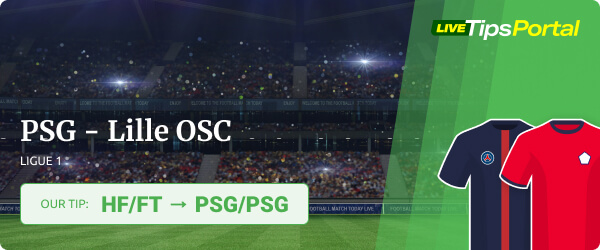 © Livetipsportal
LILLE
Lille have started their title defense poorly (W4, D3, L4) and are currently in 10th position. They have managed only 1 win in their last 5 games (D2 L2) in all competitions. Things could get worse as they visit the capital.
The visitors will take some solace that they have had the better of PSG in recent head-to-head games (W2 D2 L1). However, Lille's current form compared to PSG indicates that the hosts could be the ones smiling after the game.
Possible Line Ups
PSG
LILLE

Navas
Diallo
Marquinhos
Kimpembe
Mendes
Verratti
Danilo
Messi
Neymar
Di Maria
Mbappe
Coach: Mauricio Pochettino

Grbic
Celik
Fonte
Djalo
Mandava
Weah
Andre
Xeka
Gomes
David
Yilmaz
Coach: Jocelyn Gourvennec

Injured: Hakimi (Red Card), Paredes (Muscle), Ramos (Leg), Rico (Finger), Verratti (Hip) and Botman (Groin), Jardim (Neck)
OUR TIP
PSG have all their big stars available for this clash and have been enjoying good form. In contrast, Lille have struggled to score goals and are dropping too many points at this early stage.
PSG look likely to dominate this game and get the win based on our analysis.
TODAY'S BETTING TIP: Halftime/Fulltime, PSG/PSG @ 1.90 odds.
Our tips
Performance
Paris Saint-Germain
Last games
Paris Saint-Germain performance of the last 5 home matches
Lille OSC
Last games
Lille OSC performance of the last 5 away matches
Current Standing
| POS | TEAM | PTS | MP | W | D | L | GF | GA | GD |
| --- | --- | --- | --- | --- | --- | --- | --- | --- | --- |
| 1 | | 86 | 38 | 26 | 8 | 4 | 90 | 36 | 54 |
| 2 | | 71 | 38 | 21 | 8 | 9 | 63 | 38 | 25 |
| 3 | | 69 | 38 | 20 | 9 | 9 | 65 | 40 | 25 |
| 4 | | 67 | 38 | 20 | 7 | 11 | 52 | 36 | 16 |
| 5 | | 66 | 38 | 20 | 6 | 12 | 82 | 40 | 42 |
| 6 | | 63 | 38 | 17 | 12 | 9 | 60 | 43 | 17 |
| 7 | | 62 | 38 | 17 | 11 | 10 | 66 | 51 | 15 |
| 8 | | 62 | 38 | 17 | 11 | 10 | 62 | 48 | 14 |
| 9 | | 55 | 38 | 15 | 10 | 13 | 55 | 48 | 7 |
| 10 | | 55 | 38 | 14 | 13 | 11 | 48 | 48 | 0 |
| 11 | | 48 | 38 | 13 | 9 | 16 | 49 | 57 | -8 |
| 12 | | 46 | 38 | 11 | 13 | 14 | 43 | 44 | -1 |
| 13 | | 43 | 38 | 12 | 7 | 19 | 49 | 61 | -12 |
| 14 | | 41 | 38 | 10 | 11 | 17 | 44 | 55 | -11 |
| 15 | | 38 | 38 | 9 | 11 | 18 | 37 | 53 | -16 |
| 16 | | 36 | 38 | 8 | 12 | 18 | 35 | 63 | -28 |
| 17 | | 36 | 38 | 9 | 9 | 20 | 38 | 69 | -31 |
| 18 | | 32 | 38 | 7 | 11 | 20 | 42 | 77 | -35 |
| 19 | | 31 | 38 | 6 | 13 | 19 | 35 | 69 | -34 |
| 20 | | 31 | 38 | 6 | 13 | 19 | 52 | 91 | -39 |
Legend
Champions League

Champions League Quali.

Europa League

Europa Conference League Quali.

Relegation

Abstieg