Real Madrid
VS
Villarreal CF
Alfredo Di Stéfano
Madrid
Real Madrid CF - Villarreal CF betting tip & odds comparison 22.05.2021
Matchday 38 in the Primera División features the clash between Real Madrid and Villarreal CF at Alfredo Di Stéfano. In our preview of Real Madrid vs. Villarreal CF, you will receive all the important details and facts about this Primera División fixture. We will begin with an analysis of the current form of the two teams.
Looking for more La Liga predictions? In our overview, you can find the entire matchday with individual betting tips for each game.
Real Madrid emerged the winner in 3 of their last 5 league games (3 wins, 2 draws, 0 defeats. In 18 games on home turf in the current Primera División season 2020/2021, Real Madrid have won 12 times, with 3 matches ending in a draw, and 3 games ending in defeat (Goal difference 31:12).
In their last 5 Primera División fixtures, Villarreal CF have won 3 games (3 wins, 0 draws, 2 defeats). In all previous Primera División matches away from home, Villarreal CF have a positive record: 7 wins, 7 draws and 4 defeats - Goal difference 30:19.
A head-to-head comparison of the two teams in their last five Primera División clashes shows that Real Madrid managed to get 2 wins, while in 0 matches, Villarreal CF snatched the three points. In 3 encounters between the two teams, the points were shared. If we solely focus on the home record of Real Madrid against Villarreal, the stats are as follows: 3 wins Real Madrid, 1 draw and 1 win for Villarreal CF.
You want to place a bet at a bookie you haven't signed up with yet? In this case, we can recommend the first deposit bonus of 1xbet for newly customers. We have already tested this offer for you.
Real Madrid vs Villarreal, La Liga, 22.05.2021
The battle for the La Liga title will go down to the final day this season. Real Madrid is eyeing yet another title with rivals Atlético Madrid in pole position to add to their collection of Spanish titles. For our betting predictions, we will explore the odds on the betting markets on WorldSportsBetting review.
REAL MADRID
Real Madrid have endured a torrid campaign this season. But despite the challenges posed by a string of injuries to key players at different times during the course of the season, Real have managed to still stay in the title race at least to the final day. The title race is poised for a photo finish this term and Real Madrid have the advantage should they finish level on points with Atlético Madrid by the virtue of a superior Head-to-Head over their title rivals. Last time out, the hosts earned a hard-fought 1-0 win on the road at Athletico Bilbao. Knowing that only a victory is good enough to stand a chance, Zinedine Zidane's charges will be gunning for a win against a Villarreal side that have been occasionally brilliant this season. Madrid will do well to be wary of the threat posed by Villarreal by approaching the game with caution. Zinedine Zidane will be wishing he has got his more experienced campaigners like Sergio Ramos, Carvajal and Toni Kroos available for the final game, but a raft of injuries ravaging his squad will mean they will all sit out this one.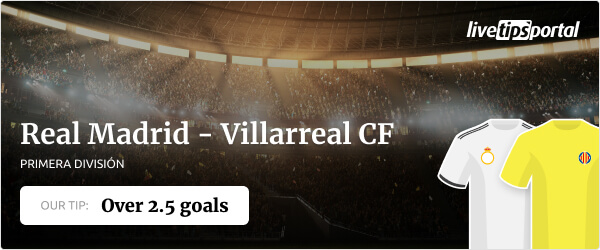 © Livetipsportal
VILLARREAL
Confidence is oozing and it is sky high within the Villarreal squad. Unai Emery's men have already booked their place in this season's UEFA Europa League but they could still make sure of their participation in next season's competition if they can upset the reigning champions away from home. But that is not going to be easy. The Les Merengues have not lost at home in the competition in 17 matches and Villarreal have lost 8 of their last eighteen games on the road. The last time Real lost to Villarreal was in 2018 and it doesn't look like the Yellow submarines can pull it off with the title on the line. There is some silver lining for Villarreal though. Last weekend, they trounced Sevilla 4-0 and will draw from that commanding performance when they take on Real Madrid at the Alfredo Di Stefano Stadium this weekend.
Possible Line Ups
REAL MADRID
VILLARREAL

Courtois
Militao
Nacho
Odriozola
Gutierrez
Valverde
Casmiro
Modric
Rodrygo
Benzema
Vincius
Coach: Zinedine Zidane

Asenjo
Albiol
Torres
Moreno
Mori
Gomez
Parejo
Trigueros
Pino
Moreno
Bacca
Coach: Unai Emery

Injured: Kroos (COVID-19), Mendy (Calf), Ramos (Hamstring), Varane (Muscle), Carvajal (Hamstring), Vazquez (Knee) and Ibora (Cruciate Ligament Rupture), Chukwueze (Hip), Gaspar (Suspension), Foyth (Hamstring)
REAL MADRID VS VILLARREAL BETTING TIPS AND PREDICTIONS
Real Madrid currently on a winning streak but they have not scored more than two goals in their last seven games. Villarreal on the other hand, have scored in their last ten games. Therefore the game is set up for Over 2.5 goals return. You can get good value for Over 2.5 on World Sports Betting at 1.50 for our first tip.
For the second tip, Real are the favourite to win this game given their solid form at home and with the title being at stake. So we are back Real Madrid to win at 1.42 on WorldSportsBetting again.
We have compiled a list of sure straight wins for tomorrow, do check it to stand a chance of increasing your winning rate.
Our tips
Performance
Real Madrid
Last games
Real Madrid performance of the last 4 home matches
Villarreal CF
Last games
Villarreal CF performance of the last 6 away matches
Current Standing
| POS | TEAM | PTS | MP | W | D | L | GF | GA | GD |
| --- | --- | --- | --- | --- | --- | --- | --- | --- | --- |
| 1 | | 86 | 38 | 26 | 8 | 4 | 67 | 25 | 42 |
| 2 | | 84 | 38 | 25 | 9 | 4 | 67 | 28 | 39 |
| 3 | | 79 | 38 | 24 | 7 | 7 | 85 | 38 | 47 |
| 4 | | 77 | 38 | 24 | 5 | 9 | 53 | 33 | 20 |
| 5 | | 62 | 38 | 17 | 11 | 10 | 59 | 38 | 21 |
| 6 | | 61 | 38 | 17 | 10 | 11 | 50 | 50 | 0 |
| 7 | | 58 | 38 | 15 | 13 | 10 | 60 | 44 | 16 |
| 8 | | 53 | 38 | 14 | 11 | 13 | 55 | 57 | -2 |
| 9 | | 46 | 38 | 13 | 7 | 18 | 47 | 65 | -18 |
| 10 | | 46 | 38 | 11 | 13 | 14 | 46 | 42 | 4 |
| 11 | | 44 | 38 | 11 | 11 | 16 | 37 | 48 | -11 |
| 12 | | 44 | 38 | 11 | 11 | 16 | 36 | 58 | -22 |
| 13 | | 43 | 38 | 10 | 13 | 15 | 50 | 53 | -3 |
| 14 | | 41 | 38 | 9 | 14 | 15 | 46 | 57 | -11 |
| 15 | | 38 | 38 | 9 | 11 | 18 | 28 | 43 | -15 |
| 16 | | 38 | 38 | 9 | 11 | 18 | 36 | 57 | -21 |
| 17 | | 36 | 38 | 8 | 12 | 18 | 34 | 55 | -21 |
| 18 | | 34 | 38 | 7 | 13 | 18 | 34 | 53 | -19 |
| 19 | Real Valladolid Club de Futbol | 31 | 38 | 5 | 16 | 17 | 34 | 57 | -23 |
| 20 | | 30 | 38 | 6 | 12 | 20 | 29 | 52 | -23 |
Legend
Champions League

Europa League

Europa League Quali.

Relegation

Europa Conference League