Real Valladolid
VS
Atlético Madrid
Municipal José Zorrilla
Valladolid
Real Valladolid Club de Futbol - Atlético de Madrid betting tip & odds comparison 22.05.2021
Gameweek 38 in the Primera División will see the clash between Real Valladolid and Atlético Madrid at Municipal José Zorrilla. Kick-off time is at 6:00 PM on May 22, 2021. In our preview of Real Valladolid vs. Atlético Madrid we will provide you with all the important facts and stats for this Primera División fixture. Let's start by having a look at the current form of the two teams involved.
Here, you have all La Liga betting tips at a glance. We provide you with detailed forecasts for every matchday. In addition to that, you can also find a comprehensive odds comparison.
Real Valladolid were victorious in 0 of their previous 5 league matches (0 wins, 2 draws, 3 defeats. In the current Primera División season 2020/2021, Real Valladolid were able to win 3 of their 18 games at home, with a total of 7 draws, and 8 defeats (Goal difference 18:28).
Atlético Madrid have won 3 of their last 5 Primera División encounters (3 wins, 1 draws, 1 defeats. The away record in this year's Primera División season for Atlético Madrid reveals the following stats: 10 wins, 5 draws and 3 defeats - Goal difference 24:13.
Out of the last five Primera División encounters between the two teams, Real Valladolid won 0. In 1 match the points between the two sides were shared, and 4 times Atlético Madrid got the win. If we look at the home record of Real Valladolid against Atlético Madrid, the stats are as follows: 0 wins Real Valladolid, 2 draws and 3 wins Atlético Madrid.
Naturally, you can follow our advice and place the same bet free of charge. If you decide to do so at a new bookie, you can benefit from the 1xbet bonus. We have already tested the offer for you in detail.
Valladolid vs Atletico Madrid, 22.05.2021
Atletico Madrid travel to relegation candidates Real Valladolid on Saturday evening with the full knowledge that a win will see them wrap up the La Liga title.
Diego Simeone's charges are two points clear of neighbors Real Madrid at the summit of the league while Valladolid are on the opposite end, one place off the bottom and two points adrift of safety.
For this preview, we will use Betboro Cashback Bonus prices for the betting tips.
VALLADOLID
Real Valladolid's three-year sojourn in the top flight seems to be coming to a close. After two seasons in which they finished 16th and 13th, this has been one hell of a difficult season for them. A return of just five wins, 16 draws and 16 losses from their 37 matches has left them dangling precariously in 19th and a date with title-chasing Atletico for this final day fixture does not augur well for their chances of surviving the chop.
The White and Violets will need to not only beat the visitors but also pray for other results to go their way if they are to stay in the division.
Sergio Gonzalez's side form coming into this match, particularly at home, leaves a lot to be desired though, and the writing is on the wall for them.
ATLETICO MADRID
Atletico's have had a relatively solid and successful season and are on the brink of crowning the season with their first La Liga title since the 2013-2014 campaign. All they have to do is win this final game of the season.
It has not been easy. They consistently led the league by over 10 points for much of the first half of the season but ran into headwinds in the second half, allowing both Real and Barcelona to get back into the picture. In fact last weekend, they almost blew it as they trailed Osasuna 1-0 before turning it around and winning it with two goals in the final 10 minutes of the match.
With history beckoning, Diego Simeone's task will be to get his squad ready to embrace the moment.
Possible Line Ups
VALLADOLID
ATLETICO MADRID

Masip
Janko
Fernández
El Yamiq
Olaza
Orellana
Alcaraz
Michel
Plano
Weissman
Maranhao
Coach: Sergio Gonzalez Soriano

Oblak
Trippier
Savic
Felipe
Hermoso
Llorente
Koke
Saul
Correa
Suarez
Carrasco
Coach: Diego Simeone

Injured: Sanchez (Groin injury), Garcia (Knee injury) and Lemar (Hamstring)
VALLADOLID VS ATLETICO MADRID BETTING TIPS
On paper this looks like an interesting fixture pitting one team that is looking to win the title against a team that is fighting to stay up. In reality, though, the gap between them is massive. Atletico have been the most consistent team in the league this season while Valladolid have been woeful and look destined to go back to the lower tier. They have lost each of their last three games by two or more goal margins and it is inconceivable for them to turn that around against a vastly superior Atletico side. Diego Simeone is a master at delivering results when needed and we fancy Atletico to win this game by the same margin of two or more goals @ 1.52 as our initial betting prediction.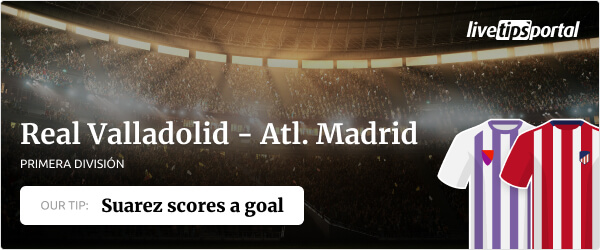 © Livetipsportal
Luis Suárez 88th-minute winner against Osasuna ensured they maintained their slender advantage coming into this final round. When the story of this season is written, there will be a whole chapter dedicated to him. He has been their MVP this season with his goals earning them more points than any other player. Scoring on the final day to clinch the title seems like the perfect ending to this fairy tale and we are backing him to do just that @ 1.61 with Betboro review as our final tip here.
As the curtain comes down on the top leagues, we have more sure wins for tomorrow covering all the top games. Check them out and finish the season on a high!
Our tips
Performance
Real Valladolid
Last games
Real Valladolid performance of the last 5 home matches
Atlético Madrid
Last games
Atlético Madrid performance of the last 5 away matches
Current Standing
| POS | TEAM | PTS | MP | W | D | L | GF | GA | GD |
| --- | --- | --- | --- | --- | --- | --- | --- | --- | --- |
| 1 | | 86 | 38 | 26 | 8 | 4 | 67 | 25 | 42 |
| 2 | | 84 | 38 | 25 | 9 | 4 | 67 | 28 | 39 |
| 3 | | 79 | 38 | 24 | 7 | 7 | 85 | 38 | 47 |
| 4 | | 77 | 38 | 24 | 5 | 9 | 53 | 33 | 20 |
| 5 | | 62 | 38 | 17 | 11 | 10 | 59 | 38 | 21 |
| 6 | | 61 | 38 | 17 | 10 | 11 | 50 | 50 | 0 |
| 7 | | 58 | 38 | 15 | 13 | 10 | 60 | 44 | 16 |
| 8 | | 53 | 38 | 14 | 11 | 13 | 55 | 57 | -2 |
| 9 | | 46 | 38 | 13 | 7 | 18 | 47 | 65 | -18 |
| 10 | | 46 | 38 | 11 | 13 | 14 | 46 | 42 | 4 |
| 11 | | 44 | 38 | 11 | 11 | 16 | 37 | 48 | -11 |
| 12 | | 44 | 38 | 11 | 11 | 16 | 36 | 58 | -22 |
| 13 | | 43 | 38 | 10 | 13 | 15 | 50 | 53 | -3 |
| 14 | | 41 | 38 | 9 | 14 | 15 | 46 | 57 | -11 |
| 15 | | 38 | 38 | 9 | 11 | 18 | 28 | 43 | -15 |
| 16 | | 38 | 38 | 9 | 11 | 18 | 36 | 57 | -21 |
| 17 | | 36 | 38 | 8 | 12 | 18 | 34 | 55 | -21 |
| 18 | | 34 | 38 | 7 | 13 | 18 | 34 | 53 | -19 |
| 19 | Real Valladolid Club de Futbol | 31 | 38 | 5 | 16 | 17 | 34 | 57 | -23 |
| 20 | | 30 | 38 | 6 | 12 | 20 | 29 | 52 | -23 |
Legend
Champions League

Europa League

Europa League Quali.

Relegation

Europa Conference League