Sevilla FC
VS
FC Barcelona
Ramón Sánchez Pizjuán
Sevilla
Betting tips & odds comparison 03.09.2022 Sevilla FC – FC Barcelona
Matchday 4 in the Primera División features the clash between Sevilla FC and FC Barcelona at Ramón Sánchez Pizjuán. In our preview of Sevilla FC vs. FC Barcelona, you will receive all the important details and facts about this Primera División fixture. We will begin with an analysis of the current form of the two teams.
Here, you have all La Liga predictions at a glance. We provide you with detailed forecasts for every matchday. In addition to that, you can also find a comprehensive odds comparison.
Sevilla FC emerged the winner in 1 of their last 5 league games (1 win, 2 draws, 2 defeats. In 1 games on home turf in the current Primera División season 2022/2023, Sevilla FC have won 0 times, with 0 draws ending in a draw, and 1 game ending in defeat (Goal difference 1:1).
In their last 5 Primera División fixtures, FC Barcelona have won 2 games (2 wins, 2 draws, 1 defeat). In all previous Primera División matches away from home, FC Barcelona have a positive record: 1 win, 0 draws and 0 defeats – Goal difference 4:1.
By winning this game, the victor will move up the league standings and have a better chance of competing for the championship title. Although the loser of this match will drop in the standings, they are still very much in the running. In accordance with this, we'll examine the Frapapa and Mozzartbet to offer you the most accurate forecast for this game and are one of the best betting sites in Africa according to our reviews.
SEVILLA
When hosting a Barcelona team that seems to be shifting gears, Sevilla is aware that they are in a tough situation.
We anticipate Sevilla to be boosted by the home crowd and put up a hard battle against Barca because of their desire to earn their first league victory. This might not be sufficient to stop what appears to be a well-organized Barcelona team from continuing its winning streak, though. Sevilla's regular supporters will be rooting for them as they attempt to capitalize on having the home-field advantage.
Sevilla is presently in 15th place in the current LA Liga season after three games, with just five teams now worse placed. They now have a record of zero victories, one draw, two losses, three goals scored, and five goals surrendered. We expect them to work harder on this match at least to be able to grab some points.
BARCELONA
Barcelona had two victories and a tie in their first three games, giving them seven points out of a potential nine. Real Madrid and Real Betis are tied for first place with a perfect score, although Blancos has a better goal differential.
Barcelona is in third position, level on points with Villarreal in fourth. Barcelona improved to win their following two games after drawing their first game with Rayo Vallecano on matchday one at the Camp Nou, which ended in a 0-0 tie.
Barcelona has scored at least three goals in each of their last 10 games and has gone undefeated in each of those contests. Additionally, they have 11 goals in their past three games. In their previous three road games, Barcelona has only let up one goal.
The signing of Lewandoski has been very crucial and a big boost for them. In their previous match, he actually scored two goals. We for sure expect to have him score goals and winning goals for Barcelona.
POSSIBLE LINEUP
SEVILLA
Bounou
Navas
Gudelj
Rekik
Acuna
Fernando
Rakitic
Gomez
Lamela
En-Nesyri
Ocampos
Missing Players: Corona (Ligament)
BARCELONA
ter Stegen
Roberto
Araújo
García
Balde
Gavi
Busquets
Pedri
Dembélé
Lewandowski
Raphinha
Missing Players: Christensen (Fever)
OUR SEVILLA VS BARCELONA PREDICTIONS
Barcelona is in a vital season as the entire world waits to see if they have resumed their recovery process and be back to where they belong. They have had a great start, and as the weeks go by and the newcomers become accustomed to playing alongside one another, their confidence will only increase. Barca fans are in for a thrilling new year.
We anticipate Lewandoski to score at least one goal in this game given his current form. This Barcelona player is one to keep an eye on; his contributions to the team have already been seen.
TIP 1: Lewandoski First Goal scorer @ 3.00
We expect to have a more attacking playing from both sides as also the host will be looking to have at least their first win of the new season. In this regards we foresee both sides scoring a goal.
TIP 2: Both teams to score @ 1.69
Check out other betting tips for today covering top leagues and competitions across the world.
FRAPAPA CLUB
The wagers must be placed on occasions with odds of 2.0 or higher. A gamer who wagers between N500 and N10000 will receive a free bet of that amount. Excludes system bets and cashed out. Returns do not include investments from free bets.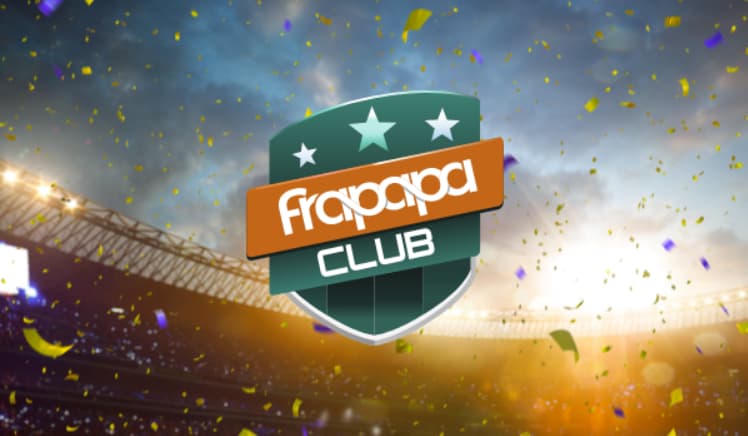 Bet at least ₦50,000 before Sunday at 23:59
odds of 2.5 or more are required.
Any amount, such as 1 x 50,000 or 5 x 10,000, may be wagere
any sport wagering
Expired bets are not included
On Mondays, free bets are reimbursed by 7 p.m.
Free Bets cannot be withdrawn, and stakes are not included in return calculation
Free bets must be used by Sunday at 11:59 p.m. (6 days after issue)
There are limits on eligibility
Ksh 200,000,000 – MOZZART SUPER GRAND JACKPOT
Mozzart Kenya's 20-game jackpot bonuses begin at game number 17. For 20/20 perfect predictions, the winner can receive up to Ksh 200 million. As for the Mozzart Nigeria they also a combination 20-game of NGN 300,000,000 Winners of the numbers 17, 18, 19, and 20 will get cash awards. Also rewarded are those who correctly play 0/20 of the games.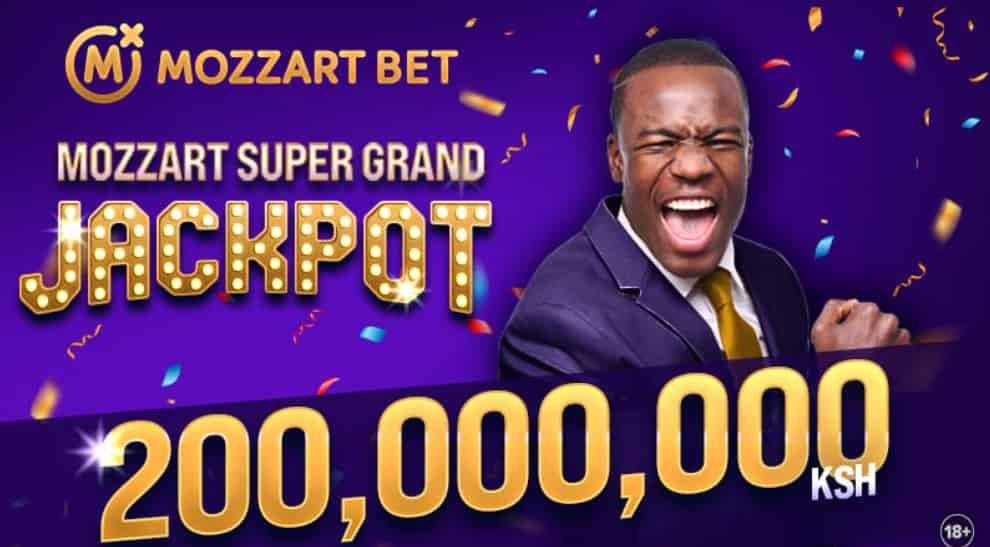 Terma and Conditions:
If one, two, or three of the games on the ticket are postponed, interrupted, abandoned, or suspended, the chances of 1.00 will be computed for those games.
The firm may, in its sole discretion, terminate the jackpot and return the investment in the event that four or more games are postponed or cancelled.
In the case that an odd number 1 is announced for one or more matches, the number of winners will be divided/shared equally:
Kenya
The prize money for 19 accurate predictions and one postponed game is Ksh. 60,000,000
The prize money for 18 accurate predictions and two postponed games is Ksh. 20,000,000
The winnings for the 17 accurate picks and the three postponed games total Ksh. 5,000,000
Nigeria
NGN 90,000,000 is the winnings for 19 accurate predictions and one postponed match.
A total of NGN 30,000,000 is the winnings from the 18 correctly predicted games and the two postponed games.
The winnings total NGN 7,000,000 for 17 accurate predictions and three postponed games.
Performance
Sevilla FC
Last games
Sevilla FC performance of the last 5 home matches
FC Barcelona
Last games
FC Barcelona performance of the last 5 away matches
Current Standing
| POS | TEAM | PTS | MP | W | D | L | GF | GA | GD |
| --- | --- | --- | --- | --- | --- | --- | --- | --- | --- |
| 1 | | 18 | 6 | 6 | 0 | 0 | 17 | 6 | 11 |
| 2 | | 16 | 6 | 5 | 1 | 0 | 18 | 1 | 17 |
| 3 | | 15 | 6 | 5 | 0 | 1 | 10 | 4 | 6 |
| 4 | | 13 | 6 | 4 | 1 | 1 | 12 | 4 | 8 |
| 5 | | 12 | 6 | 4 | 0 | 2 | 7 | 5 | 2 |
| 6 | | 11 | 6 | 3 | 2 | 1 | 10 | 2 | 8 |
| 7 | | 10 | 6 | 3 | 1 | 2 | 10 | 6 | 4 |
| 8 | | 10 | 6 | 3 | 1 | 2 | 7 | 8 | -1 |
| 9 | | 9 | 6 | 3 | 0 | 3 | 10 | 5 | 5 |
| 10 | | 8 | 6 | 2 | 2 | 2 | 6 | 7 | -1 |
| 11 | | 7 | 6 | 2 | 1 | 3 | 8 | 13 | -5 |
| 12 | | 7 | 6 | 2 | 1 | 3 | 7 | 7 | 0 |
| 13 | | 7 | 6 | 2 | 1 | 3 | 7 | 8 | -1 |
| 14 | | 7 | 6 | 2 | 1 | 3 | 6 | 12 | -6 |
| 15 | | 5 | 6 | 1 | 2 | 3 | 7 | 11 | -4 |
| 16 | Real Valladolid Club de Futbol | 4 | 6 | 1 | 1 | 4 | 3 | 11 | -8 |
| 17 | | 4 | 6 | 1 | 1 | 4 | 4 | 7 | -3 |
| 18 | | 4 | 6 | 1 | 1 | 4 | 7 | 12 | -5 |
| 19 | | 3 | 6 | 1 | 0 | 5 | 1 | 14 | -13 |
| 20 | | 1 | 6 | 0 | 1 | 5 | 2 | 16 | -14 |