Spezia
VS
Juventus
Betting tips & odds comparison 22.09.2021 ASD Spezia Calcio - Juventus FC
Betting Tip for matchday 5 of the 2021/2022 Serie A between ASD Spezia Calcio and Juventus FC. The game will be played at Alberto Picco (La Spezia, Italy) on 22.09.2021 at 18:30.
Spezia vs Juventus, Serie A, 22.09.2021
It is unbelievable that after 4 league games, Juventus are still winless and now lie in the relegation zone. Hosts Spezia finally got a win in their last game and are 5 places ahead of Juventus going into this game.
Juventus won this fixture both home and away last season, but Spezia will fancy their chances this time round since the visitors are struggling and it is possible to get a good result here.
We promote Betmojo Nigeria in our preview of this game.
Read more about the bonus promotion from the leading betting companies in Africa. Customers from all over the continent will find other great bookies to sign up with.
SPEZIA
Spezia will be going for a second consecutive win in the league after they beat Venezia 2-1 over the weekend. It was their first win in the league this season after managing only 1 point from the first 3 league games.
Spezia last beat Juventus in 2007 when both teams were in Serie B. It will take a special effort to get all 3 points in this match but they can take inspiration from the fact that Juventus are also struggling this early in the season and there is no better time to beat them.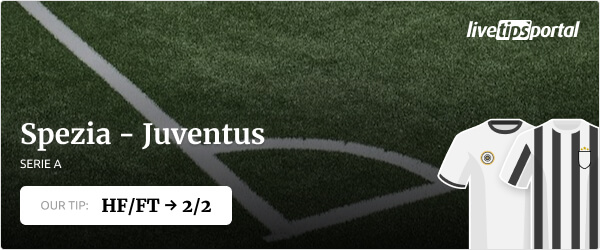 © Livetipsportal
JUVENTUS
Juventus were on their way to a first league victory this season when AC Milan equalized in the late minutes for a 1-1 draw. The result left Juventus 18th in the table with only 2 points from the first 4 games.
This match presents a good chance for Juventus to earn their first win. They comfortably beat Spezia last season and will be looking for a repeat of the same. Alvaro Morata scored a nice goal against Milan and he will be expected to produce more alongside Dyabala.
Possible Line Ups
SPEZIA
JUVENTUS

Zoet
Amian
Erlic
Nikolaou
Ferrer
Sala
Maggiore
Bastoni
Verde
Antiste
Gyasi
Coach: Thiago Motta

Szczesny
Danilo
Bonucci
Chiellini
Sandro
Cuadrado
Bentancur
Locatelli
Rabiot
Dybala
Morata
Coach: Massimiliano Allegri

Injured: Agudelo (Foot), Colley (Muscle) and Arthur (Muscle), Kaio (Muscle), Caviglia (Knee)
OUR TIP
Despite not winning in the end, Juventus showed good quality in their last game and it is just a matter of time before they start winning their league games.
Spezia showed good fighting spirit to win their game ovr the weekend but they will need something extra special to get another victory here. We feel Juventus are too strong and the visitors are more likely to get the win.
Find more analysis by reading our football betting strategy.
FOOTBALL BETTING TIP TODAY: HT/FT 2/2 @ 1.90 odds.
Our tips
Performance
Spezia
Last games
Spezia performance of the last 4 home matches
Juventus
Last games
Juventus performance of the last 6 away matches
Current Standing
| POS | TEAM | PTS | MP | W | D | L | GF | GA | GD |
| --- | --- | --- | --- | --- | --- | --- | --- | --- | --- |
| 1 | | 32 | 13 | 10 | 2 | 1 | 26 | 7 | 19 |
| 2 | | 32 | 13 | 10 | 2 | 1 | 29 | 15 | 14 |
| 3 | | 31 | 14 | 9 | 4 | 1 | 34 | 15 | 19 |
| 4 | | 28 | 14 | 8 | 4 | 2 | 28 | 17 | 11 |
| 5 | | 22 | 13 | 7 | 1 | 5 | 23 | 15 | 8 |
| 6 | | 21 | 13 | 6 | 3 | 4 | 25 | 21 | 4 |
| 7 | | 21 | 14 | 7 | 0 | 7 | 21 | 19 | 2 |
| 8 | | 21 | 14 | 6 | 3 | 5 | 18 | 16 | 2 |
| 9 | | 19 | 14 | 5 | 4 | 5 | 28 | 25 | 3 |
| 10 | | 19 | 14 | 6 | 1 | 7 | 21 | 26 | -5 |
| 11 | | 18 | 13 | 5 | 3 | 5 | 19 | 24 | -5 |
| 12 | | 17 | 13 | 5 | 2 | 6 | 17 | 13 | 4 |
| 13 | | 15 | 13 | 4 | 3 | 6 | 19 | 20 | -1 |
| 14 | | 15 | 14 | 4 | 3 | 7 | 20 | 26 | -6 |
| 15 | | 15 | 14 | 4 | 3 | 7 | 12 | 21 | -9 |
| 16 | | 14 | 13 | 3 | 5 | 5 | 16 | 20 | -4 |
| 17 | | 11 | 13 | 3 | 2 | 8 | 15 | 31 | -16 |
| 18 | | 9 | 13 | 1 | 6 | 6 | 17 | 26 | -9 |
| 19 | | 8 | 14 | 1 | 5 | 8 | 16 | 29 | -13 |
| 20 | | 8 | 14 | 2 | 2 | 10 | 11 | 29 | -18 |