Tottenham
VS
Chelsea FC
Tottenham Hotspur Stadium
London
Betting tips & odds comparison 19.09.2021 Tottenham Hotspur - Chelsea FC
Betting Tip for matchday 5 of the 2021/2022 Premier League between Tottenham Hotspur and Chelsea FC. The game will be played at Tottenham Hotspur Stadium (London, England) on 19.09.2021 at 17:30.
Tottenham vs Chelsea, Premier League, 19.09.2021
After the thrills and spills of matchday 1 of continental football, clubs renew their battle for supremacy in their respective backyards and there is no better match this weekend than the London derby pitting Tottenham and Chelsea on Sunday evening.
Both teams have shown early promise in what is shaping up to be one of the most intriguing title races in recent years.
22Bet have plenty of interesting betting options for this game and we will take a look at a couple of them in this preview. The bookie also offers a really nice 22Bet Bonus for customers all over Africa.
TOTTENHAM
After the change of guard at the club in the summer with the appointment of former Wolves coach Nuno Espirito Santo as head coach, Tottenham were quick off the blocks to start this new Premier League season as they rattled off three wins on the trot to temporarily move to the top of the table. They however dropped the ball last time out as they lost 3-0 to Crystal Palace and relinquished the top spot.
The Europa League match at Rennes is a bit of an inconvenience as they have had to choose their poison regarding squad rotation.
This will be a litmus test for the Lillywhites as to the seriousness of their title challenge and Nunio will be hoping some of his stars that are listed as doubtful for this match will pass the fitness tests and take to the pitch for this crucial game.
CHELSEA
Chelsea have grown from strength to strength since German tactician Thomas Tuchel took charge last season. They won the Champions League and have seemingly carried that form into the new Premier League season with the Blues currently tied on 10 points with leaders Manchester United who have a better goal tally thus far.
They did brisk business in the summer when they brought back striker Romelu Lukaku whose has had a fantastic start to his second coming at the club with three goals in three EPL starts. He also scored the solitary goal as Chelsea beat Zenit 1-0 in their midweek Champions League opener.
With the striking department seemingly sorted, Chelsea are a formidable outfit. Just Like the hosts, this game will be a key indicator of their title aspirations this season.
Possible Line Ups
TOTTENHAM
CHELSEA

Lloris
Regullon
Emerson
Davies
Winks
Ali
Skipp
Bergwijn
Horjberg
Lucas
Kane
Coach: Nuno Espirito Santo

Mendy
Azpilicueta
Christensen
Rudiger
Chalobah
Kovacic
Jorginho
Alonso
Mount
Ziyech
Lukaku
Coach: Thomas Tuchel

Injured: NAME and NAME
TOTTENHAM VS CHELSEA BETTING PREDICTIONS
This is certainly the match that every Premier League enthusiast is waiting for with bated breath. It is not only a derby but it is a match that has gained significance because it has ramifications on the title race. As such we expect the atmosphere to be tense and edgy both on and off the pitch. The game is also likely to be overly physical and centre referee Paul Tierney is likely to have a busy day. The cards markets are of particular interest in light of this scenario. Their last three H2H matches had 5 or more bookings. 22Bet have priced Over 3.5 Bookings @ 1.62 and we feel this is terrific value to back as the opening of our betting tips today.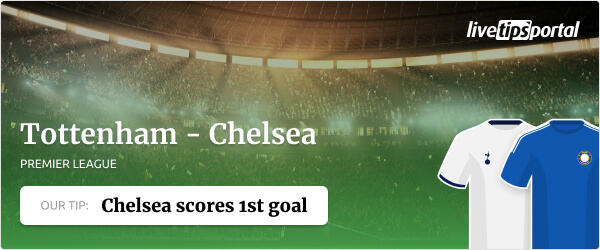 © Livetipsportal
Although Tottenham have been winning games, they have been far from stellar. Their return of 3 goals in 4 matches is only better than basement club Norwich. Chelsea meantime is firing on all cylinders. They have found the back of the net 9 times and conceded only one goal. Given the raft of injuries to some of Tottenham's key players, Chelsea is likely to smell blood and will do the early running here. As such we fancy them to break the ice here and score the first goal @ 1.64 at 22 Bet.
If you're not quite sure about the odds or you want to gain more information about it, feel free to use the LiveTipsPortal surebet calculator.
Our tips
Performance
Tottenham
Last games
Tottenham performance of the last 5 home matches
Chelsea FC
Last games
Chelsea FC performance of the last 5 away matches
Current Standing
| POS | TEAM | PTS | MP | W | D | L | GF | GA | GD |
| --- | --- | --- | --- | --- | --- | --- | --- | --- | --- |
| 1 | | 29 | 12 | 9 | 2 | 1 | 30 | 4 | 26 |
| 2 | | 28 | 13 | 8 | 4 | 1 | 39 | 11 | 28 |
| 3 | | 26 | 12 | 8 | 2 | 2 | 25 | 6 | 19 |
| 4 | | 23 | 12 | 7 | 2 | 3 | 23 | 14 | 9 |
| 5 | | 23 | 13 | 7 | 2 | 4 | 15 | 17 | -2 |
| 6 | Wolverhampton Wanderers FC | 20 | 13 | 6 | 2 | 5 | 12 | 12 | 0 |
| 7 | | 19 | 12 | 6 | 1 | 5 | 11 | 17 | -6 |
| 8 | Brighton & Hove Albion FC | 18 | 13 | 4 | 6 | 3 | 12 | 14 | -2 |
| 9 | | 17 | 12 | 5 | 2 | 5 | 20 | 21 | -1 |
| 10 | | 16 | 13 | 3 | 7 | 3 | 19 | 19 | 0 |
| 11 | | 16 | 13 | 5 | 1 | 7 | 18 | 21 | -3 |
| 12 | | 15 | 12 | 4 | 3 | 5 | 16 | 19 | -3 |
| 13 | | 15 | 12 | 4 | 3 | 5 | 16 | 21 | -5 |
| 14 | | 14 | 13 | 3 | 5 | 5 | 11 | 18 | -7 |
| 15 | | 13 | 12 | 3 | 4 | 5 | 16 | 17 | -1 |
| 16 | | 13 | 12 | 4 | 1 | 7 | 16 | 20 | -4 |
| 17 | | 12 | 13 | 2 | 6 | 5 | 12 | 20 | -8 |
| 18 | | 9 | 12 | 1 | 6 | 5 | 14 | 20 | -6 |
| 19 | | 9 | 13 | 2 | 3 | 8 | 7 | 27 | -20 |
| 20 | | 6 | 13 | 0 | 6 | 7 | 15 | 29 | -14 |
Legend
Champions League

Europa League

Abstieg